Two LAS students awarded Boren Scholarships
National Security Education Program selects undergraduates to study in Amman, Jordan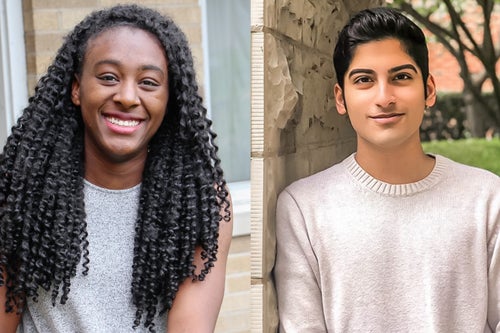 University of Illinois undergraduates Enddy Almonord and Barghav Sivaguru are among 244 students nationwide awarded David L. Boren Scholarships, with a third Illinois student named an alternate.

The National Security Education Program selects undergraduate students to add international and language components to their educations by studying overseas in world regions critical to U.S. interests. In the 2019-20 academic year, Boren Scholars and Fellows will live in 39 countries throughout Africa, Asia, Central and Eastern Europe, Eurasia, Latin America, and the Middle East, studying 30 different languages.
Almonord, of Champaign, a 2018 graduate of Central High School, received $20,000 to continue her study of Arabic for eight months at Qasid Institute in Amman, Jordan. Almonord completed her freshman year as a political science and communication major at Illinois. During the school year, Almonord works two jobs to help finance her education. She also participates in the Program in Arms Control and Domestic and International Security and is active in the music service fraternity, Kappa Kappa Psi, and in the marching band.

Almonord hopes to pursue graduate studies after receiving an undergraduate degree from Illinois. "I want to help shape U.S. foreign policy so that in our pursuit of national security, we not only protect ourselves but assist in the stabilizing and developing of the countries where we foresee a threat," she said.
Sivaguru, of Mahomet, Illinois, and a graduate of Mahomet-Seymour High School, has been awarded $20,000 to study Arabic for the 2019-20 academic year at Qasid Institute. A senior double majoring in communication and political science, Sivaguru was named a member of the Senior 100 Honorary. He has served as a peer mentor at the LAS Life + Career Design Lab, as a project manager in Illinois Business Consulting, and as a member of the Program in Arms Control and Domestic and International Security. In summer 2018, he worked as an intern at the Middle East Institute in Washington, D.C., editing scholarly articles analyzing politics and international relations in the Middle East and policy papers discussing regional counterterrorism efforts.

Sivaguru attributes his foreign service career aspirations to his background as an immigrant. "It is my experience growing up as a first-generation immigrant that inspires me to serve in government," he said. "I have grown up wanting to see diverse representation in the government, and now I see an opportunity to embody that diversity through government service."
NSEP is a major federal initiative designed to build a broader and more qualified pool of U.S. citizens with foreign language and international skills. NSEP's Boren Awards program provides U.S. undergraduate and graduate students with resources and encouragement to acquire language skills and experience in countries critical to the future security and stability of the nation. In exchange for funding, Boren Award recipients agree to work in the federal government for at least one year.

"The National Security Education Program is helping to change the U.S. higher education system and the way Americans approach the study of foreign languages and cultures," said Michael A. Nugent, the NSEP director.

"To continue to play a leadership role in the world, it is vital that America's future leaders have a deep understanding of the rest of the world," said former U.S. Sen. David Boren, the principal author of legislation that created NSEP and the scholarships and fellowships that bear his name. "As we seek to lead through partnerships, understanding of other cultures and languages is absolutely essential."