Growing numbers of LAS students are taking advantage of iVenture, a student startup accelerator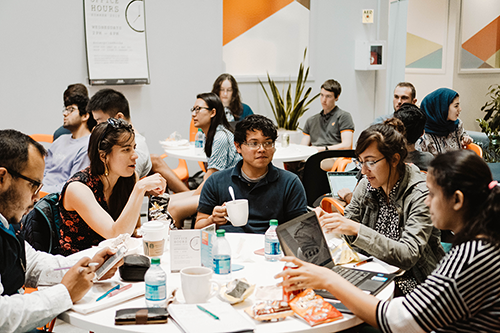 When several LAS students crossed paths at 3 Day Startup, a workshop put on at the Business Instructional Facility at Illinois to teach entrepreneurial skills, none of them expected to become business partners.
Each of the students had an interest in coming up with solutions to address food insecurity, however, and after the event, as everyone else split up, they stayed together and their startup, Rising Sprouts, took root.
"We kind of stuck around and wanted to actually make this a reality," said Tredayne Bengil Cabanlit, a senior in linguistics. "Three of us came out of that program intending on addressing this issue."
Now, Cabanlit, Meera Zukosky (graduate student in psychology), Kathryn Solórzano Lowell (graduate student in ecology, evolution and conservation biology), and Manasi Deshmukh (School of Social Work) have earned a spot in this year's iVenture Accelerator program with Rising Sprouts and are developing a low-tech plan that they think will make a significant local impact.
Rising Sprouts, one of iVenture's startups with heavy LAS involvement, is planning to make fresh food from local farms affordable, sustainable and accessible in food deserts throughout the area.
"In Champaign-Urbana, here in our community, there are about 30,000 individuals that are food insecure," Zukosky said. "They just don't have enough access to nutritious food to live a healthy and active lifestyle. Nationally, 30 percent of farm produce gets wasted annually. We're trying to address both of these issues by partnering with local farms in our community in Champaign-Urbana."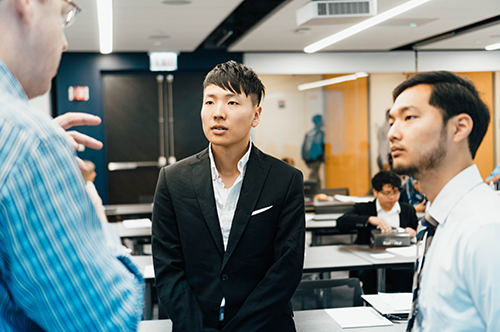 Their vision is one of several ideas put into reality by iVenture, which, launched in 2015, has assisted student-led startup companies by providing seed funding and connected, insightful mentorship. Startups receive $10,000 in funding and $2,500 stipends for each student's living expenses during the summer.
More LAS students than ever are taking part in this year's iVenture Accelerator program, a trend that has been reflected by steady increases over the past few years. In fact, of 49 fellows, 10 of them are LAS students, an increase from 2018, when there were eight, and the program's first year in 2015 (three).
While most of the students admitted to the program hail from business or engineering backgrounds, five of the 15 startup companies have LAS representation. Focused on making the most of their opportunity, these students have plans to change the community and the world as young, ambitious entrepreneurs.
The startup companies from LAS vary widely in range, from teaching language, such as the startup called Mallo, to changing the way students store their stuff, such as BoxDrop, to 1st World, which is fusing American streetwear with Ghanian fabrics to market to American consumers.
In early June, the group of fellows traveled to Chicago for the Polsky Innovation Showcase at the University of Chicago. There, they witnessed the celebration of successful startups and got to take in the entrepreneurial scene in its element.
While Rising Sprouts is still in the early stages of executing its plan, its members spoke highly of the mentorship and advice received so far in the first several weeks of the program.
"I really want to stress the mentorship. It's been wonderful," Zukosky said. "And I don't have a business background, so they've been really helpful in helping us understand what a financial model is and how to create a pitch deck. Just the connections that (U of I) has with other individuals willing to help us, it's been great."
Solórzano Lowell said that Rising Sprouts is ultimately aiming to solve the problem of food deserts, but in the meantime, the group wants to inspire individuals and improve on the situation locally.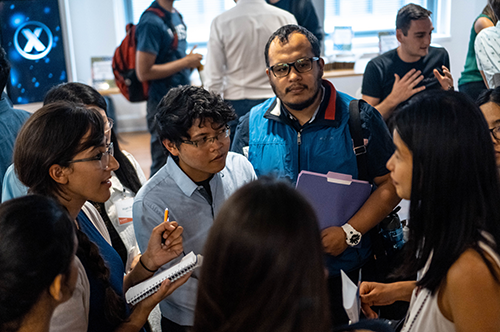 "It's really about empowering communities and individuals that are in a difficult position, but have the capacity to move beyond that if they are given a chance," Solórzano Lowell said. "With the cooperative models that we've been discussing, part of that is if we design a workers' co-op, if we employ people from those communities, they'll have some stake in the company and control over how we manage the equity."
Another startup, Fusen, wants to reshape how business is done worldwide, tapping into an expanding market of freelance labor to provide high-quality services in design, marketing and on the Internet.
Haowei Liu, a double major in psychology and computer science, started Fusen just over a year ago, and he recently partnered up with fellow senior Feiyang 'Takumi' Li, a statistics and computer science double major. Fusen has already worked with a number of clients, according to Liu, and has connected customers to qualified freelancers that can provide quality service. With both Liu and Li being bilingual, they are able to better bridge the language barriers that sometimes hinder collaborative, global business.
"Basically, we discovered the huge difference between the way people work and how effectively those things can be done," Liu said. "We thought we could take this benefit and make use of this opportunity to connect professionals in countries efficiently and as a globe."
Liu already had Fusen going for a while himself, but now the duo have access to a diverse set of business professionals and the resources of iVenture, which is based at Temple Hoyne Buell Hall on campus.
Between the seed funding, the expansive, collaborative space and loads of advice, Liu credited the program for helping him get Fusen headed in the right direction. After engaging with and getting advice from professionals, Liu said he realized that he needed to make changes, and now feels better than ever about his startup's prospects. The startup funding and living stipend helped them concentrate on making their ideas work.
"It's just very, very helpful," Liu said. "As a student, we don't have much funding to start our own business… It really alleviates pressure in the living aspect."
The startups themselves aren't the only aspect of iVenture that LAS students are impacting. McKayla Carruthers (LAS, undeclared), iVenture's internal operations fellow, and Sanya Rupani (statistics and computer science), iVenture's design fellow, are each aiding iVenture's entrepreneurs with different skill sets.
Carruthers runs the schedule day-to-day, while making the budget, collecting data and analyzing how effective the program is, while Rupani chiefly manages the website and assists the teams in aspects of design, depending on what they need.
Altogether, the group of students is taking advantage of the platform and opportunity iVenture provides to overcome the barriers to entry of the business world.
"Anyone can do this," Cabanlit said. " I would say the most challenging part is organizing in a way that is sustainable, that allows for growth and development. I feel like everyone has that, everyone has access to that (with iVenture)."