Students team with companies and alumni for new campus event
Symposium helps expose students to trends in the field of actuarial science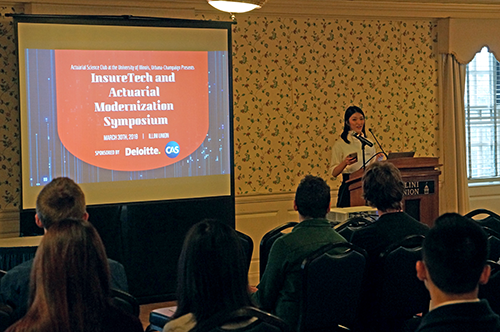 Technological advancements in recent years has brought rapid innovation to many fields, including the ways that risk is calculated.
That's why members of the Actuarial Science Club (ASC) at Illinois decided to conduct the InsureTech and Actuarial Modernization Symposium, an event on campus modeled after the InsureTech Connect conference, a popular industry event in Las Vegas that CEOs and leaders in actuarial science flock to each year.
ASC internal vice president Kara Wong, who organized the campus event this past semester along with Titan Wibowo, Carrie Wang, Sung Yeo, Spencer Zhang, and Yi Yuan, pursued it in part because actuarial science students don't often get opportunities to hear directly from professionals about how the field itself is evolving.
"(InsureTech Connect in Las Vegas) is mostly for business professionals," Wong said. "Students don't really attend this event because it costs $2,000 for the three days. So we figured, 'Why don't we create something like this, but for students?'"
Now, after the success of its InsureTech and Actuarial Modernization Symposium, the club is in the process of planning another symposium for its students.
The club formed a symposium committee last fall and began planning the event. They reached out to individuals in the industry that they thought would be interested in participating. The event, sponsored by Deloitte and the Casualty Actuarial Society, ended up featuring presentations from five industry professionals that detailed the ever-changing layout of life as an actuary.
It is the job of actuaries to use statistics and financial theory to identify and assess different areas of risk, then advise on how they will affect the bottom line of businesses.
One of the speakers, Charles Deak (BS, '08, actuarial science) a manager in Deloitte Consulting's Actuarial & Insurance Solutions practice, believes the event was valuable for students who want to learn things about the industry that they may not necessarily be able to learn in the classroom.
"Being able to have opportunities like this where companies come in and talk about hot topics instead of the normal recruiting presentations really resonates with students," Deak said. "Students are learning, they're trying to figure out what they want to do. This is a good way to get in front of them and teach them about something else not in the classroom setting where there is no pressure."
Deak's presentation focused on increasing the efficiency of actuaries in their work, given shifting roles and rapidly advancing technologies.
Part of the advice he imparted to students was to learn fundamental skills and to be willing to adapt to a company's own procedures and ways of doing things.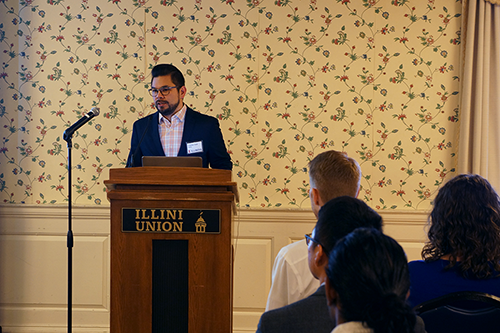 "Let's say you graduate and you're a superstar student, 4.0 GPA, but you hop into any sort of industry and it turns out you don't know what you think you know," Deak said. "You've been trained, you've been educated, but every company has their own processes, their own challenges, their own ways of doing things. Having a good core set of fundamentals before hopping into the big trendy thing at the time is pretty critical here."
Deak was joined by Jeff Huddleston from Deloitte, Erik Wenzel of CNA Insurance, Patrick Allen and Ryan Meadows of Root Insurance, and Crossbordr CEO Robert Collins.
That sort of interaction is exactly what Wong feels she was missing out on as a late transfer into actuarial science. It was a valuable experience to engage with the speakers, Wong said.
"That really showed us where the future of the industry is moving toward, and the content the speakers brought to us was more than I could have wished for. So many of my own questions I had about the field were answered," Wong said. "I really wanted context to not only what the industry is doing, but also what it plans to do to keep up with all the technology. It was just a great gathering of people at the event, which stimulated lots of thoughtful conversations."
It wasn't easy to plan the event around the schedules of the students and speakers, Wong said, so the club plans on getting started even earlier this year in its planning. Actuarial science is a small major at Illinois, but the university actually has one of the most robust actuarial programs in the nation, awarding the second-most degrees in the country in 2016, behind Columbia University in New York City.
The alumni network is expansive compared to most, but given the still relatively small numbers, it is well-connected.
"The alumni really like to give back to students," Wong said. "They're involved with the alumni mentorship program and there are just so many of them out there. I think because people within the industry are familiar with U of I's actuarial science program, they are enticed to get involved with our program."
Illinois alumni such as Deak were glad to play a part in helping out students who will soon be joining him in the ever-changing field. When Deak was at Illinois, there wasn't anything like the symposium, although various companies did come to campus to meet with students and make connections.
"To me, it's very fulfilling. If I think about when I was first coming out of school, trying to figure out what I wanted to do, it's a very daunting question, especially for actuaries because we have multiple disciplines that people can feed into," Deak said. "The more information you can get from people's actual day-to-day, what that's like, what they're working on, what some of the trends going on in the industry are, that to me makes the candidates more prepared to make a decision. (That) is very difficult coming out of school."