Faculty receive Public Voices Fellowship
New program at Illinois helps professors amplify their ideas to a wider audience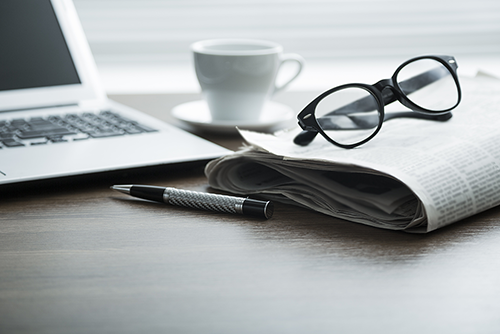 Last year, Jane Desmond, a professor of anthropology and director of the Summer Institute in Animal Studies at Illinois, wanted to publicize her concern and research findings about the plight of police dogs sniffing out opioids as they search for drugs.
She had an opportunity to do so through a two-day training program offered to Illinois faculty with the OpEd Project, a non-profit organization devoted to helping women thought leaders better share their ideas. Desmond worked with a journalist to learn the finer points of writing an opinion article, and soon her piece, "A surprising victim of the opioid crisis," appeared on the CNN website, generating a flood of responses.
Now, the opportunity that helped Desmond spread her ideas is being expanded with a new program called the Public Voices Fellowship. Twenty faculty members across the University of Illinois System, including seven in the College of LAS, have received the fellowship to help them share their ideas effectively in the greater public conversation.
The one-year fellowship was launched by the OpEd Project in partnership with Barbara Wilson, executive vice president and vice president for academic affairs at the University of Illinois System, who is also a professor of communication and former dean of the College of LAS. The competition to obtain a fellowship is open to all tenure-track faculty across the three campuses.
Once selected, Fellows participate in a series of day-long meetings, receive one-on-one coaching from journalists, and have opportunities to interact with influential thinkers and policymakers throughout the year. Organizers hope that the program better enables participants to share their research and findings in a compelling way with wider audiences that may not be familiar with the subject area.
Antoinette Burton, a professor of history and director of the Illinois Program for Research in the Humanities who helped organize the two-day OpEd Project program in 2018, was interested in expanding the program into the Public Voices Fellowship this year.
"I'm constantly trying to think about ways to better communicate the research that particularly humanists do, but really that all researchers do on campus," Burton said.
After the success of the 2018 program, Burton was keen to support Wilson's efforts to bring the Public Voices Fellowship to Illinois.
"The participants all thought (the 2018 program) was an absolute transformative experience, and within three weeks, four of them had published op-eds, which was amazing," Burton said. "So, I thought, the next stage in the op-ed portfolio of opportunities is Public Voices Fellowship."
Burton said that the fellowship will help scholars whose writing is largely aimed at an academic audience instead of a general audience found on news sites.
"I think there's a real difference in how you translate what you know academically into accessible and publicly digestible ways of thinking," she said.
Having a public impact has always been a goal of Ruth Nicole Brown, a professor of gender and women's studies and a Public Voices fellow, as she has worked in communities to analyze the life experiences of black girls. She said the Public Voices Fellowship opportunity came at a perfect time in her professional career.
"I just completed a year-long project, Black Girl Genius Week, funded by the Whiting Foundation. During our national convening we talked a lot about the importance of op-ed writing and sharing our stories with a larger public audience," she said. 
One of the topics she is interested in writing about is how dress codes can be particularly discriminatory toward black girls.
"I'm just really excited to introduce some of the political language and concepts I rely on in my engaged work with black girls about black girlhood to a wider public so that, hopefully, those who are reading it will do better by and for the black girls they interact with in their lives," Brown said.
In addition to Brown and Desmond, the five other LAS faculty who received the Public Voices Fellowship include Julie Dowling, Latina/Latino studies; Cara Finnegan, communication; Rini Bhattacharya Mehta, comparative and world literature; Ruby Mendenhall, sociology; and Gilberto Rosas, anthropology. On the Urbana-Champaign campus, Amy Wagoner Johnson in the Department of Mechanical Science & Engineering also received a fellowship.
Desmond said she is considering an op-ed piece about the poultry industry. She said that it's been suggested to the fellows that they tie their op-eds to a timely event. In Desmond's case, the event may be a national holiday.
"One of the areas I do a lot of work on is human relations with animals," Desmond said. "And one of the ideas in mind is using the timing of Thanksgiving to write about this notion of pardoning the turkey."
Elaborating, she described how the president pardons the turkey every year, and how the event always generates news coverage. She sees an opportunity to tie the publicity to the question, "What do we know about the poultry industry?" 
She praised the University of Illinois for implementing the Public Voices Fellowship.
"Faculty at all ranks are eligible to apply, and there are always competing claims for limited resources in the university as you know we're a public institution," Desmond said. "I think that making this choice to help faculty get this training is a really good investment."