Classics, adventure, and a renowned scholar
William Oldfather's personality—and affinity for hiking—brought the university together during hard times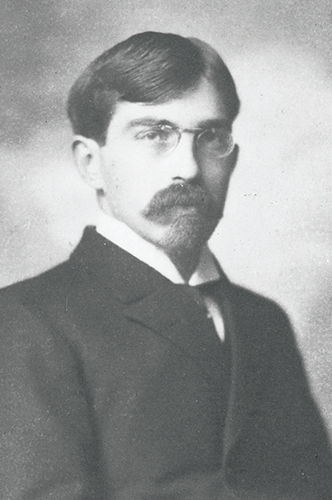 It's tempting to think of professors of days gone by as stiff as the stone from which their busts are often hewn. But William Abbot Oldfather was not—as comedian Tom Lehrer once famously lampooned college elites—an "ivy covered professor in ivy covered halls." He was adventurous, opinionated, passionate, and driven. And before his untimely death in 1945, he had a major impact on in his field, becoming one of the greatest American classical scholars.
The son of Presbyterian missionaries, Oldfather was born in what is now modern-day Iran in 1880. He was a descendent of Daniel Boone on his mother's side, which seems almost evident from his love of adventure. He canoed rivers of the Midwest and Canada, the lakes of Alaska, and once embarked on a trip on the Boneyard Creek that literally took him from his backyard on Green Street in Urbana, Illinois, to the Wabash River and beyond. 
When he wasn't on the water, he could often be found on foot, enjoying long hikes. It wasn't unusual for him to walk 35 miles a day, and during his studies of Greece he is said to have "tramped" more than 1,000 miles.
His educational journey took him from Hanover College in Indiana, to a master's degree at Harvard, and a PhD at the University of Munich, where he was greatly influenced by some of the leading classicists of his day. In 1909 he arrived at the University of Illinois where he would remain until the end of his career, becoming a full professor in 1915 and the head of the Department of Classics in 1926. 
By all accounts, Oldfather, who married and had two daughters, was a passionate professor, with penetrating eyes, a swinging stride, and a "growling laugh" who "gripped the hearers with intellectual excitement." Where others merely lectured, he enlivened, directing Greek plays and teaching a popular course on ancient sports that included student track and field games on the Quad.
Over the years, he became one of the greatest driving forces for research among the classical scholars of the 20th century and a man whose methods of studying literature changed the field. Outside the confines of the classroom, however, he served another important role on campus. Through the Saturday Hikers' Club, which he founded shortly after his arrival at the U of I, Oldfather provided a unifying spirit that would help guide the university through two world wars and a global depression.
According to the first edition of The Saturday Hikers, a club newsletter published in 1944, the club was a group of outdoor-loving men from the university that included "distinguished scholars and scientists whose academic activities are described on many pages of 'Who's Who' and in the 'American men of Sciences.'"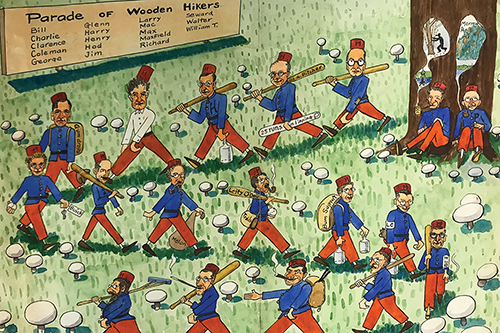 Every Saturday at 2 p.m. regardless of the weather, they arrived at Oldfather's house at 804 W. Green St. in Urbana wearing their roughest clothes in anticipation of long day of softball, camp-fire cookouts, and free-flowing discussions that covered topics from the role of religion in institutions to the effects of depopulation after the war. These fireside chats allowed some of the leaders of the university to ponder the great questions of the day in an informal, inter-departmental exchange.
In the club, there was no artifice or formality, although, typical of leadership roles in the era, members of the group were predominantly male. Of the 164 members mentioned in that first edition, there were deans, provosts, and professors from nearly every field of study, with descriptions that extolled not their scholarly achievements, but their skills as a left-handed hitter, their ability to harmonize, or their tendency to carbonize a "dandy steak." Bill, as Oldfather was recorded in the group's adventures, was known for his tricky throw, strong convictions, "and still stronger language."
Of course, it's Oldfather's reputation as a renowned classicist for which he will most be remembered. When he wasn't publishing articles, conducting research, or mentoring a generation of doctoral students, he was hard at work making the Classics Library at Illinois a renowned center for classical study. Through skillful acquisition, he amassed one of the top three collections of its kind in the nation, on par with those found at Harvard and Berkeley. He also helped make Illinois a center for philological inquiry, which studies how literature and language developed.
In an article published almost 70 years after his death, Ariana Traill, professor in the Department of Classics, said, "Oldfather's masterly text and translation of the philosopher Epictetus is on every faculty member's shelf and his portrait still hangs on the wall, reminding students of his connection to our program."
Had he been one of those "ivory covered professors in ivory covered halls," it's possible he may have yet made many contributions to the field that he loved, but ultimately his love for adventure led to a different end. According to news reports, on Sunday May 27, 1945, William Abbot Oldfather died while attempting to "shoot the dam" in his canoe on the Salt Fork River, just north of Homer, Illinois. In his final moments, he left the world just as he lived it—the captain of his own ship, rushing forward in eager anticipation of what could be discovered just beyond the horizon. He was 64.
Editor's note: This story originally appeared in the Fall 2019 issue of LAS News magazine.