Cyber threats, counterterrorism, and Shakespeare
Erin Joe's career in national security requires a mindset that began forming in college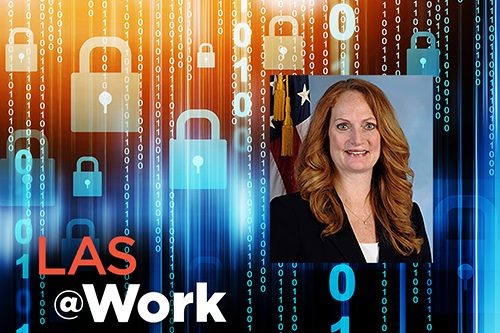 Earlier this year, Erin Joe, after serving for more than two decades in the FBI, was named the director of the Office of the Director of National Intelligence's Cyber Threat Intelligence Integration Center, where she leads efforts to analyze and understand cyber threats to the United States. Making the nation safer is an all-consuming, round-the-clock endeavor, and what she learned from studying Hamlet in college has been with her the whole way.  
Degree: BA, '90, English
Residence: Northern Virginia
Occupation: Director, Office of the Director of the National Intelligence Cyber Threat Intelligence Integration Center
What do you do?
I'm a director over a center that is responsible for integrating cyber threat intelligence, and we provide context and analytics to understand the threat picture across the intelligence community.
What was your first job out of college?
(After earning a law degree at Ohio State University) I was an administrative law judge in Texas for state benefits for three years. That was really back in the day when you mailed your resumes. It was for the state of Texas and they had offices across the state. I was in Dallas at the time and it was for the unemployment commission. We heard the appeals for the unemployment benefits.
What was your career path to your current job?
(After my first job) I went to FBI headquarters to write policy. I joined the counterterrorism division, where I would lead a program management function that was responsible for all the other investigations that are happening across the FBI for counterterrorism for certain regions. From there I went to Salt Lake City, where I was a supervisor and then an acting assistant special agent in charge (for the FBI). Then I went to Los Angeles, where I was the assistant special agent in charge for intelligence, surveillance, and aviation. I then returned to FBI headquarters, where I became a section chief for the Office of Partner Engagement. I was in the director's office working for James Comey, and our job was to do engagement with the federal, state, and local law enforcement communities. That was one of my most fun jobs.
How did being an English major prepare you for this career?
I use my interpersonal skills to get to the best outcome and to create trusting relationships. You can't really lead until you can do that, and all of those core leadership skills really come from the things that you get from a liberal arts background. For example, keying in on different languages that people use, keying in on misunderstandings, keying in on misinterpretations, keying in on the way in which people use nonverbal and verbal communication—you get that because you've been analyzing it for years through your liberal arts background. In English, you do character development, you analyze text, you break down that text, you break down that language, the words. I can't tell you how many times we looked at Hamlet. You key in on the things that reveal insight into people, the characters, character development, and what is happening between characters. You analyze that, and soon it just becomes a part of your DNA.
What do you like to do when you're not working?
That sounds like you think I have spare time. I have things I do enjoy. I like hiking, I like being outside, I like just the simpler things, like being around water. If I had more time, I would be more involved in those kinds of physical activities outside, but there's not a whole lot of time left for that after taking care of three kids, whatever has to be done around the house and all of their activities. When the kids reach a certain age, your hobbies become their activities, which I love. I absolutely love watching my kids do whatever it is they do. I find great joy in that.
What's your proudest achievement?
I'm proud to have mentored some of the finest people I've ever had a chance to work with here and have an opportunity to influence lives. I have been part of an activity that has made this country safer. And I've played a role very significant role in some of those activities. It makes me very proud to say that because of some actions we took, we are safer.