'We need to do our share'
Retired professor Ken Andersen creates scholarship fund to help students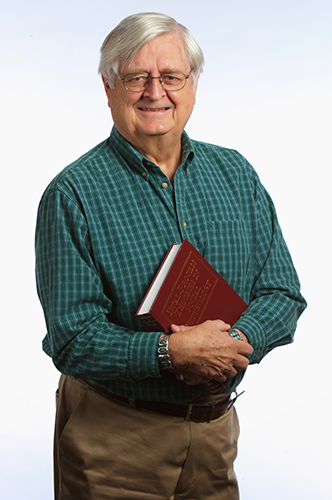 From growing up on a farm in northern Iowa without indoor plumbing to graduating debt free with a doctoral degree at age 27, Ken Andersen knows the financial struggles endured by many college students who pursue higher education. That's why the professor emeritus at the University of Illinois has created a new scholarship fund to support current students in the Department of Communication.
His decision to create the fund has firm roots in a life devoted to earning—and providing—higher education. Andersen, who worked as a full-time faculty member in the Department of Communication from 1970 to 1995, is an accomplished scholar who has published research on topics such as persuasion, communication ethics, academic governance, and debate.
In 1955, Andersen graduated magna cum laude from the University of Northern Iowa with a bachelor's degree. A year later, he received his master's degree.
"I think I paid $27 a quarter for three years," Andersen said. "I went to summer school and graduated four years after I started with a master's degree. I was an assistant in debate, and so I got my tuition waived, which was good stuff."
At age 21, Andersen accepted a teaching position at the University of Colorado before joining the U.S. Army. During his service, Andersen was transferred to teach classes to soldiers and to advise incoming recruits because of his background in teaching.
After his time in the Army, Andersen earned a PhD as a Knapp Fellow from the University of Wisconsin. He worked as an instructor at the University of Michigan before coming to the University of Illinois.
"The maximum tuition I paid (at Wisconsin) was $115 a semester because I had a fellowship, and my last year I had a teaching assistantship, so I didn't pay anything."
Andersen said he's shocked to see the way college tuition has risen since he was a student, which is why he decided to create the Building the Future for Communication Students Scholarship Fund.
"There I was at 27 with no debt and a PhD," he said. "We ought to be doing that for the students of today. If you're appealing to people like me who benefited from what they gave us in the past, then we need to do our share of giving to support the students who are coming after us."
Andersen believes that whatever is given will keep on giving, and the right investments will continue to grow over time.
"That's the motivation. What I hope we can do is attract other people to do the same thing," he said. "We have our own life story, but all of us owe a debt to the teachers, to the people who made it possible … It's a way of paying debt that we don't really have on paper, but we do have in reality."
While at the University of Illinois, Andersen served the academic community in various ways, ranging from serving as associate head and director of graduate studies in the Department of Communication, to serving as deputy vice chancellor for academic affairs.
With his background in debate, Andersen was also part of the Campus Senate and American Association of University Professors. He served as president of the National Communication Association, the largest association of communication scholars in the world. In retirement, Andersen continued to serve in the Campus Senate as the Parliamentarian and on the Senate Executive Committee.
John Caughlin, head of the Department of Communication, said Andersen has given back not only to the department, but to the campus and his discipline.
Caughlin said it's no secret that the cost of higher education has increased over the past few decades, which makes Andersen's gift a wonderful and meaningful commitment to giving students access to college.
"Ken is someone who has spent a career—and years past his official career—giving his time and talent for the benefit of the academic community," Caughlin said. "That he should decide to give even more at this time is exceedingly generous. His giving in a way that benefits our students is completely consistent with the kind of community member he has always been."
To learn more or support the Building the Future for Communication Students Scholarship Fund, click here.
Editor's note: Ken Andersen passed away on Jan. 26, 2020, after this story originally appeared. He left behind his wife, a son, a daughter-in-law, and three grandchildren.