New faculty embark on bright futures at Illinois
Hailing from around the world, 23 professors launch careers in LAS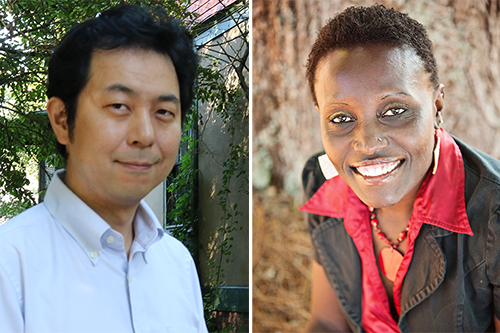 Kohei Kishida works at the intersection of two fields that may appear to be unlikely partners — computer science and philosophy.
The humanities and STEM are two academic paths that typically lead to very different outcomes, but the professor of philosophy combines quantum computing and philosophy to further research quantum computers.
This year, the College of LAS has hired 23 new faculty members (most of whom started during the fall semester) who, like Kishidia, have diverse backgrounds, from the coast of Kenya to Nebraska, and unique research interests, ranging from astronomy and entomology to political science and linguistics. Read on for profiles and a full list of the new faculty faces in LAS.
Robert Carroll, Department of Political Science
After flunking and dropping out of college twice while exploring several majors, Robert Carroll decided to try political science as a last resort—and the outcome proved that the third time really is a charm.
"I started in engineering at Georgia Tech and I realized I wasn't a very good engineer," he said. "Eventually I got into political science because I was running out of possible majors—and I liked it."
He liked it enough to pursue political science in graduate school, but new avenues of learning still awaited him, as he realized while he was writing his dissertation on economic models for a doctoral degree at the University of Rochester.
"I came out of the cave three months later thinking I invented this great new thing, and somebody said, 'That's basically microeconomic theory from the 1870s,'" Carroll said. "I bought some microeconomic textbooks and started to get into general equilibrium theory, and I was hooked. I thought it was the coolest thing I'd ever seen."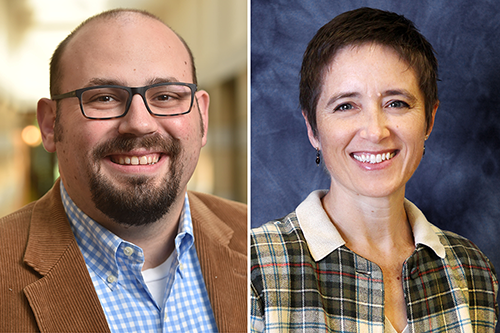 Since 2007, Carroll has collected several teaching awards, fellowships and grants for his accomplishments in political science, and he was also a visiting fellow at the Kroc Institute for International Peace Studies at the University of Notre Dame in 2014.
Now, Carroll incorporates economics with political science while teaching and researching international relations. Carroll writes models that include trades, finances, international conflict, and the origin of wars.
Carroll is currently working on a paper with a mathematician, and has worked with mathematicians, historians, and business scholars in the past. Collaborations like these are one of the reasons Carroll came to the University of Illinois: It's a naturally interdisciplinary place, he said. 
"I think it's a cool place to be able to just walk around and think about whatever is on your mind and not worry about what to call it," Carroll said.
Amy Hassinger, Department of English
Although she's lived in Urbana for 15 years, Amy Hassinger is one of the newest additions to the Department of English.
Before joining the faculty as an assistant professor in creative writing this fall, Hassinger worked at the University of Illinois as a lecturer and visiting professor for two years. She also worked remotely at the University of Nebraska for 15 years for the master's in fine arts program.
"One of the things that I'm very excited about being here is just being able to be a member of a team, be part of this larger thing, the program, the creative writing program, which is also within the larger English department," said Hassinger.
Hassinger, who received her master in fine arts from the University of Iowa, is the author of three award-winning novels: "Nina: Adolescence" (2003), "The Priest's Madonna" (2006), and "After the Dam" (2016). Hassinger said she is currently working on a creative nonfiction book jazz singing, improvisation, climate apocalypse and the pursuit of joy.
"(Writing) is one of the best ways I've found to make sense of my own life experience," she said. "And life throws so much at you on any given day, and over the course of a longer life there's much to process. And writing, in whatever form, allows me to create meaning out of what can feel chaotic and sometimes overwhelming."
She said that she enjoys how each aspect of her new position—teaching and writing—can complement the other. For example, if Hassinger is wrestling with a particular challenge in her own writing, she said, she can turn it into a lesson to help students develop their own skills as literary artists.
"My own immersion in the creative process and its challenges deeply informs the way I read my students' work and interact with them," Hassinger said. "We're all practitioners of an art; I just happen to have a bit more experience."
Kohei Kishida, Department of Philosophy
Kohei Kishida began college in Kyoto studying philosophy, going on to earn an undergraduate degree, master's degree, and a PhD in philosophy before doing science and math postdocs at Oxford University as well as universities in the Netherlands and Canada.
For Kishida, who advises students in the CS + Philosophy program, using epistemology—the study of knowledge—and other insights from philosophy to advance computer science, is a natural fit.
Recently, he has been working on quantum computing, applying his mix of philosophy and technical training to understand what properties of quantum mechanics allow quantum computers to outperform conventional computers.
Quantum computing has posed conceptual problems to computer scientists and physicists, who say it opens up possibilities that didn't exist with conventional computing.
"Quantum mechanics does all sorts of strange things. Which one of these strange things will be a resource for quantum computing is a conceptual problem computer scientists and physicists have been thinking for 20 to 30 years," Kishida said.
Though he was primarily interested in ethical issues and early modern philosophy in high school and college, he was eventually drawn to conceptual issues in science.
"One of the virtues of philosophy is that it is a discipline of methodology, of using your mind to solve a problem when no empirical experiment or mathematical way to solve the problem is available yet," he said.
Kishida said that when a field undergoes a revolutionary stage requiring scientists to adopt new approaches and methodologies, philosophy can be essential. Training in philosophy can be an asset for scientists staring down fundamental conceptual issues, he said, especially in a field like computer science that's advancing so quickly.
"I find students here really talented," Kishida said, "so one of my goals here is to develop an army of computer scientists/philosophers who can tackle some of these conceptual issues in computer science from a more conceptual or philosophical approach to contribute to the direction of where computer science is going."
Esther Ngumbi, Department of Entomology
Every solution is created to solve a problem, whether it's a quick fix or a life-altering change. For professor of entomology Esther Ngumbi, going to school was her solution to feeding her family.
When Ngumbi grew up on the Kenyan coast, farming was an essential part of living—her parents, who both worked as teachers, subsidized their low salaries with farming. But every harvest season, Ngumbi watched all their hard work get destroyed by insects, and it's because of this challenge that made her interested in pursuing a career that would help her family.
"We would be hungry," she said. "I wanted to pursue a career that was going to allow me to provide solutions after seeing nearly all our hard work get destroyed by insects."
Ngumbi went on to earn her PhD at Auburn University, becoming the first woman from her home community to earn a PhD. She sees how farmers lose almost 50 percent of their crops to insects, so her research is to help those farmers decrease that loss. Her research aims to understand how beneficial soil microbes interact with plants to repel insects or attract beneficial natural enemies.
"I'm trying to find sustainable ways to feed ourselves without using too much fertilizer or pesticides—all the things that are harmful to ourselves and our environment," she said.
Ngumbi is currently focusing on tomato and corn plants, and although feed corn is a popular crop in central Illinois, she is only focusing on the kind we can consume.
"Every day I'm excited about work because I never know what I'm up to," she said. "I never know what solutions I'll be providing for the research we need. It's not hard to wake up and come to work and see what I'll find and what knowledge can I add to our world."
Other faculty members joining LAS this fall are listed below:
Marianne Alleyne, Department of Entomology
John Barnard, Program in Comparative & World Literatures
Guillermo DelPinal, Departments of Philosophy and Linguistics
Daniel Eck, Department of Statistics
Julie Gaillard, Department of French and Italian
Andrew Garin, Department of Economics
James Hinman, Department of Psychology
Collin Kieffer, Department of Microbiology
Mark Lara, Department of Plant Biology
Xinran Li, Department of Statistics
Angad Mehta, Department of Chemistry
Liviu Mirica, Department of Chemistry
Gautham Narayan, Department of Astronomy
Baron Peters, Department of Chemical and Biomolecular Engineering
Mei Shen, Department of Chemistry
Anna Sokac, Department of Cell & Developmental Biology
Beth Stadtmueller, Department of Biochemistry
Xiao Su, Department of Chemical and Biomolecular Engineering
Yan Tang, Department of Linguistics
News Source
Therese Pokorney, Heather Schlitz, and Samantha Boyle