The Parthenon, Plato, and Philokete, the green-eyed cat
Alex Augustynski makes the most of a prestigious student summer program in Greece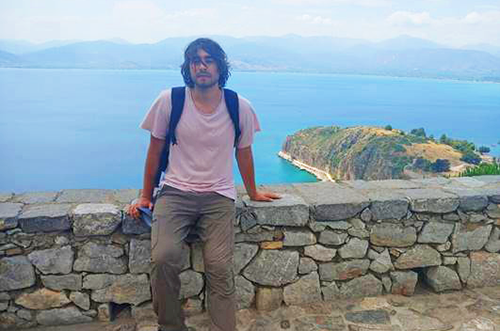 It's a vivid memory: At an open-air taverna in a small coastal town in Greece last summer, Alex Augustynski, junior in classics, made his acquaintance with a friendly black and white cat with green eyes and a deformed leg.
Alex had spotted the female cat in Korfos, a remote port town where they had docked during an academic program. She was waiting beside the boat the next day when he woke up, and hopped onto his lap. She watched Alex leave from the dock and he watched her from the boat, and he made up his mind to come back for her.
The cat became an affectionate reminder of a summer seminar hosted by the American School of Classical Studies at Athens (ASCSA), a selective program where Alex and other participants lived aboard a sailboat for 18 days, cruising through the Aegean Sea, visiting ancient sites, and hearing lectures from experts and scholars.
With its sprawling coastline and scattered islands, ancient Greece was a maritime nation. The program crammed the class into three boats, eight people per boat, where they slept and traveled for two weeks to give them a better idea of the ancient Greeks' connection to the sea.  On the route along the Greek coast from Athens to Nafplion, the group played loud pop music and listened to the waves lap against the boat at night as the group sweat in the hot summer temperatures.
The Department of Classics had a big influence on his decision to apply for the program, as well as his decision to study classics after transferring to Illinois his sophomore year.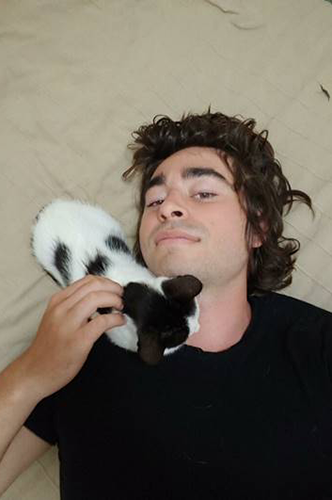 "He was very motivated," Antony Augoustakis, Alex's professor and head of the department, said. "He was top of his class in the undergraduate body. He was very interested in learning and getting to know Greece as a country."
Augoustakis had encouraged Alex, who had learned ancient Greek on his own and is currently taking graduate-level ancient Greek courses, to apply for the ASCSA program, which became his only vacation in a summer that he spent studying Latin.
On the trip, they visited monuments, hiked volcanoes, and snorkeled to see ancient fortress walls that are now underwater, their flippers kicking up dust over the millenium-old stones.
During his last week in Athens, Alex said his diet consisted only of one cheap fast food meal: a pita filled with gyros, french fries, and tzatziki sauce.
"The food is the best I've ever had," he said.
One of Alex's favorite moments was seeing the Parthenon at sunset, the sun lighting up the ancient temple on the Acropolis, the highest point in Athens.
"It took my breath away seeing the Parthenon like that."
After the program ended, Augustynski, who wants to study Plato for a living and owns a $150 small marble bust of Socrates, took a walk to the former site of the Platonic Academy, now a public park, on the opposite side of Athens. He brought the collected works of Plato to the ruins of the academy and read in the same grounds where Plato had once taught.
"It was a very powerful experience for me. I have such a great reverence for Plato," he said. "I'll definitely remember that for a very long time."
Alex also didn't forget his newfound feline friend. After the program ended, with the help of a Greek nonprofit that rescues stray cats, he made the two-hour drive from Athens back to Korfos. He spotted the cat a few feet away from the taverna where he first saw her. He named her Philokete, after Philoctetes, a Greek hero from the Trojan War, who injured his leg in a Greek legend, and then he brought her home, holding her throughout the 10-hour flight back to Illinois.
Back at his parents' house in Wilmette, she sat on his lap for hours while he studied Latin. In August, she gave birth to five kittens.