Food, family, and the Philippines
Billy Dec co-founds one of Chicago's most successful entertainment companies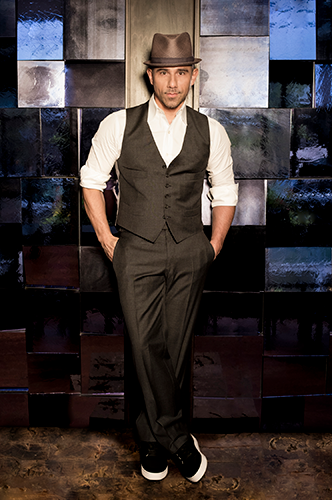 Billy Dec (BA, '95, economics) was devastated when two of his family's elders passed away on the same day—December 9, 2018. One of them, his grandmother's sister, passed away in the Philippines, while his godfather died a world away in Chicago, with Dec at his bedside.
"I suddenly realized that my grandmother, whom I had lost just after college, had only one last remaining sister in the Philippines," Dec recalled.
In a matter of two weeks, Dec pulled together a film crew, and they traveled to the Philippines to locate her grandmother's last remaining sister. He said they "jumped into vans, buses, airplanes, and motorcycles, traveling throughout the Philippines, tracking down family elders and learning their recipes."
The result is the PBS documentary, "Food. Roots."  
Food and family are at the core of Dec's life, as co-founder of one of the most successful hospitality and entertainment companies in Chicago (and now in Nashville)—Rockit Ranch Productions. The company has spun off a galaxy of restaurants and nightclubs, such as Sunda, Bottlefork, the Duck Inn, Equinox Wine Bar, Dragon Room, Circus, Rockit Burger Bar, and Underground, to name a few.
What's more, he appears regularly on the "Today Show," "Windy City LIVE," and the radio station KISS-FM. He has acted on TV and in film, started his own film company, was appointed to two task forces by President Obama, supports numerous philanthropic causes, won two Midwest Emmys, and is now launching new ventures in both human resources and marketing.
A tireless worker, Dec has received the 2019 LAS Alumni Achievement Award.
Dec grew up in the Lincoln Park neighborhood of Chicago, a culturally diverse area when he was a kid with numerous street fairs in the summer. Even as a child, Dec would help set up street tents and cook at these fairs. In the winter, he worked coat check at a Chinese restaurant.
"I just liked to work, to be around people," he said. "I love to see the smiles on people's faces."
Dec also loved food growing up, particularly the meals prepared by his beloved grandmother, his "Lola." When Dec's mother first came to the United States, she brought Lola, who was "one of the best Filipino cooks around. People would come from everywhere to get a bag of Siapao from her.
Siapao is a steamed bun packed with pork, shrimp, vegetables, and eggs. But when Lola passed away, her recipes died as well because she never wrote them down. This was another reason for his return to the Philippines—to track down family recipes, which he succeeded in doing.
When Dec arrived at the University of Illinois in 1991, however, his family life was crumbling. During his senior year of high school, both his father and brother were diagnosed with serious mental health issues. Dec wanted to come to Illinois, but he wasn't sure he could afford it.
"So, I drove down to U of I and parked myself in front of the financial aid office," he said. "I was so distraught that I remember breaking down in the office."
Someone in the office offered to walk him through the entire financial aid process, and over the next couple of days this person helped him get enough money with which to live and go to school.
"I owe everything to that financial aid office and the people who work there," he said.
While majoring in economics at Illinois, Dec juggled multiple jobs, both in Champaign and Chicago, where he promoted events and worked as a bouncer at various nightclubs on the weekend. Despite his focus on clubs and restaurants, he felt driven to go into law. So, after finishing his bachelor's at Illinois in 1995, he went to the Chicago-Kent College of Law. During his first year of law school, he opened his first nightclub in Chicago.
"It was probably the stupidest thing I ever did, but thankfully it worked out," he said. "Opening up a nightclub or any business when you're in your first year of law school is like a death sentence. I worked 18 hours a day, seven days a week. Failure wasn't an option.
During each of his three years of law school, Dec opened a new nightclub, including Circus, a 22,000-square-foot club—the largest in Chicago. This venture also connected him with his business partner, Brad Young, and together they formed Rockit Ranch in 2002.
Although Dec practiced law for a couple of years, he said, "Some soul searching led me to the fact that I liked to solve problems quickly and make people happy." So he decided to concentrate on Rockit Ranch.
Dec got the acting bug when he appeared in an episode of "Friends" with his friend, actor David Schwimmer. He went on to appear in numerous shows such as "Empire," "Criminal Minds," and "American Crime Story." He also expanded into philanthropy, supporting causes such as the American Cancer Society, Make-a-Wish Illinois, Camp One Step by Children's Oncology Services, and Asian Americans Advancing Justice.
In 2014, President Obama appointed Dec to the White House Advisory Commission on Asian Americans and Pacific Islanders, as well as to the White House Bullying Prevention Task Force.
To open space for all of these interests, Dec and Young had an amicable parting in 2016. Dec retained the Underground night club—his artistic platform—while the Sunda restaurant remains his cultural platform with its Southeast Asian food.
"Sunda is part of my DNA, my family, my culture," he said.
Dec said his company is now expanding into human resources and marketing. His new venture, Ask HR Pro, aims to help companies navigate a myriad of workplace issues for both employees and managers, from employee complaints and terminations to organizational design and workers compensation.
His new marketing company, the Coact Agency, builds on Dec's long-time success and reputation as a top marketing and creative force by "collaborating with industry leaders on emerging cultural trends and bringing relevance to brands through impactful work."
Meanwhile, he continues to tell stories through his podcast, The Meal of Your Life, and his company's first film, "Bury the Lead," is in development. His new documentary on food and the Philippines will air on PBS later this year, and the recipes he found during his trip will make their way to his restaurant.
In the Philippines, Dec also found his way to his grandmother's last remaining sister, Lola Pilar. He then continued north to Vigan, a city he hadn't seen since he was three years old. He will never forget rolling up to a village on the outskirts of the city, with its fish pond and huts.
Dec was well aware that his grandfather, Monico Bumanglag, was once an important attorney and community leader in the province of Ilocos Sur, and he was known for helping people, even when they couldn't afford to pay. But on this trip, Dec also learned something new. His grandfather's wish before he passed away was that one of his grandkids would go to law school and take care of the family and community the way he had.
At that moment, Dec realized he was that grandchild. 
"In law school, I often thought about quitting, but I just kept driving forward for some reason," he said. "Now I know why."
It was the search for food and family that led him to that singular place. As he said, "Through food, you can learn a lot about your family stories. It was very emotional experience."