LAS faculty recognized as distinguished chairs
Antoinette Burton and Jeffrey Moore received two of U of I's highest honors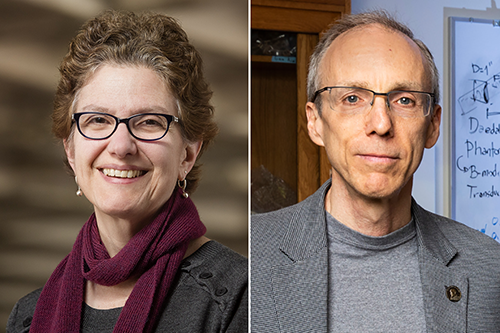 The University of Illinois celebrated two stellar faculty members with recognitions as endowed chairs deemed to be among the most distinguished honors on campus.
Antoinette Burton, professor of history, has been named the Maybelle Leland Swanlund Endowed Chair, and Jeffrey Moore, a professor of chemistry, has been named the Stanley O. Ikenberry Endowed Chair. They were recognized during a recent investiture ceremony.
"All of our faculty stand out in many ways nationally and internationally and yet only a select few are chosen for named appointments," Provost Andreas Cangellaris said. "This is especially true for the Swanlund endowed chair and the Ikenberry endowed chair, two of the highest honors that can be given to a faculty member at Illinois."
The Swanlund chair was made possible by a gift from the late Maybelle Swanlund. The Ikenberry appointment was established in honor of Stanley O. Ikenberry, the 14th president of the University of Illinois, and is funded by a gift from Geraldine B. Cooke and other sources.
"It is important to reflect on the significance of support by donors and friends of the university, because it is this support and investment in our institution that allows us to nurture and foster the work of our community," Cangellaris said. "I don't believe there is a better way to impact the university other than investment in its people, ideas, and human potential."
Antoinette Burton — Maybelle Leland Swanlund Endowed Chair
Among the incredibly accomplished members of the Illinois faculty, Burton is among the most notable, Cangellaris said.
Burton, who began teaching at Illinois in 1999, is a historian of 19th- and 20th-century Britain and its empire. She's written on topics ranging from feminism and colonialism to the relationship of empire to the nation and the world. Women, gender and sexuality have been central to her research, much of which has been concerned with the role of gender and race in the imperial and postcolonial imagination. Her work has been supported by the National Endowment for the Humanities, the American Council of Learned Societies, and the Guggenheim Foundation.
"When all is said and done — humanities professor, IPRH (Illinois Program for Research in the Humanities) director, Swanlund chair — my primary identity and the root of my deepest sense of self is as a historian — a feminist historian," she said during the investiture ceremony. "For the last 20 years the University of Illinois has nurtured my development as a student of the past, pushed me to think beyond my own training, and helped me to think past the limits of my knowledge.
"Illinois has made me a fierce champion for the land-grant mission in both its platonic form and its lived reality."
Feng Sheng Hu, the Harry E. Preble Dean of the College of LAS, said Burton is among the most influential historians within the field today, in particular for her work in helping to define new imperial history.
"This is an exceptional honor that is only reserved for those among the best of the best within our faculty, and it is fitting for Professor Burton to join this incredibly elite group," Hu said. "Most successful scholars make a mark in one area of scholarship or two at the most. An incredibly productive scholar across a wide range, Professor Burton has changed the scholar landscape in many different fields – British history, feminist history, South Asian history and world history."
Burton combines her intelligence with a generosity of spirit and devotion to mentorship, teaching, academic leadership, and service, Hu added.
"If you know Antoinette, she is as passionate a leader as we have here at the university," Hu said. "She is an incredible force within our campus and far, far beyond our campus."
Burton said throughout her career at Illinois she has learned from principled colleagues to think of those who are not at the table and how the university may change for the betterment of all. Burton added that many students throughout her career have challenged her to imagine new ways of considering history, new ways of being a historian, and new ways of imagining the university.
"I'm forever indebted to them," she said.
She also noted the incredible support she has received from her family with whom she shares her Urbana home.
"In short, this rich, local world makes Illinois one of the most interesting places on the planet," Burton concluded. "My head and heart are always brimming to capacity thanks to the smart and dedicated faculty, staff, and students who are my closest colleagues here, people so incredibly accomplished who remain intellectually hungry for the next challenge, bravely open to risk and experimentation, and ethically committed to imagining a just, innovative, and productive future for all. This is the Illinois I've come to cherish in its being and, most especially, in its becoming."
Jeffrey Moore — Stanley O. Ikenberry Endowed Chair
Moore, a professor of chemistry and of materials science and engineering and director of Beckman Institute, is a renowned scholar the world knows about through action and scholarship at the grandest level, Cangellaris said.
"As director of the Beckman Institute, we are extremely lucky to have him in that role, because his leadership has been bold, pioneering, passionate, and embraced by all who have the opportunity to work within one of the most exciting leadership initiatives on this campus," Cangellaris said during the investiture ceremony. "He is humble in the way he engages with people and the way he talks about what is possible and is admirable in the way he inspires people by just approaching them and asking them to just imagine what we can do."
Moore was named the director of the Beckman Institute in 2017. He earned a bachelor's in chemistry and a PhD in materials science at Illinois, and served on the faculty of University of Michigan before joining Illinois in 1993.
During the ceremony, Vice Provost Kevin Pitts read a letter from President Emeritus Stanley Ikenberry, who could not be present.
"To have an endowed chair carry one's name is humbling, but for the incumbent of the chair to also carry the leadership role as the director of the Beckman Institute is an even greater delight," Pitts read.
There's no one more deserving of this recognition, as Moore is one of the most passionate and accomplished leaders at Illinois, Hu added.
"(Moore) is one of those great individuals who does everything incredibly, incredibly well, from research to teaching to academic leadership," Hu said.
A photo of the groundbreaking of the Beckman Institute hangs outside Moore's office. In the photo, which Moore shared during the ceremony, Ikenberry is pictured.
"We're all eating apples from trees we didn't plant, and every day I look out my window and that's the picture I see," Moore said.
He said the Beckman Institute came from an amazing vision that that university leadership had at the time to imagine not only what the campus could become but to harness the idea that individuals specializing in disciplines from each corner of campus could come together and work—a notion that, at the time, was not as fully developed as it is today.
For Moore — the sixth director at the Beckman Institute — collaboration has been the process that's defined his career. To prove this, Moore shared a photo of his curriculum vitæ and suggested the audience choose pronouns carefully.
"While it might be easy for you to say that is a copy of my CV, I think it's really representative of the tremendous work that has been poured into efforts that I have had the fortune of being the director of — be it my research group, innovations in the classroom, or leadership at the Beckman Institute," he said. "In thinking of this CV, it's really our CV that is represented and the accomplishments that are in that for which I've been given this distinction."
Moore also identified members of his team who help with his day to day and in the process of complex projects from research to the classroom.
Moore shared a final photo that included his wife, who he says has been his constant source of honest guidance.
"My first point was to really recognize that we are all eating apples from trees we didn't plant, my second point was to remember to use your pronouns correctly, and the third point is to identify your sources of love, support, and guidance," he said.