Transforming data into knowledge
Alumna's support of the Cline Center for Advanced Social Research helps improve access to 75 years of worldwide news reports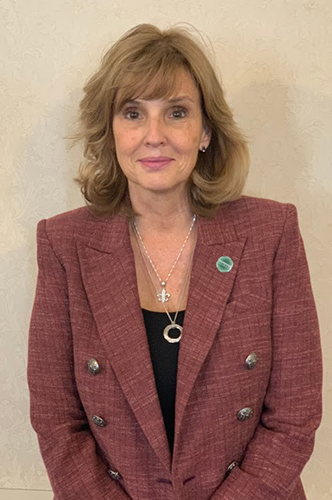 To some, one of the best ways to improve societies is the gathering of data. It's a cause that Lori Montana (BA, '79, political science) can relate to, as she's been recognized for supporting the Cline Center for Advanced Social Research in its mission to transform information into knowledge that can help improve life around the world.
Montana, a former fundraiser for former Illinois Gov. Bruce Rauner, provided a gift that helped the Cline Center to build out a new piece of software, called Archer, that will allow students and faculty to easily access the center's global news archive, which is updated daily and stretches back some 75 years. It currently contains more than 150 million news reports. 
The Cline Center creates data that helps improve living conditions around the world, said Scott Althaus, the center's director and a professor of political science and communication. The center's projects range from the creation of Archer to launching the Comparative Constitutions Project, an extensively used catalogue of the text of all modern constitutions in the world. The project is now a nonprofit organization, but it started as an incubated project at the Cline Center.
Archer, Althaus explained, will allow far more students and faculty to access the center's global news archive, which is currently accessible to only a handful of Cline Center research associates with the proper access and programming skills. Archer will open up the archive to high-volume student and scholarly use, he added.
"It will be a force multiplier for data science education and research by providing broad access to a novel and continuously updating data resource that is accessible enough and flexible enough to serve the diverse needs of students and researchers across the full range of academic disciplines at Illinois," Althaus wrote in a recent report.
Speaking more broadly, Althaus said that he's not aware of any other center that is devoted to what the Cline Center is doing.
"We're interested in getting knowledge into the hands of people who are difference-makers," he said. "They might be in the corporate sector, the government, or the military, and they have the potential to make decisions that affect the wellbeing of people around the world."
Montana's career in government began near the end of her senior year at Illinois, when she and her sorority sisters at Alpha Delta Pi were panicked about finding a job after graduation. After seeing a notice pinned on a bulletin board in David Kinley Hall, she landed her first job as a legislative intern analyzing budgets in the Illinois Senate.
Following her job in the state senate, she was director of the Illinois Arts Council Agency and director of the Illinois State Lottery before becoming a fundraiser for former Gov. Bruce Rauner.
Today, she is heavily involved in the Cline Symposium, an annual gathering of faculty, students and world-renowned speakers who participate in small group discussions and public lectures, where she's happy to see college students who are tapped into current events and dedicated to understanding the world.
"I just think the Cline Center will get into so many useful and interesting things, and because it's the University of Illinois, it's going to be based on facts, reality, and data," she said. "I'm really proud to be associated with the Cline Center."
She added: "For those studying political science, there are wonderful paths forward and opportunities. If you have your degree in political science from U of I, it means you think well, you write well, and hopefully your mind is open to learning about the world, government, and politics."
Althaus said that Montana's support for Archer, and the breakthroughs that the new software is set to create, is a prime example of how alumni can help advance the missions of the Cline Center and campus in general.
"Our university benefits in so many ways from the generosity of our alumni," he said. "I want to encourage anybody who's thinking that they want to have an impact on campus to think about this story in particular as one way where a series of smaller steps accumulated into something that's much bigger than anything we could have ever anticipated."
Anyone interested in supporting the Cline Center can visit here.