Alumnus finds the sweet life
John Lowe makes unexpected career move to lead Jeni's Splendid Ice Creams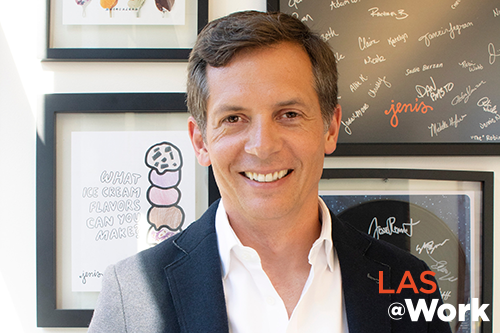 What's the scoop on John Lowe?
He studied political science at Illinois, entered law school, and began practicing law for a premier corporation. Naturally, the next step was to accept an offer from his close friends to become CEO of Jeni's Splendid Ice Creams.
In this role, Lowe has helped the company transform into a nationally loved ice cream company with a vision.
Degree: BA, '95, political science
Residence:  Columbus, Ohio
Occupation: CEO at Jeni's Splendid Ice Creams and board member at White Castle Company
Family: Lowe has been married for 17 years to Catherine L. Strauss, partner with IceMiller, a law firm. They have three boys, Jack (14), Alex (11), and Luke (9).
Describe a typical workday at your current position. Also, what is an example of the most interesting aspect of your job?
Jeni's has 40 scoop shops, from DC to LA, including five in Illinois, a booming e-commerce business delivering ice cream to doorsteps across the country six days a week, and our pints on the grocery store shelves of America's top retailers. I like to think of myself as the Phil Jackson to the Michael Jordan of ice cream. My job is to make sure we have the right team around Jeni Britton Bauer (the greatest ice cream maker the world has ever known) and that the team is focused on the right things to carry out our mission of making better ice creams and bringing people together.
The best thing about my job is that we get to determine our own destiny. We are trying to do something no one has ever done before: company run stores across the nation so we can tightly control the customer experience. That we get to fill Team Jeni's with great people who enjoy working together and get to laugh a little every day is one of the great joys of my life.
Describe your career path from college graduation to your current job.
I went straight to The Ohio State University's Moritz College of Law. I'm still on the wait list at Northwestern.
I worked at Kegler Brown in Columbus for eight years, first doing trial work (I'm 0 for 1 in jury trials), then labor and employment work. General Electric Company called when it was the World's Most Admired Company and had the best in-house legal department in the world. GE made big promises, and lived up to them. Within GE I was a general counsel to a $500 million business in Jacksonville, Fla., the general counsel to a $14 billion P&L in Cincinnati, and then finally general counsel to a general aviation startup that included a joint-venture with Honda. During the financial crisis I was fortunate to close a couple of deals right before quarter-close and my career outside the law was cemented.
Out of the blue, my old friends from Columbus, Jeni and her husband, Charly, called me late one night in January 2009 and asked me to return to Columbus to be their CEO. They had just four ice cream shops, but a cult following. Jeni and Charly were special friends – people I trusted that I could bet it all with – and I believed Jeni was making the best ice cream in the world. From that, I thought, we should be able to build a retail business and open more stores. It was risky and we had a lot to learn, but it sounded too wholesome and fun to pass up. And after five houses in five years for GE, my wife and I were excited about setting down roots in Columbus.
In hindsight, what about college best prepared you for your life and career?
Without question, the writing skills I learned in Lincoln and Gregory halls.
How did your major prepare you for your career?
The study of politics is the study of human interaction. Business leadership is human interaction. The boardroom, the deal, the recruiting, selling, communicating the vision, reading people.
Beyond that, the education I received on the arc of human advancement and minor retreats, civil rights and political alienation, all informs how we interpret what is going on in America today and the unique opportunity we have to positively impact it.
When Charlottesville happened, our founder said "We need to make people feel loved today." That became a rallying cry within the company. Today, in the back room of every Jeni's the last thing one sees before walking out to serve our customers is a beautiful framed sign that reads, "Make People Feel Loved Today."