The first to rank the best
An Illinois economics professor used statistics to make national football champions possible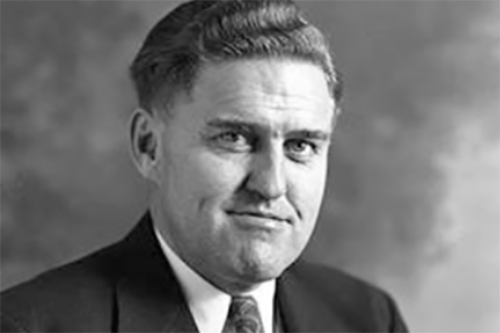 Here's a question for Illinois sports fans: Who at the University of Illinois changed the face of college football in the 1920s? If you answered Red Grange, you'd be right, but there was someone else on campus whose work led to a slew of national football titles. It wasn't a star player or coach, but a number-crunching economics professor named Frank Dickinson.
Dickinson was a consummate statistician who taught at Illinois from 1921-1946. Throughout his life he conducted statistical analysis of everything from medical insurance to war bonds, philanthropy, mortality rates, and Social Security, but in 1926, at the behest of others, he used a mathematical point formula that he'd created to rank teams across the entire country.
He declared Stanford to be the national champion, but in doing so he achieved more than that—he created the first widely accepted method of declaring a national champion in college football.
It may be hard for modern day fans to believe that there was a time when college football had no national champions, but when Dickinson arrived at Illinois, football teams rarely played outside their own conferences and regions. Determining the best team in the country was generally considered a moot point. Dickinson, however, showed how it could be done with mathematics.
There were earlier attempts to crown national champions by using math formulas, but they never caught on. One system, which crunched the numbers from 1905 to 1907, was discarded after granting the title to Yale three years in a row. Dickinson's method, however, later named the Dickinson System, quickly became the most accepted method of determining a national champion. His system led to several other mathematical spin-offs, but for years Dickinson's rankings were the most highly regarded.
Each season, the national champions determined by the Dickinson System received the Rissman Trophy, named after Chicago clothing manufacturer Jack Rissman, who'd encouraged Dickinson to use the formula for national rankings in the first place. The trophy was later renamed the Knute Rockne Intercollegiate Memorial Trophy, in honor of the famous Notre Dame football coach who was killed in a plane crash in 1931.
Dickinson's formula considered a variety of factors, including the strength of schedule. It was straightforward, but, not surprisingly, it created the occasional controversy. The nuts and bolts of the Dickinson System were explained in a 1935 Associated Press story titled, "Figure this out!" during a season when Southern Methodist won the title despite widespread opinion that the honor should go to Alabama.
For example, in a game between two first division teams, the winner received 30 points and the loser received 15. For a tie, each team received 12.5 points. A win against a second division team, however, earned the victor 20 points—which was just five more points than had the team been beaten by a first division team.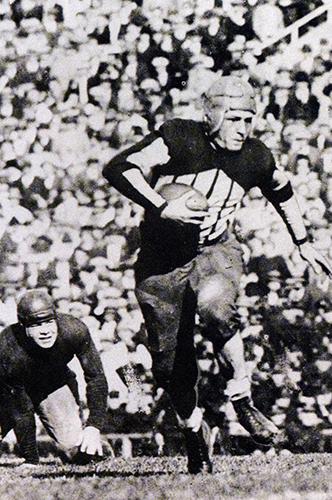 Even more controversial, however, was how the Dickinson System contained variables based on the strength of conferences. There was nothing perceived about the bias; it was in the code. His system granted the strongest variable to Big Ten teams, and the weakest went to teams in the South, which, accurate or not, didn't always settle well with fans.
Despite the disputes, the Dickinson System normalized the declaring of a national champion, and it was regarded as the chief determinant of each season's best team until 1936, when the Associated Press began polling. Dickinson stopped producing results after 1940, but teams still count among their national championships those won under his point system.
The Dickinson System even still produces the occasional debate. During the 2004 season, USC caused a stir when it laid claim to the 1939 national football title. The Trojans were undefeated in 1939, but the Associated Press poll ranked them as No. 3 in the nation. USC went to the record books, however, and determined that the 1939 team was ranked No. 1 according to the Dickinson System. Several members of the 1939 team were honored at a game some 65 years after the season concluded.
As for Dickinson, shortly after he stopped ranking football teams, he left Illinois to direct research in medicine and philanthropy for the American Medical Association and National Bureau of Economic Research, according to the Department of Economics, where Dickinson worked during his stint at Illinois (the department was then part of the College of Commerce and Business Administration, now Gies College of Business, before the department became part of the College of LAS). In 1962, he took a teaching position at Northern Illinois University, and he died in 1967 at the age of 68.
Dickinson's personal reasons for producing a national football ranking system are largely lost to history. It's worth noting that he worked at Illinois during the spectacular college career of football standout Red Grange, who left Illinois in 1925. The Dickinson System may also have roots in his apparently strong desire to serve the public through his work.
He was something of an early Dave Ramsey, as he wrote helpful pamphlets about dealing with personal debt. Dickinson also wrote extensive accounts of his travels in London, Australia, India, and elsewhere. But his true love was in numbers, and how they could help people make sense of complicated topics.
"The great majority of students," he wrote in a 1952 publication designed to make trigonometry easier to understand, "particularly those whose interests and abilities lie outside a required course in mathematics, should become more interested in the subject if the visual aids are well designed and not abused."