A paper trail to learning
Using plants found on campus, students in a Greek literature class take a hands-on approach to learning about ancient society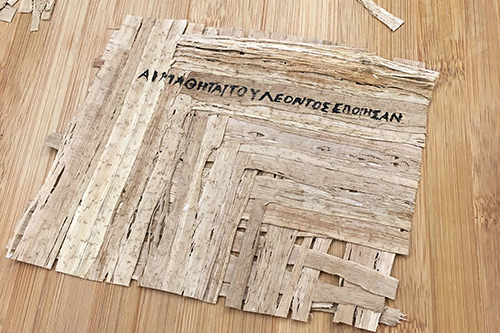 There's more to literature than the ideas conveyed by the writer. It turns out there's also something to be learned from the physical creation of the words—and paper—themselves, as students discovered through a hands-on experience in a Greek course at Illinois.  
Students in Greek 201: Intermediate Ancient Greek, taught by classics professor Dan Leon, were reading second century Greek literature when it occurred to Leon that there was an unlikely connection between the text and the Illinois campus. All books that were created during that period some 1,800 years ago were created on papyrus paper, which comes from the papyrus plant.
Papyrus, in fact, can be found on campus. 
While books are no longer printed on papyrus, Leon decided to expand his students' learning experience by having them make papyrus and experience the amount of time and work the ancient world needed to produce books.
"I had this group of students who were interested in not just the literature we were reading, but also the world around the literature," he said.
He said the project helped his students think about what it would have been like to be reading or writing these books during that ancient time period. During the second century, papyrus only grew in Egypt, so from there the paper was distributed all across the Mediterranean.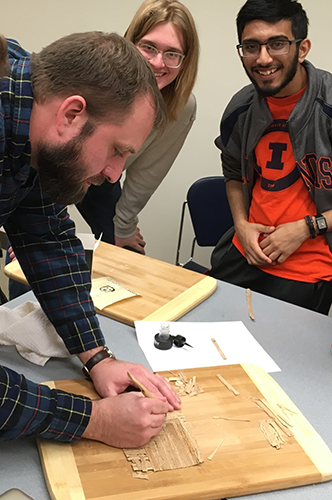 "It really impressed upon them how connected that world was, and how many different stages there were to the creation of any given work of literature," Leon said. 
To create the papyrus paper, the class obtained papyrus plant reeds from spots on campus, courtesy of grounds crews from the Office of Facilities & Services. The students cut the reeds into strips, which were then soaked in water for about three to seven days.
Once taken out, the strips were flattened out with rolling pins and crab mallets and were eventually woven into a mat and flattened even more. The woven mats were placed between two towels to dry and weighed down with wooden boards and heavy books. The mats were dried for three to four days and the towels were changed on a daily basis.
Leon said the class attempted this twice, as the first attempt was not successful. The second time, they created a piece of papyrus paper the size of a postcard.
On the paper the students all signed their names under the phrase, written in Greek, "The students of the Lion made this." Leon's name in Spanish—and, similarly, in Greek—means lion, which stuck as a nickname for him in class. The paper now hangs framed in his office.
"The project captured their imagination in exactly the way I hoped it would," Leon said.
Given the success of this project, Leon said that he would like to continue with similar projects. He's thought about  incorporating other tools and ideas he'd like to try with his students such as taking a class to see stone carved and engraved by hand.
"It's tough, I think, when you're just looking at some words on the page to bring that whole world to life," Leon said, "but as soon as you start doing something physical from that world, things just kind of click."