College of LAS names new LEAP Scholars
Early career faculty recognized for research and teaching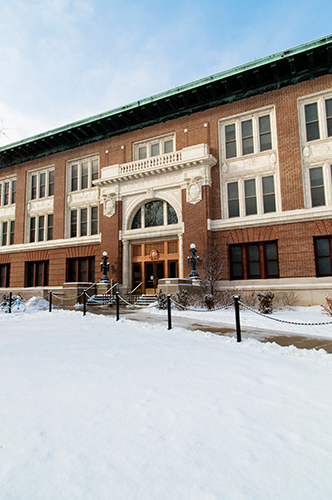 Six early career professors have been recognized as Lincoln Excellence for Assistant Professors (LEAP) Scholars for their outstanding contributions and potential in research and teaching.
The awardees are Marsha Barrett in the Department of History; Vincent Cervantes in the Department of Spanish & Portuguese; Ying Diao in the Department of Chemical and Biomolecular Engineering; Xin Liu in the Department of Astronomy; Ghassan Moussawi in the Departments of Gender and Women's Studies and Sociology; and Sepideh Sadaghiani in the Department of Psychology.
Martin Camargo, associate dean for humanities and interdisciplinary programs in the College of LAS, said that the LEAP Award is granted to faculty early in their career based on scholarly productivity and contributions to the educational mission of their departments and the College of LAS. The selected LEAP scholars will hold the title for two years and receive $5,000 in discretionary research funding for each of those two years.
Feng Sheng Hu, the Harry E. Preble Dean of the College of LAS, said that the LEAP Award recipients are rising leaders in their fields.
"This year's LEAP Scholars demonstrate the amazing potential that continues to emerge from the College of LAS," Hu said. "They are positioned to become leaders in their fields for years to come, and we are proud to have them on campus.
Read summaries of the LEAP Scholars below:
Marsha Barrett, Department of History
Marsha Barrett joined the university as a historian studying the political and social history of the United States during the 20th century. Having received her doctoral degree from Rutgers University in history, Barrett is mostly interested in how race and social movements have shaped modern American politics, policy, and political culture after 1945. She was nominated for the LEAP Award because of the pending completion of a book manuscript about Republican politics in the Civil Rights era. In it, she examines "Rockefeller Republicanism" by tracking Nelson Rockefeller's career from the 1950s to 1970s and revealing how it was shaped by New York and national politics. Barrett's work has been publicized in prestigious journals, and she's known for her outstanding teaching and service to her department.
Vincent Cervantes, Department of Spanish and Portuguese
Vincent Cervantes joined Illinois after completing his PhD in Spanish and Latin American Studies at the University of Southern California. He is currently a professor of Spanish and Portuguese with affiliations in the Department of Women's and Gender Studies, Department of Latina/Latino Studies, and the Unit for Criticism and Interpretive Theory. He already has four publications, including two in his first year and a half at Illinois, and he has several others in progress. He researches issues and contentions of embodiment, sexuality, and performance in contemporary Latin American and U.S. Latinx visual art and literature. He is currently completing a book entitled, "A Body Exposed: The Aesthetics of Sex, Death, and Mexicanness." He has been invited to deliver scholarly presentations across the U.S.
Ying Diao, Department of Chemical and Biomolecular Engineering
Ying Diao is the Dow Chemical Company Faculty Scholar and a professor at Illinois since 2015. She received her PhD in chemical engineering from MIT in 2011. Diao and her research group has been conducting imaginative research involving materials chemistry, molecular electronics, and biomedical sciences. Her research draws inspiration from many disciplines to advance molecular assembly technology, with potential for transformative impact on electronics, clean and renewable energy, and healthcare. Her work has been frequently featured in science journals and news media such as the Science Magazine, Nature Materials, American Chemical Society, ScienceDaily, Royal Society of Chemistry, Materials Research Society, and American Association for the Advancement of Science. In 2016, she was named to MIT Technology Review's annual list of Innovators Under 35.
Xin Liu, Department of Astronomy
Xin Liu has been an assistant professor in astronomy at the university since 2015, after earning her PhD in astrophysical sciences from Princeton University. Her research interests include astronomical survey and data science, origin and cosmic evolution of galaxies and galactic nuclei, the nature of black holes and gravity, and machine learning applications in astronomy. Liu is an observational astrophysicist who studies supermassive black holes, particularly in binary pairs. Liu's innovative research opens new windows into the evolution of binary supermassive black holes, and provides crucial observational insight in the sources of expected gravitational wave signals. She does this through a creative use of large-scale sky surveys, pioneering the opportunities that they offer, and developing new and creative data driven techniques. She is also a strong teacher and an advocate for females in her field, as she has been a guiding influence with the Astronomy Summer Camp for Girls.
Ghassan Moussawi, Departments of Gender and Women's Studies and Sociology
Ghassan Moussawi is a professor of gender and women's studies and sociology. He received his bachelor's degree in sociology and anthropology and master's degree in sociology from the American University of Beirut, and he received his PhD in sociology from Rutgers University in 2016. Ghassan conducts research in the areas of gender and sexualities, transnational/global sociology, modernity, feminist and queer theory, and social inequalities. His new book, "Disruptive Situations: Fractal Orientalism and Queer Strategies in Beirut," will be published in summer 2020. Moussawi has also published three articles, which extend his scholarship across several fields. Moussawi has also received strong fellowship support from some of the most competitive sources of funding on campus, including the Illinois Program for Research in the Humanities.
Sepideh Sadaghiani, Department of Psychology
Sepideh Sadaghiani is a professor of psychology with an affiliation at the Beckman Institute for Advanced Science and Technology at Illinois. She completed her PhD at the Max-Planck International Research School in Germany and France in 2010, followed by postdoctoral work at the University of California at Berkeley and Stanford University in 2015. Sadaghiani has received three National Institutes of Health grants since arrive at Illinois, and she received a $2 million grant from the National Institute of Mental Health to study inherent changes in connectivity among brain regions and how those changes relate to cognition. She also received a grant from National Institute of Neurological Disorders and Strokes to study changes in the brains of Zika patients. Her success in this field is demonstrated by a number of high profile publications in the Proceedings of the National Academy of Sciences and the Journal of Neuroscience and Cerebral Cortex, both top journals in the field of neuroscience.