Lessons in virtual reality
LAS enters a new dimension of learning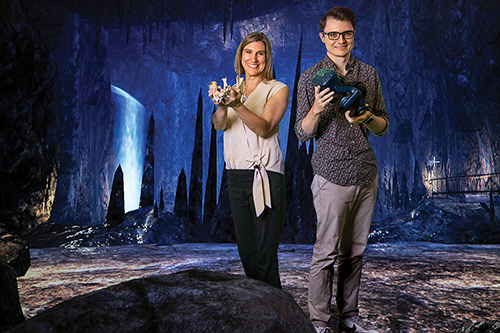 I'm standing on the edge of a high-rise in the middle of a city. I can hear the car horns, feel the traffic below and—just a few feet away—see the spiraling girder that's my destination. Summoning my courage, I leap—and miss, plummeting rapidly towards the ground. Instead of making impact, however, I merely stumble embarrassingly across a patch of green foam as I take off my helmet and wait for my senses to readjust.
Thankfully, nothing is hurt, except my pride. But in a few short minutes, I've learned just how powerful the virtual experience can be. My encounter took place in the Virtual Reality Lab of the Center for Innovation in Teaching & Learning, where Jim Wentworth, assistant director, assures me I'm not the first to struggle with the leap.
"I'd say it's about 50/50 on people who just can't do it," he explained. "It triggers all of the fight and flight apparatus we have in our brain. Your heart rate increases, you're off balance, you feel as though this is dangerous. It just works and you can't logically override that."
What I experienced was an impressive demonstration of the latest technology powering innovative learning on campus.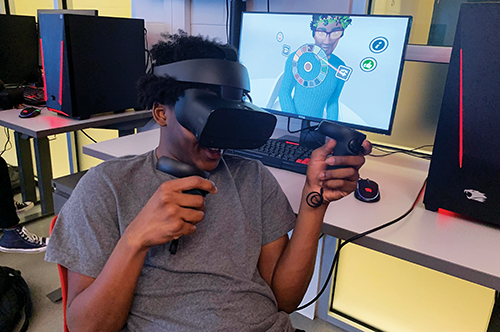 In August, a call for virtual and augmented reality seed grants from VR@Illinois netted 63 proposals from 37 departments across campus. Interest within the College of LAS has been especially keen, prompting ATLAS, the unit that oversees the college's technological needs, to create a place where those applications can be explored using high-end computers and 20 Oculus headsets.
And they're not just building up, they're reaching out, creating an online catalog of VR apps and working with faculty to explore the possibilities of the new hardware.  From interns to administrators, ATLAS has several people working on different components of VR, including some who are exploring its psychological aspects. The unit has an open call out for any professors interested in trying VR in their classroom, said Julia Hartman, ATLAS internship coordinator.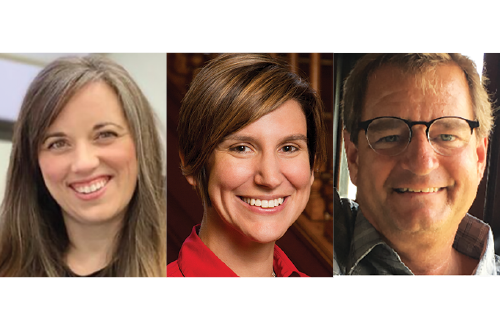 Amy Clay, a teaching professor in French, was one of the first to use the new technology in class, taking students out of the textbook and into a brave new world. It was a program called Mondly that sold her on the possibilities of VR in the classroom. The innovative language-learning software drops students into various digital scenarios, from restaurants to train stations, where they practice their French with virtual characters who ask them questions and provide assistive prompts.
"If you're going to buy something in a store, it gives you different things to say, like 'How much is this?' or 'That's too expensive,' so you can direct the conversation," said Clay. You can even venture a little off-road, asking the clerk for a sweater instead of shirt, for example. "It's smart enough to pick up on that sort of thing." It's a great way for students, especially those who may be shy, to practice pronunciation without the fear of getting it wrong in open class.
Her other go-to program is Wander. Using 360 degree images from Google Maps, Wander allows up to eight students to create avatars and explore real-world locations together. "When I tried Wander, I was blown away, because you look around and you feel like you're in a space that you're not in—and it's real," said Clay.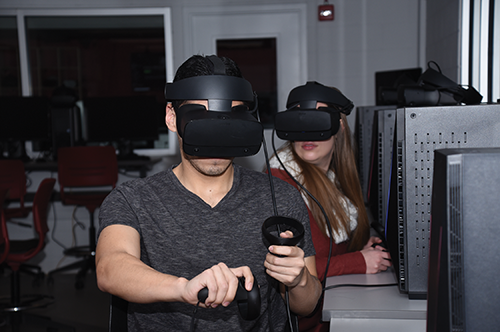 With Wander, students can take their classmates on guided tours of their hometown in French or explore cities where LAS offers study abroad programs, providing a small taste of what they might expect.
While both programs are useful, Clay said teachers should always critically examine any new tool they bring into the classroom. Mondly, for example, has useful design features for task-based language learning, but it wasn't built for the classroom, which means it has its limitations. Clay is hoping to change that with help from Dan Cermak, a visiting lecturer and former general manager of Deep Silver Volition.
The two met last spring at a symposium provided by Playful by Design, a network of Illinois faculty, staff, and others seeking to enhance learning by exploring the intersection of game design, technology, and playful pedagogies in the classroom. The organization includes many individuals from LAS and is sponsored by the Illinois Program for Research in the Humanities.
At the symposium, Cermak, who is co-teaching a VR class in computer science, offered his students' services to anyone who was interested, and Clay took him up on his offer.
"They're building a world where the interactions are meant to be pedagogical, with support systems built in," said Clay, adding that the program is set in 1960s France, so students can't rely on their phones—not that she has a problem with smartphones. In fact, for one of the early test subjects, they provided an unexpected learning opportunity.
Vignesh Sella, an aerospace engineering student, was virtually exploring a city in France when he spotted someone holding a sign that said "add me in Snapchat." He did, and before the period was over, he was practicing his French with a native speaker.
Sella called the VR experiment one of the highlights of his learning experience, adding that it enhanced what he was already learning from Clay. "For instance, when we were talking about the suburbs, the connotation of suburbs in the U.S. is very different to what it is in France. We got to see exactly what she meant because we could see how it looks."
Laura Shackelford, professor of anthropology, knows the challenges of creating course-specific software. In 2019, she debuted a virtual archaeology course, called Anthropology 399, which enables students to go on a virtual dig. Funded by a two-year, $500,000 grant from the National Science Foundation, the Virtual Archaeology program is game-changing for two reasons.
First, it makes archeology accessible to some who may not have considered it before, including those with disabilities. And second, it eliminates a major hurdle for many students—the need to attend a field school, which can cost upwards of $5,000.
"This puts a socioeconomic barrier at even entering our discipline, particularly for nontraditional students and students from lower income households," said Shackelford.
Through Virtual Archaeology, students can now gain that experience in a stunning simulation created by Cameron Merrill, an Illinois computer science graduate student. Using headsets and game controllers, students enter a vast, torch-lit cave, where they lay out excavation grids, use ground-penetrating radar, and recover items to identify. There's even a virtual lab where students identify pollen extracted from soil samples.
Shackelford is currently using what she learned there to help chemistry professors create a replica of the Chem 101 and 102 labs to prep students before they begin class. "The most important thing for me as a teacher is the effectiveness of the information delivery," said Shackelford. "We have been collecting qualitative and quantitative data on the efficacy of using VR to teach archaeology, and so far the data is incredibly positive."
To prove the point, she invited students on a real-world excavation after the course, where they were tasked with identifying, mapping, and recovering artifacts. "They were able to accomplish all of these tasks without instruction and with minimal self-correction, which was a good indicator that the skills they learned virtually did translate to the real world."
Cory Pettijohn, a teaching professor in the School of Earth, Society, & Environment, is also implementing VR in two of his classes. Geol 104: Geology of the National Parks lets students join park rangers in a 360 degree video tour, while Geol 117: The Oceans allows students to dive into virtual marine biomes and experience bioluminescence first hand.
"I'd love to be able to take all of my students to the big Island of Hawaii and hike through a lava tube," said Pettijohn. "Because of time and monetary limitations, it's just not feasible. Virtual reality technology helps me to provide an added layer of active learning, so students can experience these things and apply what they're learning."
In political science, professor Bob Pahre is in the process of creating two 360 degree tour modules that will help students better understand the politics of Indiana Dunes. From the dunes to the wetlands, the first module will help students explore the theory of ecological succession, while the second will enable them to move along the shoreline, see the juxtaposition of the park, steel mills, and residential development, and understand the political compromise of 1965 that led to the area's designation as a national park.
Shakil Bin Kashem, a teaching assistant professor in the Department of Geography & Geographic Information Science, is using a VR@Illinois grant to develop instructional materials for students who may already encounter augmented reality (AR) in the real world. AR, which superimposes data over objects viewed through smart devices, is already being used to visualize items like pipes and cables hidden from view. He hopes to help students understand how AR and GIS can provide a more effective geo-data visualization approach.
Meanwhile, Tricia Thrasher, a graduate student and teaching assistant in French, is using a program called VTime and heart rate monitors purchased through her grant to analyze anxiety levels in second-language French learners. Through her research, she hopes to learn how technology can be implemented in the classroom to reduce anxiety while enhancing learning performance.
Like any new technology, that implementation will lead to new questions that have to be resolved by those skilled in the humanities, according to Bianca Teixeira, ATLAS technology learning technician. "The paradox in this is that the more that we go in this direction of technology, the more people we needto help us think in terms of the ethical aspects of things."
Regardless of how it's implemented, technology is advancing at a rapid pace, said Kostas Yfantis, assistant director of Teaching & Learning with Technology at ATLAS. "In less than a year, Anthropology 399 went from sensors on stands to sensors mounted on the ceiling. Now they're shifting from the Vive Pros to the Oculus Rift S, which doesn't require sensors. So this evolution happened within a semester."
What's next? Wentworth thinks full body suits with haptics aren't out of the realm of possibility, but in the short term he thinks textbook companies will soon recognize the trend and create VR experiences, just like they made websites to go with every text book. Whatever's next, one thing is certain—with programmers envisioning bold new worlds and innovative faculty exploring them, the sky's no longer the limit. "The possibilities," said Wentworth, "are pretty limitless."
See a video about one of the programs in this story at go.las.illinois.edu/anthroVR20.
Editor's note: This story first appeared in the Spring 2020 issue of LAS News magazine.