Faculty members, staff, teaching assistants honored with Campus Awards for Excellence in Instruction
Awardees include 14 from the College of LAS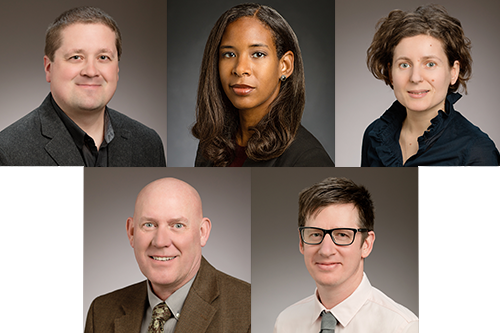 Faculty and staff members and graduate teaching assistants at the University of Illinois at Urbana-Champaign this spring were honored for excellence in teaching, mentoring and advising, collectively known as Campus Awards for Excellence in Instruction.
The Campus Award for Excellence in Undergraduate Teaching recognizes sustained excellence and innovative approaches in undergraduate teaching and contributions beyond classroom instruction that have an overall positive impact on undergraduate student learning. Honorees are represented in three employee categories – faculty, specialized faculty and teaching assistants – and each receives a monetary award.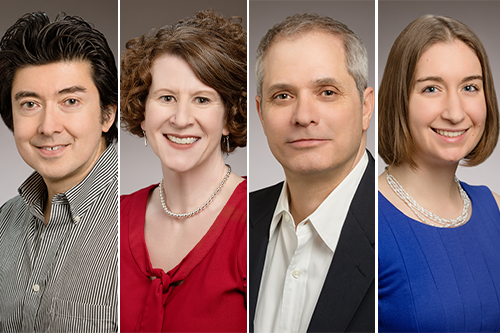 Andrew Gaedtke, English, is "an instructor who excels at every level of our curriculum." Current and former students testify to his willingness to teach outside of the classroom by serving as both sounding board and unofficial adviser. Gaedtke took an active role in the departmentwide expansion of the undergraduate curriculum to create a literature and science track; he broadened the reach and appeal of that track by adding the medical humanities to existing courses in science studies and the environmental humanities.
Rana Hogarth, history, "uses the history classroom to transform – in the most profound ways – her students' lives, often by drawing on her own path-breaking research into how the production of scientific knowledge has informed the construction of racial ideologies in the modern West. Given the current political climate, Dr. Hogarth's pedagogical contributions to our students' academic, professional and personal growth are both timely and critical." Students regularly use the word "empowering" to describe their experience in her classes.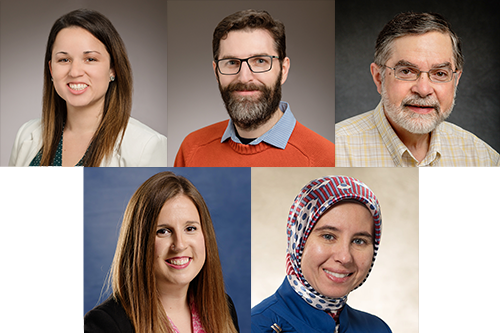 Zoi Rapti, mathematics, creates "an inviting, nurturing environment where students are encouraged to ask questions, and where she makes every attempt to make the material accessible. This is a result of obvious careful attention to detail in lecture preparation and delivery, but more importantly, keen awareness of the students' level of understanding." She supervises a diverse group of undergraduate students on various research projects nearly every semester, and also leads independent reading courses to help students comprehend the relevant material.
David Rivier, cell and developmental biology, makes complex molecular biology ideas and concepts comprehensible, and emphasizes the discovery process. He pioneered a method of creating video lectures that utilizes inexpensive devices and software that allow a single instructor to produce high-quality videos in any classroom. The availability of videos as a complement to face-to-face lectures has a significant impact on student learning. Rivier "is an educator and mentor who cares deeply about his students and their learning."
Brian Walters, classics, "is an outstanding and inspiring teacher who puts enormous effort into course design, materials, teaching research, responding to student writing and mentoring." Walters' students are actively engaged in his lectures and discussions. Part of what makes class discussion work so well is his extensive use of low-stakes writing assignments such as student journals. Walters draws on students' journal comments to stimulate discussion, demonstrating that he takes their intellectual participation seriously and respects their ideas.
Specialized faculty members honored with the Campus Award for Excellence in Undergraduate Teaching:
Aldo Manfroi, mathematics, breaks through barriers to freshman and sophomore students' full participation in class by using a variety of techniques. He makes it a point to relate to his students on a personal level, greeting and conversing with individual students and engaging them throughout the lecture. Manfroi encourages students to ask questions – which he welcomes in a number of formats – and provides ample time to address those questions in a thorough and caring manner.
Mary Ramey, communication, believes student learning improves with personal investment and engagement. By connecting course content to students' diverse experiences, Ramey effectively guides students through discussions of challenging topics. "From her daily positive attitude, to her emails congratulating me on my exam scores, Dr. Ramey has always gone above and beyond the duties that being a professor entail," a student wrote. "She is not here just to lecture us, but to inspire us to do great things."
Michael Stewart, geology, teaches geochemistry, Earth history and mineralogy. As geology's lead field instructor, he runs international field trips and a summer field course in Utah. Michael "is very dedicated to undergraduate teaching and he develops a close rapport with students. His office is very commonly occupied with students intensely working on problem sets or having thoughtful discussions. He is very proud of his role as the central person in the geology undergrad program and he owns that role."
Teaching assistants honored with the Campus Award for Excellence in Undergraduate Teaching:
Elizabeth Field, mathematics, made contributions through taking on the administrative responsibilities in classes of more than 1,500 students; mentoring undergraduate students in research projects; designing instructional material and teaching students incarcerated at Danville Correctional Facility; and designing and running training sessions for over 140 mathematics teaching assistants. "Elizabeth's dedication to mathematics education inside and out of the classroom and at a variety of levels is unparalleled. She is the embodiment of excellence in undergraduate education." She served as head TA for three semesters.
Teresa Greppi, Spanish and Portuguese, is truly exceptional, both in her student evaluations and in the range of courses that she has been called upon to staff. She "is essentially a go-to resource that can be placed in whatever teaching context is most in need of her talents." Greppi draws on her scholarly expertise and her pedagogical skills to offer an uncommonly transformative learning experience. She also served as a TA in gender and women's studies, a highly competitive position.
Neil Baer, communication, received the Campus Award for Excellence in Undergraduate Advising. Recipients of this award are recognized for their excellence in and innovative approaches to undergraduate advising, and for having had a major impact on undergraduate students and their intellectual development through sustained academic advising relationships.
Baer encourages students to be future-oriented, and they trust him to help them work through important life and career decisions. As one of the anonymous students in the LAS survey wrote, "Neil has not only provided me with helpful academic advice throughout my past year and a half at the University of Illinois, but he has also supported me in making the best decisions regarding my future. I am truly so lucky to have such an incredibly charismatic adviser."
Kenneth Cuno, history; Ane Icardo Isasa, Spanish and Portuguese; and Eman Saadah, linguistics; received the Illinois Student Government Teaching Excellence Award, which recognizes instructors for outstanding performance both in and out of the classroom. Honorees have demonstrated a commitment to teaching and to students in every capacity of their experience at Illinois.
Cuno is a scholar and professor of the modern Middle East, focusing on social, economic and legal history. His extensive research has unearthed critical historical details about marriage and family in the Middle East. Cuno works closely with students on improving their historical writing capabilities and strengthening their capacity to be direct, concise and accurate. His template for teaching encourages students to read texts critically and provides the opportunity to engage with literature as a means for understanding culture.
Icardo Isasa teaches a variety of courses. Students overwhelmingly highlight Icardo Isasa's ability to cater and design the teaching methodologies to best fit the aptitudes of students to succeed. She sets the bar of expectation high, but with an enthusiasm and love for Spanish and teaching that makes it accessible. Her students remark on her charisma and friendliness in the classroom as carrying over to their broader life experiences in a way that makes her a lifelong mentor.
Saadah makes the challenge of learning a language such as Arabic seem simple and attainable. Her passion for the Arabic language and culture is infectious and visible in all aspects of her teaching. Saadah invests deeply within her students through constant efforts to formulate personal relationships, acting as a mentor throughout their language journey. Students laud Saadah's willingness to go to out of her way to show that she cares for their success; they consider that feature an attribute that distinguishes her.
News Source
Steve Witmer, Illinois News Bureau