How to move 11.6 million people per year (safely and on time)
LAS alumnae help keep Champaign-Urbana Mass Transit District rolling, even during a pandemic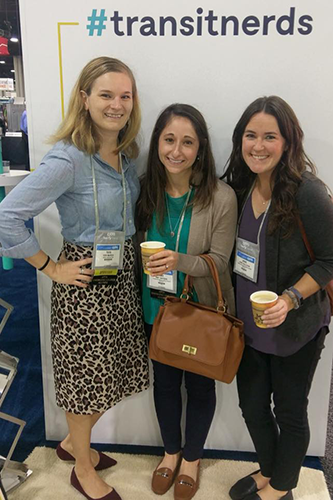 For four years, Jane Sullivan and Amy Snyder relied on the Champaign-Urbana Mass Transit District to get to class. Little did they know that someday they'd be helping to lead the transportation service—including doing what's necessary to help MTD weather one of the most challenging times in history for public transportation.
Jane Sullivan (BS, '12, earth, society, and environmental sustainability; MBA, '15) is the grants and governmental affairs director for MTD, where she manages all the grant funds and projects as well as any local, state and federal governmental affairs. On the other side of the office, Amy Snyder (BA, '10, communication and English) is MTD's chief of staff. She handles the day-to-day operations of the office and sometimes works with Sullivan to establish grants and funding.
Approximately 375 people work for MTD, which served roughly 11.6 million riders on a fleet of 111 buses during FY 2019. This includes fixed routes, demand response, ADA Paratransit, and Champaign County's rural service—all of which have continued throughout the COVID-19 pandemic. Snyder and Sullivan are responsible for important roles there.
During the COVID-19 pandemic, Sullivan's work has included managing the grant MTD received from the Coronavirus Aid, Relief, and Economic Security (CARES) Act, the federal stimulus package intended to support the country while coronavirus restrictions are in place.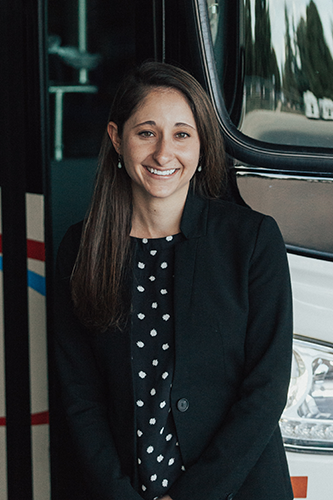 With the pandemic impacting MTD's regular revenue streams—passenger fares, operating and capital grants, and property taxes—federal assistance has beome more important than ever.  Governmental affairs efforts have been increasingly vital to ensure that MTD can continue to serve the community.
For Sullivan, the connection to MTD began during the spring semester of her senior year at Illinois, when she landed an internship with MTD. Once she graduated, the transportation service created an entirely new full-time position for her.
"It started out just focusing on the environmental and sustainability efforts and then it evolved more and more," Sullivan said. 
Sullivan helped develop the International Standards Organization (ISO) 14001 for MTD, which is an international certification for organizations that specifies the requirements for an effective environmental management system. The ISO 14001 gives organizations the tools to control certain environmental impacts of its activities, and it also provides a structured approach to setting environmental goals and objectives.
Similarly, Snyder developed an MTD certification regarding quality customer service. Initially, Sullivan and Snyder managed these two certifications separately, but they worked together to merge the certifications.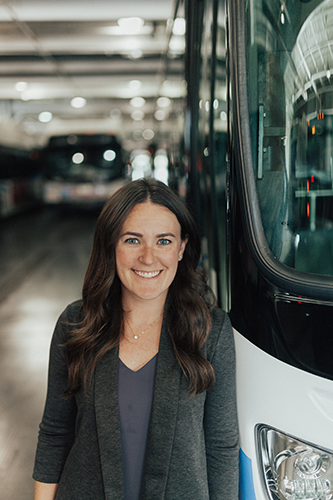 "Whether it's a support function or it's something that is critical to our day to day operation, I want to make sure that everybody is working toward our overall priorities as well as the goals that we, as an organization, have chosen to focus on," Snyder said.
Snyder has been working for MTD for 10 years. She said she believes that remaining curious eventually landed her the chief of staff position.
"Being fully engaged allows you to find more opportunities for yourself," she said.
As chief of staff, Snyder works often with Sullivan to coordinate what resources are needed for the grants and governmental affairs department. Both Snyder and Sullivan credit their education at U of I for the leadership positions that they're in.
Sullivan said that her academic career allowed her to focus on many different topics within her major so that she could build a strong foundation for herself.
"I wanted to take all of the 100 and 101 (classes) and build a strong foundation so that wherever I ended up, because I would at least have that foundation," Sullivan said. "And I think that helped me and was a good approach."
On the other hand, Snyder said that her English and communication degrees helped her become a patient listener and better facilitate difficult discussions. In the context of COVID-19, with people nervous about going into public spaces, these skills have become particularly useful.
"Coordinating our organization's response as we rapidly research health recommendations at the local, state, and national level, alongside trends and best practices evolving within the public transportation industry, has required patience and thoroughness," Snyder said.  "Employees want answers and reassurance. Quick answers may not provide lasting reassurance when that information is later contradicted or needs to be amended."
The skills necessary to help others stay informed and calm in face of a risky work environment are not easily taught, Snyder said. Case studies and post-action reviews have helped hone the response and prepare for the future, however.
While their roles at MTD have grown, Snyder and Sullivan try to stay in touch with those times when they were just students trying to get to class.
"I think any graduate from LAS has the potential to become a leader in an organization with the foundation that you get in," Snyder said, "but you won't get there if you don't maintain that student mentality of curiosity."