Professors are named Conrad Humanities Scholars
Honor given to promising mid-career faculty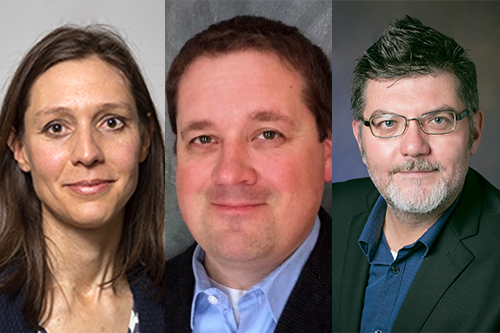 Six professors from the College of Liberal Arts & Sciences have been named 2020 Conrad Humanities Scholars. The Conrad Humanities Scholars Award is funded by a gift from the late Arlys Conrad, whose estate gift recognizes mid-career scholars with potential for continued achievement in humanities.
The recipients are using the awards to pursue a variety of research topics, from Latin American history to the intersections of literature, medicine, and neuroscience. The designation is for five years, with recipients receiving $5,000 per year in discretionary funding. Descriptions of the recipients are as follows: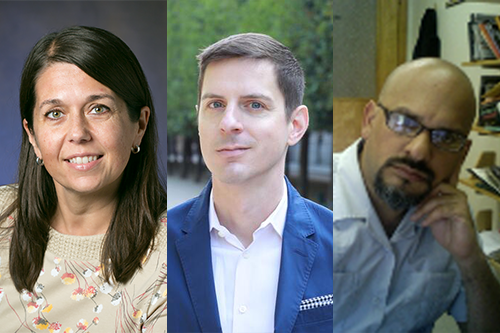 Claudia Brosseder, history, is recognized for her contributions to the field of colonial Latin American history. Her book "The Power of Huacas: Change and Resistance in the Andean World of Colonial Peru," examines evidence of transcultural exchange between Andeans and Spaniards, and won the 2015 Award for Excellence in the Study of Religion in the category of Historical Studies from the American Academy of Religion. Brosseder joined the department in fall 2015.
Andrew Gaedtke, English, is being recognized for his research in the intersections of modern literature, medicine, and neuroscience. Gaedtke's current book project, "Writing Brains: Disability, Neuroculture, and Personhood," locates recent developments in contemporary literature within the emerging fields of medical humanities, disability studies, and cognitive narratology. He has published two articles that offer early versions of chapters in this book, and both won the Illinois Program for Research in the Humanities award for the best article in the humanities.
George Gasyna, Slavic languages and literatures and comparative and world literature, is being recognized for his research in modern Polish literature and culture. He is an internationally recognized scholar on the works of Joseph Conrad, author of "Heart of Darkness." Gasyna's first book, "Polish Hybrid and Otherwise: Exilic Discourse in Joseph Conrad and Witold Gombrowicz," examines the triple compact made by displaced authors with language, their host country and the homeland left behind.
Jill Jegerski, Spanish and Portuguese, is being recognized for her research in Spanish linguistics, with emphasis on second language acquisition, bilingualism, psycholinguistics and research methodologies. Her research addresses how adult second language learners differ from native speakers. Jegerski has published several articles in the top 10 ranked journals in linguistics, including the International Journal of Bilingual Education. Jegerski joined the department in August 2012.
François Proulx, French and Italian, is being recognized for his research in 19th and 20th century French literature. Proulx's monograph "Victims of the Book: Reading and Masculinity in Fin-de-Siècle France" shows how, in a cultural context of perceived national decline and contentious educational reforms, the adolescent male reader became a subject of grave social concern in 19th century France. A chapter from Proulx's book was awarded the 2020 Illinois Program for Research in the Humanities Prize for Research in the Humanities. Proulx joined the department in 2013.
Gilberto Rosas, Latina and Latino studies and anthropology, is being recognized for his research in sociocultural anthropology. Rosas' first book, "Barrio Libre: Criminalizing States and Delinquent Refusals of the New Frontier," won the book award of the American Anthropological Association's Latina and Latino Anthropologists Association, and he has a contract with Johns Hopkins University Press for his forthcoming book, "Killing Migration: Witnessing the Edges of Refuge."