LAS students join iVenture program in creating startup businesses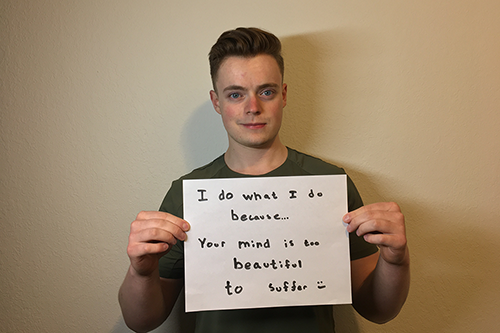 An experience consoling a World War II veteran in the last days of his life fostered a passion for advocating for mental health awareness in Benjamin Ray, a student in the School of Molecular and Cellular Biology and CEO of vrtumind. Pronounced "virtue-mind," the startup applies machine learning to help students better understand the uses of mindfulness in their daily lives.
It's one of five College of LAS student ventures included in this year's iVenture Accelerator program, based in the Gies College of Business. iVenture is a year-long program that aids student entrepreneurs from across campus to develop their startup ideas. The program provides students with multiple resources and support to help their venture succeed.
For example, the iVenture Program provides students with $10,000 in funding, access to entrepreneurs, attorneys, and university subject matter experts. Students involved in the program also participate in several workshops such as the Technology Entrepreneur Center NSF I-Corps. This workshop teaches student entrepreneurs to identify opportunities for academic research and offers entrepreneurship training.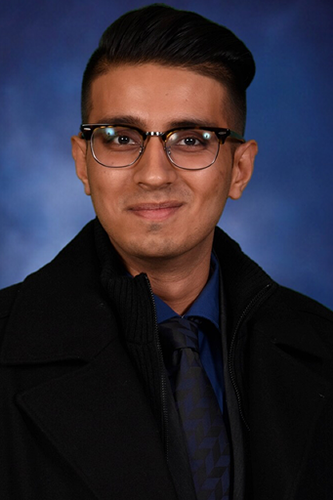 "iVenture was launched in 2015 by a partnership between four different colleges and over a dozen campus-wide units," said Manu Edakara, iVenture program director. "From the beginning, cross-campus collaboration and multi-disciplinary integration has been core to our program, and to date, we've supported students from 40 fields of study. 
The program has been seeing increasing numbers of future entrepreneurs from the College of LAS, such as Benjamin Ray. During his time volunteering at a hospice, Ray met a World War II veteran whom Ray described as "the sweetest old man I'd ever met." The man became increasingly ill, which contributed to the deterioration of his mental health. This experience inspired Ray to find a way to help others who face this issue.
Inspired by classes in neuroscience, Ray wanted a more novel approach to mindfulness. The startup, vrtumind, is developing an app that uses the same machine learning technology that Facebook, Google, and YouTube use to deliver relevant content to users. The end result, he said, is an approach that places special focus on the identity of its users. They aim for vrtumind to focus specifically on the issues of LGBTQ+, African Americans, Indian, and Asian students in a unique way—and more than 100 users have already downloaded it.
Ray said that he believes the iVenture Accelerator program will help him when he embarks on a medical career.
"iVenture has given me the skills to build an idea into a mechanism that can really help people – practicing physicians are in a great place to enact change and develop novel technologies, these skills are essential for medicine to evolve," he said.
This year, iVenture selected 11 ventures to support out of a pool of 40 applicants. Sarah Brincks, iVenture Accelerator community engagement fellow, highlighted several benefits derived by students who participate in the program.
"Through iVenture, students receive professional development and crucial communication skills that will help them throughout their careers," she said.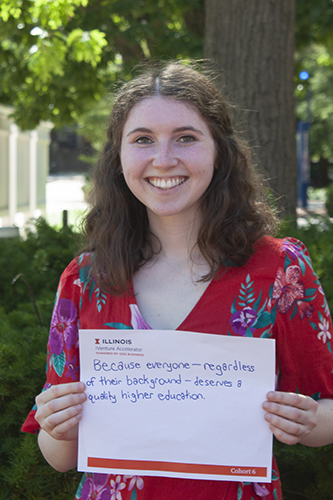 Brendan Rattin, CFO of virtumind who majors in molecular and cellular biology, said that vrtumind and iVenture are allowing himself and other co-founders to address a growing crisis.
"Mindfulness practice has largely shaped who I am today. It has helped me see light when I was struggling the most with my mental health," Rattin said. "In recent times, it is becoming more and more apparent that mental health is on the decline. This is a trend that has only been growing with time. Especially in marginalized populations."
Archit Gupta, a senior studying computer science + astronomy, is involved with a startup called FastTrack, which is focused on providing budding musical artists with record label-like resources. He said that the iVenture program has been instrumental in helping him to develop as an entrepreneur.
"iVenture is not only helping us grow FastTrack, but is also a massive learning experience on an individual level," said Gupta, who is also studying computer science in the Grainger College of Engineering. "It is a guiding hand through the entrepreneurial process, and has helped me form long lasting valuable connections that can be useful throughout my career."  
Gupta's venture partner, Nikhil Makhijani, who majors in economics and astronomy, agrees. "My experience with the program will help me learn all the different pieces of entrepreneurship while giving me access to a large network of like-minded individuals," he said.
As a writer, Makhijani was inspired to develop FastTrack as he believes there are not enough tools on the market focused on refining musicians' work. "I want to build a platform where artists of any kind can find a community of others that support them in perfecting their craft," he said.
Talia Farrell-Rosen, a 2020 graduate who studied clinical and community psychology and Spanish, co-founded Campus Ventures, another startup accepted by iVenture. She wants to help underrepresented students navigate the college application process and attend high quality institutions. She said that her experience working with high school interns from inner-city Boston helped her see the need for the business she developed.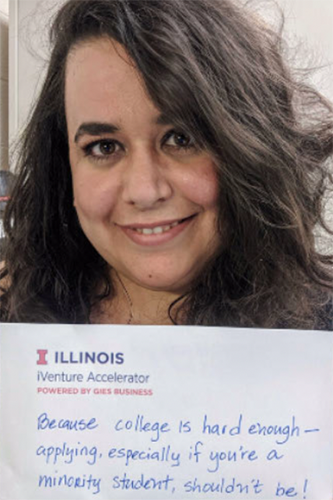 "I observed first-hand the benefits of providing resources for high-achieving students who are well qualified for university, but may not have the tools to hack the overly complex college application process," Farrell-Rosen said.
Farrell-Rosen said the discovery aspect of iVenture, which involves contacting various stakeholders, will help her strengthen her communication and organizational skills. She said that she'll utilize these skills when she begins her full-time position as lab manager for the Youth, Emotion, Development and Intervention (YEDI) lab in the Department of Psychology.
"I'll use what I've learnt from the customer discovery process and apply that to the everyday communication required of me as lab manager," Farrell-Rosen said. 
Monica Lannom, co-founder of Campus Ventures, said that having to navigate the college application process by herself as a Cuban immigrant inspired her interest in developing Campus Ventures.
"I want to make it easier for students after me, particularly minority students, by removing as many physical and mental barriers to achieving long-term success and social mobility," said Lannom, a graduate student in cellular and developmental biology and the MBA program. "This is my small way of contributing to that mission."
Lannom said the iVenture Accelerator program was instrumental in her decision to develop the startup.
"iVenture Accelerator gives you the confidence to go after something that is incredibly challenging, time-consuming and has a high failure rate–building a successful startup," Lannom said. "If you want to create lasting social change, having a safe space to practice, and maybe fall without extreme consequences, is a truly unique opportunity."