University of Illinois enrollment remains above 50,000 for fall 2020
College of LAS enrollments stands at 14,525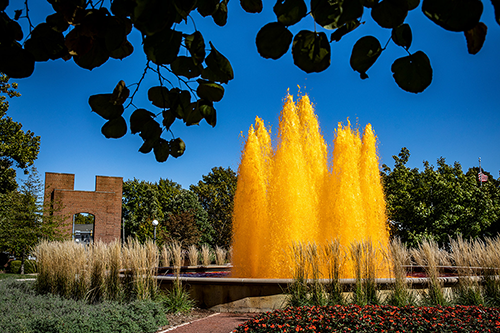 The University of Illinois, Urbana-Champaign's 2020 enrollment is 52,331, surpassing last year's record of 51,196, a status administration officials attribute to greater demand for the university's online graduate programs. In response to the global COVID-19 pandemic, fall semester instruction is a mixture of face-to-face, hybrid, and online courses. 
Of that campus total, the College of LAS enrollment stands at 14,525, which includes 11,963 undergraduates and 2,562 graduate students, according to the Division of Management Information.
"We are encouraged to see that an Illinois educational experience remains a priority for students and families, even in these unprecedented times," Chancellor Robert Jones said. "Students recognize our institutional brand as one of the best in the world, and we have found innovative ways to provide a top-quality education during a global pandemic."
In addition to preparations for modified instruction, Illinois developed unique safety measures including a saliva-based COVID-19 test administered twice a week to all students residing in the area, as well as to other campus personnel who report to university facilities. The university also is engaging in significant informational outreach to the Illinois community and has provided emergency grants to assist several thousand students whose incomes were disrupted or had additional educational expenses caused by the pandemic.
"The strength of our enrollment is a testament to our planning and collaboration as a university," said Kevin Pitts, the vice provost for undergraduate education. "We engaged faculty members and staff throughout the spring and summer to expand our educational opportunities and give students choices about how best to pursue their education while remaining safe."
The number of graduate students across campus continued its rise to 17,802, up from a record enrollment of 16,319 in 2019. This growth is primarily due to online graduate programs, particularly those using the Coursera platform in the Gies College of Business and Grainger College of Engineering. Forty-two percent of graduate students are enrolled in fully online programs.
An additional 2,025 new graduate students elected to delay admission to a later term, compared with around 300 in a typical year.
This year's graduate student cohort also is more diverse. New enrollment of populations underrepresented in graduate education increased by 36 percent in the past year, with notable increases in African American and Latinx graduate students.
Undergraduate enrollment is 33,492, a slight drop from a record 33,850 in 2019.  Due to the pandemic, there are 576 fewer continuing international undergraduate students enrolling for the fall 2020 semester.  The undergraduate population at Illinois also continues to become more diverse, with an increase in African American and Latinx undergraduate students.
Campuswide, 53.7 percent of undergraduates identified themselves as male, and 46.2 percent identified themselves as female. In the College of LAS, 50.4 percent of undergraduates identified themselves as female, and 49.5 percent identified themselves as male.  
At 7,530 new students, the freshmen class enrollment met the university's target, following a 2019 record enrollment of 7,665 freshmen. An additional 277 students asked to delay their admission to a later term, compared with about 60 in a typical year. Of the campus total, the College of LAS enrolled 2,359 freshmen this fall.  
"This year's new freshmen have endured so much uncertainty regarding their college choice," said Andy Borst, the director of undergraduate admissions. "We are pleased that so many students decided to enroll this year, and we will continue to work with the students who asked to delay admission so they can join us for a later term."
Illinois residents comprise 75 percent of the new class, representing 85 of the state's 102 counties – compared with the 2019 tallies of 74.3 percent and 92 out of 102 counties. Illini freshmen originate from 46 U.S. states, compared with 43 states in 2019, with California contributing the largest share of out-of-state students. The number of new freshmen from China increased 3.9 percent, with most international new freshmen taking classes online or participating in an in-country academic bridge program.
News Source
Illinois News Bureau and the College of LAS