'Writing is a conversation and race is the American subject'
The stories of English professor David Wright explore how people connect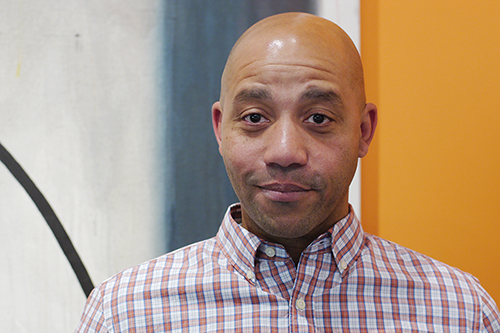 David Wright wrote the real-life story of Richard Etheridge, the only Black man to lead a lifesaving crew along the Outer Banks of North Carolina in the late 19th century, and his crew's heroic rescue efforts during a hurricane.
In his latest work, Wright – an English professor at the University of Illinois, Urbana-Champaign – imagined Etheridge as a boy, negotiating his relationship with his white father and a future for himself beyond slavery. Wright's short story "The Sand Banks, 1861" was published in the Aug. 31 issue of The New Yorker. The magazine's website has a recording of Wright reading the story, as well as an interview with him.
"Writing is a conversation and race is the American subject," Wright said.
The complicated stories of how people of different races overlap and come together particularly appeals to Wright. His mother was white, a French Jew who survived the Nazi occupation of Paris; his father was a Black man from West Africa; and the stepfather who raised him was a Black American man.
In the short story, Etheridge is 13, confronting his paternity and looking for acceptance from his father, the man who owns him and his mother.
Wright learned about Etheridge and the all-Black crew of the lifesaving station while a Master of Fine Arts student in Virginia. A fellow MFA student, David Zoby, stumbled across a photograph of the lifesaving crew, and the two began researching the story.
The crews of the lifesaving stations patrolled the coast, looking for ships in distress. It was a time of wooden-hulled sailing ships without radio, radar, or engines. The lifesaving stations were prominent in their day, but disappeared quickly with the advent of technology, Wright said.
"It's part of the lore (of the area). Some of the lifesaving stations still exist. But the lore is of white lifesavers doing these rescues," Wright said.
"I found out (Etheridge and his crew) performed this super-heroic rescue. It was during a hurricane when they couldn't use their equipment, so they swam out to a ship and rescued everyone," he said.
Wright and Zoby knew the story deserved a historical account, and they published "Fire on the Beach" in 2001. But Wright said he wasn't able to address the racial issues involving Etheridge's mixed-race background in a nonfiction book.
"For me to be able to tell that story in way that was satisfying, I had to go into fiction," Wright said.
In addition to the short story, he's finished a novel about Etheridge, to be published in early 2022, that covers Etheridge's involvement in an important raid during the Civil War. The actual Richard Etheridge moved back to the Outer Banks after serving in the Civil War and started a business with his half-brother, the son of his former owner.
Wright said he is intrigued by that time period, when white and Black Americans were trying to work out their places in the country after the Civil War and during Reconstruction.
"I'm really interested in that period of freedom in the immediate aftermath of the Civil War, when there were all these people who were slaves that were free, and all these people who owned them were disenfranchised by Reconstruction," he said.
Wright is working on another novel, set in 1940s Paris, that features an African man who is a descendant of slave traders and a Black American man who is a descendant of slaves, both of whom are in love with a woman who is a Holocaust survivor. The novel is based on the story of his parents.
Wright began writing when he lived in England and Paris in the late 1980s and early 1990s. He considers James Baldwin his literary mentor and, like Baldwin, he said living outside the U.S. "permitted me to see with a certain clarity, and more directly implicated my Americanism."
Wright said it is important to him in teaching creative writing to teach about race and representation, and counter what he sees as creative silos in which white students are reluctant or discouraged to write about Black characters.
"We need to find a way for others to enter the conversation," he said.
This summer, Wright wrote an essay for a Texas public radio station in response to the ongoing Black Lives Matter protests in the wake of the killing of George Floyd. In it, he called racism an American problem – one of white as well as Black Americans.
"If we, as a society, stop attempting to live up to our national ideals, then the experiment of American freedom, however flawed, has failed, and all of us, the entire country, suffer for it," Wright wrote.
"African Americans and other people of color are the obvious victims. But all Americans are victimized because the promise of America dies a little more with each new death."
News Source
Jodi Heckel, Illinois News Bureau