Amplifying expertise in the news
Four LAS faculty members receive Public Voices Fellowships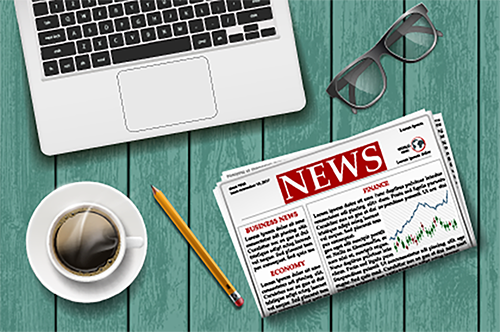 As a way to amplify voices of expertise on pressing issues, a national program called the Public Voices Fellowship will allow professors from across the country to pair up with journalists and learn more about how to discuss ideas with a broad audience. Four of the professors are from the College of LAS.
The Public Voices Fellowship is a year-long program available to faculty members from groups largely unrepresented in the news media. The Public Voices Fellowship is an initiative launched by The OpEd Project in partnership with leading universities and foundations nationwide.
This is the U of I's second year of involvement with the program. It's run through the office of Barbara Wilson, executive vice president and vice president for academic affairs.
This year, 20 faculty members will be participating from the entire U of I System. The four LAS faculty participating in the fellowship include Karen Flynn in gender and women's studies and African American studies; Alexandra Harmon-Threatt in entomology;  Isabel Molina-Guzmán in Latina/Latino studies and communication and associate dean for diversity and inclusion in the College of LAS; and Leslie Reagan in history.
Over the course of the year, fellows will be assigned to work with veteran journalist mentors for one-on-one coaching. They'll have periodic opportunities to join calls with public thinkers and influencers and media members at places such as CNN, The New York Times, Wikipedia, and more. Participants will receive customized alerts and support, and they will participate in four cohort sessions (through Zoom) where they meet and develop a network of peers, including the OpEd Project's network of journalist mentors.
"The goal is to dramatically increase the public impact of our nation's top underrepresented thinkers, and to ensure our ideas help shape the important conversations of our age," the Op-Ed Project said in an announcement about the program. "The root problem is not a lack of knowledge or experience, but a culture in which minority voices (especially women) rarely have the inside information, high-level support and inside connections to become influential on a large scale. The OpEd Project has successfully led programs with scores of major organizations and universities, and we have had stunning results."
Flynn, who already has a bit of experience writing for the public sphere, said an important aspect to her academic work is making her work accessible to everyone. As a graduate student at York University in Toronto, Flynn hosted a radio show, and she's also written columns for newspapers.
"My work should be about informing people, transforming structures of oppression," Flynn said. "I want to write in a way that is accessible, so that people read it and are say, 'Oh I get this.'"
Some of the research Flynn is interested in writing about includes English as foreign language teachers of African descent in South Korea; the impacts of COVID-19 on Black people in Canada, United States, and Great Britain; and religion. In her application for the fellowship, Flynn mentioned always seeing the same Black preachers talking about religion in the media, and how she rarely sees female preachers. These are issues that she feels that she can have better success addressing with help from the fellowship.
"I'm excited about teaching this year," Flynn added, "and I'm looking forward to the fellowship."