Former U of I students team up to keep open Espresso Royale when COVID-19 threatened to shut it down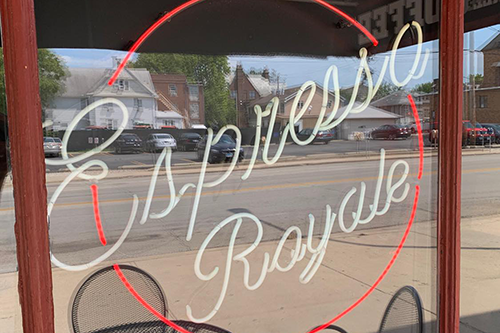 For many U of I students, pastries and coffee are one way to soothe the mind after hours of studying. That, along with their own fond memories of coffee-making college days, is what prompted a pair of former students to revive several Espresso Royale locations in Champaign-Urbana when COVID-19 threatened to shut them down.
After the chain announced last April that it would close all of its locations in Illinois, Michigan, and Wisconsin, Ken Pargulski (BS, '90, political science), the company's master roaster, purchased Espresso Royale's original roasting facility in Whitmore Lake, Michigan, and began to operate it as an independent business.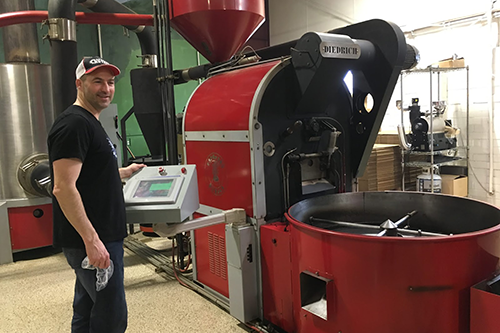 Pargulski changed the name of the roasting facility to mark the new ownership—he is now the proud owner of M36 Coffee Roasters—but he didn't forget Espresso Royale in Champaign-Urbana, where he first started working for the company. He collaborated with Doug McCarver, his former boss at Espresso Royale when they were students, who purchased the chain locations in Champaign-Urbana after they shut down.
Now the two men are once again working together to serve coffee, although their roles are different now than when they were college kids. They help promote each others' businesses, with Pargulski spotlighting Espresso Royale on his roaster's website and social media accounts to give the café chain additional market presence and exposure. McCarver, meanwhile, continues to sell Espresso Royale coffee that comes from Pargulski's roasting facility.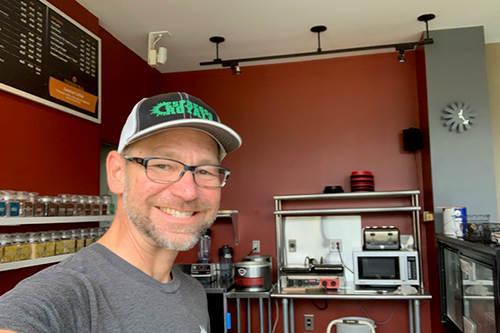 McCarver got his start at Espresso Royale as a student when he was hired to work the "graveyard" shift at a café near his dorm.
"That is the location where I first fell in love with the coffee business," said McCarver, who studied business administration and cinema studies during his time at U of I. "It was open 24 hours and I lived in Allen Hall, just around the corner, and I would often hang out there all night."
McCarver said he couldn't stand to see the Espresso Royale cafés in Champaign-Urbana close. For McCarver, working at Espresso Royale has always felt like being a part of a family, and the importance of Espresso Royale to the local community is what motivated him to keep the cafés open.
"Each store has its own memories and loyal following of customers, and I know how important the cafés are to each neighborhood they are in," he said.
McCarver's new business is technically independent, but it continues to operate under the name Espresso Royale because of its familiar presence in the community. McCarver has kept four locations open in Champaign-Urbana, with two additional locations in Grainger Engineering Library and the Undergraduate Library scheduled to reopen in 2021.
Pargulski said his time working at Espresso Royale as a student gave him invaluable experience in the coffee-making industry. After graduating from Illinois, Pargulski stayed with the company, working his way up the line and eventually managing, helping to open new locations, and training crews around the company. 
"I take great pride in working hard and perfecting my craft, and Espresso Royale was instrumental in honing my work ethic and leadership style," Pargulski said.
Even though his own company has a new name, Pargulski still strives to follow Espresso Royale's dedication to community service, he added. M36 Coffee Roasters partners with Michigan state parks and donates money to youth education programs in parks and schools for every bag of coffee sold.
"We are also helping fundraise for a local high school band, and we have donated many of the products that would no longer be used for the cafes to a local food bank and to individuals as well," he said.
Pargulski is also focused on growing the M36 Coffee Roasters line of coffees as well as seeking out new customers. He has increased his business's online and social media presence to maintain a market as the COVID-19 pandemic drags on.
"The cafés had a person to person connection, that has, at least for now, dramatically changed," Pargulski said. "It is now more necessary than ever to grow an online presence, especially knowing that more people are working from home and will continue to do so into the unknown future."  
According to Pargulski, his new business has enjoyed a tremendous amount of support from former Espresso Royale customers in the Michigan community—and now he and McCarver are seeing the same kind of support in Champaign-Urbana.
"Having been a part of the Espresso Royale family and community for years, we wanted to assure customers that we are some of the same people who worked for, and roasted the Espresso Royale coffee from the outset," Pargulski said.  "I love coffee, I love this coffee, I love what I do, and I love being a part of this coffee culture."