Lessons learned from class, college life, and a test like none other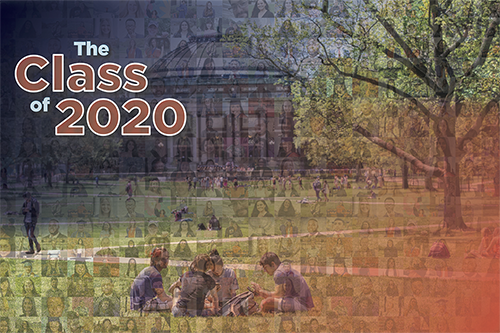 The Class of 2020 was much like any other of the graduating classes before it— eager, inspired, and prepared to change the world. This class, however, will long be remembered for how they were forced to deal with the COVID-19 pandemic that closed the university and brought their time on campus to an early end. They adapted to learning from home to finish their degrees, however, and even without a spring commencement they carried with them the spirit of graduation stronger than ever. We asked a few of them for their thoughts as they move forward.
Malani Rosa landed a job at an investment firm soon after graduating with a degree in economics. The COVID-19 pandemic taught her to take advantage of every moment, because you don't know when it might change or disappear. "College has shaped me in many ways by figuring out what I like and what I don't like for my future," she said. "The most important thing I learned in college is to always work hard at what you want."
Prince Boadi is the first in his family to attend college, and he isn't finished yet. He was accepted to 10 medical schools, including at the University of Chicago, Duke, Vanderbilt, Case Western, and Emory universities. He chose Duke University School of Medicine, which offered a full cost-of-attendance scholarship. Boadi majored in molecular and cellular biology at Illinois and found the guidance and nurturing he needed to excel.
"Being at Illinois enhanced my appreciation of leadership and increased my desire to be a medical doctor and [bring] real change in other people's lives," he said. Part of his college experience included working in the Office of Minority Student Affairs tutoring center, instructing his peers in general chemistry, organic chemistry, physics and introductory biology classes.
"The number of students I have been able to interact with has opened me up to a diverse number of different cultures, personalities and life stories," he said. "I realized I am truly fortunate to have the academic capacity I have. I also know that I have a responsibility to help others."
Said Skylar Rolle, political science: "While I am sad my time at Illinois is coming to an end, I am very proud of all the work I have done on campus, and the work the university has enabled me to do. I will always cherish my time on campus, and I am so excited for my future knowing I have the skills to succeed!"
Hannah Preston earned her bachelor's degree in English and is headed to graduate school at Northwestern University for a master's degree. The aspiring university counselor or advisor said that classes are just a small part of what makes college special. "Not being able to finish out my journey by my friends' sides has been a bummer," she said, "but at the same time it has forced me to recognize how crucial bonds in college can be, even in relationships as simple as the one you have with that guy in your lecture who gives you notes sometimes."
After receiving his bachelor's degree in communication, Dominic Rose will be back at Illinois this fall to pursue a master's degree. He's also publishing a poetry book called "Are These the Greatest Years?" If he could go back in time, he would tell himself that not everything will fall into place right away, and that's okay. "For me, it's important to always be gracious and to use the privilege that I have to validate others' experiences," Rose said. "By doing this, I can also elevate the voices of others who do not share the same privilege. At the end of the day, we're here to build each other up, not tear each other down."
Sisi He, who earned her graduate degree in molecular and integrative physiology, discovered her interest in biomedical research at the University of Illinois. She plans to move to San Francisco to work for a biotech company. The most important thing she learned from college? "Have faith."
Victor Olowomeye, political science, said, "Hard work and dedication always pays off at Illinois. Remember you're part of a resilient community that always strives wherever we are. Inspire others and always push yourself to be best version of yourself. Stay true to the orange and blue and success will always find you."
As a future teacher, Shayna Van Ostrand, English, learned during college that she had to make herself a priority during these formative years. She always knew that she wanted to be a teacher—"I didn't really look in other directions," she said—and she spent her college years pursuing that goal. In addition to her studies, she worked as a junior high basketball coach, published her own children's book, "My Mommy Doesn't Look Like Me," and accepted a teaching position at Central High School in Champaign prior to graduation. "Self-care and self-love is real!" Van Ostrand said. "After that, everything falls into place."
Said Cristina A. Santillan, psychology and communication: "Thanks for the bachelor's degree, ready for my master's now! #DoubleIllini"
As a University of Illinois employee, Kathryn Bowman finished a degree in earth, society, and environmental sustainability 20 years after she started it. "I was able to continue working full time and take online courses, setting an example for my three kids that hard work pays off," she said. "I am now excited to start a new career with the Institute for Sustainability, Energy, and Environment and continue my education in the Department of Natural Resources and Environmental Sciences graduate field!"
If Shawna Oliver could go back in time to high school, she'd tell herself to worry less, take in every moment, and enjoy every second of being at the University of Illinois. Oliver recently graduated with a degree in history, and she was also part of Air Force ROTC. She will be commissioned in the United States Air Force as a second lieutenant. The analytical skills that she learned by studying history played a part in her admission to intelligence officer training, she said. "I enjoyed my entire time at Illinois, and I wouldn't trade it for anything," Oliver said. "It was so much fun, I learned so much, and I've met so many awesome people. Even though my last semester was cut short, it was still a good, unique ending to my time at Illinois."
Mingchao Zhang, mathematics and computer science, said: "My wonderful and memorable four years at Illinois are not complete without the company of my friends: We take difficult CS classes together, we complain about the weather together, and we grow and learn together. After graduation, we might have to go to different places to pursue our dreams, but the friends I have at Illinois will always hold the same place in my heart."
Jada Holland Heck, psychology, always wanted to work with children but did not know exactly how until her last years as an undergrad. "As a freshman, I wanted to work as a child psychologist, but the research, volunteer, and job opportunities I sought out throughout my undergraduate education pointed me in the direction of social work," said Heck, who plans to attend the Brown School of Social Work at Washington University. One of Heck's most vivid memories from college is how professors and students came together to manage online learning when the coronavirus struck. She also learned about patience. "You will never have to force your passions to show themselves, they will come out naturally through the work and service that you gravitate toward on your own," Heck said. "Let nature do its thing and trust the process. It can be really scary but so worth it."
Lengxi Zhang, communication, said: "My journey at U of I helped me to find my potential and my passion in the future. I'm glad I made the right choice to come here. I will never forget the memories I had here!"
Sabrina Jose majored in molecular and cellular biology, minored in Spanish, and plans to pursue a master's degree in nursing this fall. "I have changed careers numerous times throughout college," Jose said. "While taking a variety of classes, I learned what field I truly would enjoy working in. College played a huge role in this deciding factor because it provided me the infrastructures and settings to experience different professions."
Here's what Noah Sellaes, a graduate in history and political science, would tell incoming freshmen: "Take it one step at a time, and find what you love doing and what you're good at. If you can combine those things, then everything else will fall into place." Sellaes, who will be attending law school at the College of William and Mary, said that the COVID-19 pandemic taught him a sense of community during a difficult time. "I took a lot of classes in college, covering many topics. But the most important thing I came away with was a clearer sense of who it is I want to be, how I fit into a larger community, and in what ways I want to contribute to that community in the future," he said
Cara Wiemeyer earned her bachelor's degree in psychology and will be starting the doctorate of clinical psychology program at Roosevelt University in Chicago this fall. Graduating during the COVID-19 pandemic taught Wiemeyer how to critically think about the ways the crisis differentially affects certain populations, she said. She added that she'll never be done learning. "The university has taught me that our knowledge on all subjects is constantly evolving," she said.
Editor's note: This story first appeared in the Fall 2020 LAS News magazine.
News Source
Samantha Boyle, Therese Pokorney, Kimberly Wilson, and Diana Yates