Fellowship leads to foreign service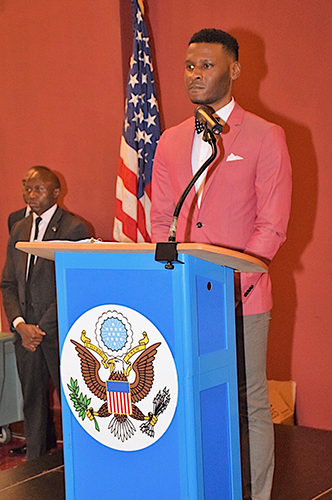 No two days are the same for Larry Harris Jr. (BA, '15, political science).
He calls Chicago home, but the Foreign Service Officer (U.S. Diplomat) at the U.S. Department of State has worked in Austria, Ethiopia, Cameroon, and currently Canada.
What is a typical work day for you?
Monday, I could meet with political, civil society, and religious leaders to help forge a path to sustainable peace to a civil conflict. Tuesday, I may speak with students and young people about the important role of the youth in our societies. Wednesday, I may spend the entire day assisting an American citizen who needs emergency help in getting back home. It truly does vary.
How has COVID-19 affected your work?
Diplomacy is predicated on relationships, and it's difficult to build and maintain relationships when you can't physically gather. However, I've found that the pandemic hasn't impeded my work—it has challenged me to find creative ways to continue doing it. Americans abroad can rest assured that our embassies are still ready to help. I was still able to convene international partners through phone calls and video chats. It's certainly different, but I'm making it work.
How did you land your first job?
I joined the Foreign Service through a program called the Charles B. Rangel Fellowship. It's one of two programs (the Pickering Fellowship is the other) that the State Department created with the mission of recruiting Americans from historically underrepresented backgrounds to join the Foreign Service. I highly recommend these fellowships for anyone who may be interested in a career in public service and diplomacy.
What was your career path from college graduation to your current job?
After graduating from Illinois, I started on the path of the Rangel Fellowship, which started with a fellowship with Ill. Sen. Dick Durbin. Following that, I attended graduate school at American University in D.C. and returned to the hill serving on Speaker Nancy Pelosi's national security team while attending school. After graduating, I was sworn into service.
In hindsight, what about college best prepared you for your life and career?
I worked as a tour guide throughout my time on campus. Illinois is a world-class institution that attracts folks from every corner of the globe. Having the opportunity to meet—sometimes hundreds—of people each day and exchange experiences or even quickly create an alternative plan for a tour if an unscheduled storm showed up, was invaluable.
How did your major prepare you for your career?
What was unique about my political science courses were the open forums the professors provided for students to discuss and challenge conventional theories, readings, and each other's opinions. Learning how to digest complex information, develop my own ideas, and factually defend them was key.
What do you like to do when you're not working?
At the risk of sounding weird, I really enjoy walking. In my free time, I quite literally just get up and explore whatever city I'm in, even if I'm home in Chicago. There are always new things to discover and people to meet, and it keeps me active as an added bonus.
What has been your proudest achievement?
Putting together a coalition of countries and international organizations to secure the release of jailed journalists who never should have been detained.