LAS senior receives Lincoln Academy Student Laureate Award
Issy Marquez recognized for commitment to service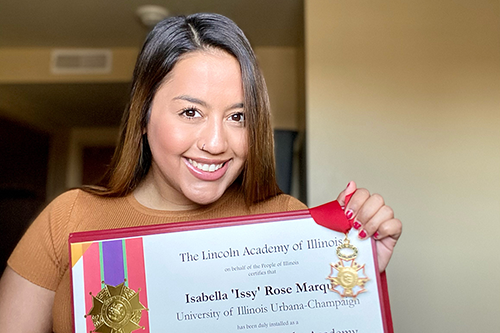 In 2019, University of Illinois student Issy Marquez had an eye-opening experience. She traveled to Washington D.C. with several professors to lobby on behalf of the National Humanities Alliance. Marquez, a triple major in English, political science, and Latina/Latino studies, said the trip helped her to see the positive impact of her education.
Others have noticed the positive impact that she's made, too. Now in her final year of undergraduate studies at Illinois, Marquez has been named a recipient of the Lincoln Academy Student Laureate Award for her overall excellence in civic engagement and curricular and extracurricular activities.
The annual award goes to one senior from each participating four-year college and university in Illinois. Each year, the Lincoln Academy Student Laureate Award is given to a senior at the University of Illinois through the Chancellor's Honors Program. As deemed by the Lincoln Academy, a nonprofit organization which administers the Order of Lincoln Award, recipients have demonstrated exceptional attributes in leadership with the desire to make a difference in the world.
The Order of Lincoln Award, considered to be the highest honor bestowed by the state of Illinois, goes to a handful of people each year. These include the the Lincoln Academy Student Laureate Awards.
Marquez had the opportunity to travel to Washington, D.C., through the David F. Prindable Undergraduate Internship with the Humanities Research Institute. She was the first student representative from the University of Illinois, and she was able to share her ideas with members of the U.S. Congress.
"We always talk like, 'Your education will take you to so many places and it will do so many things,' but this was one of my first times really seeing how expansive and national my education really is," Marquez said. "That really stuck with me and really made my year." 
Marquez was recognized for her lobbying efforts and many other positions she holds within the university. Marquez's list of accomplishments include the titles of Peter and Joan Hood Intern and Life + Career Design intern with the College of Liberal Arts & Sciences, where she helps students map out their life and career path, as well as being a teaching assistant and mentor. She is also a James Scholar peer mentor coordinator.
For Marquez, the Lincoln Academy award is the highlight of her college experience. The senior said that she is extremely appreciative of the education she has been able to receive during her time at Illinois, and the award is an acknowledgment of the success she's been able to achieve at the university.
"It personally just means that all the tools and resources that I've been given here at the University of Illinois, along with all the experience I've gained and all the memories I've made, really matter on a scale larger than just what I thought it would," she said.
Marquez said that the many educators and mentors she's had throughout her life have been key to her success, and this is why she feels that it's important for her to give back to her community as a way of paying it forward.
"Especially being a young Latina from Chicago, it's hard to find education opportunities that are truly fruitful and that can change the world," she said. "I know that [my education] has always been the number one thing that has constantly guided me, and what I want to do in the future is make education as accessible for other students as it has been for myself."
Marquez plans to stay at the University of Illinois after graduation to complete a doctoral degree in English. She wants to pursue a career in improving higher education accessibility through the humanities.
Marquez has already made strides towards bettering the education outcomes of students through her work in the Champaign-Urbana community. One of her many mentorship roles sees her as a mentor to five young girls currently attending a C-U high school, an experience she states has been rewarding in many different ways. 
"Because of [the pandemic] I've only ever worked with them through my computer, but I feel like they are my little sisters," she said. "They have shown me so much about Champaign and Urbana that I would never know otherwise if I hadn't opened my ears and my heart to them, and they've done the same thing by opening their hearts to me."
Kate Krueger, director of the LAS Honors Program, nominated Marquez for the award, and has been an important mentor for her throughout her time at Illinois. Marquez said that she is forever thankful to Krueger for investing in her educational and personal growth, and for recognizing her work. Marquez felt  that as an underrepresented student, Krueger's help was particularly meaningful. 
"She [Krueger] really saw me for who I was and the tools that I have and the passions that I have, and her taking the time out to really consider me for this award really means a lot," Marquez said.
This award has ultimately strengthened Marquez's resolve to advocate for education equality. Her main goal moving forward is to ensure that awards like the Lincoln Academy Student Laureate are more accessible to everyone.
"I hope that there are students throughout this university and in the future that have more access to things like this," Marquez said. "That's what I'll forever fight for, that the Lincoln award and many other types of awards and acknowledgements and opportunities happen for students all across the country regardless of ethnicity, social class, or background."