LAS honors outstanding staff and academic professionals
Seven honorees recognized for contributions to the college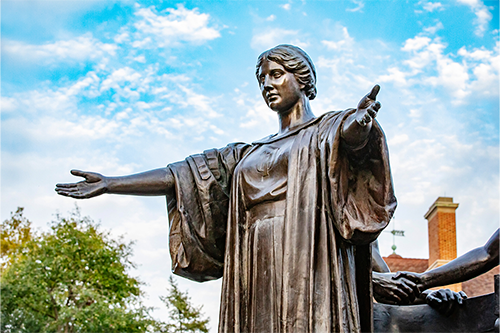 Seven staff and academic professionals are being recognized for outstanding contributions to the College of Liberal Arts & Sciences in 2020-21.
Rayme Dorsey Ackerman, Carol Banks, and Summer Curry have been selected to receive an LAS Staff Award. The recognition comes with a $2,000 award supported by donations from LAS alumni.
Serenity Desmond, Alison Reddy, and Melanie Waters have been selected by an awards committee to receive the LAS Academic Professional Award. The recognition comes with a $1,000 award and a $1,000 salary increment supported by donations from LAS alumni.
Alejandra Seufferheld has been selected to receive the Paula Adametz Hays Award. The recognition comes with a $2,000 award supported by funds donated by Sarah C. Mangelsdorf, former dean of the College of Liberal Arts & Sciences, and Karl S. Rosengren, former professor in the Department of Psychology.
The recipients will be honored during a virtual ceremony in March.
"This year's award winners have made invaluable contributions to their units, colleagues, and the College of Liberal Arts & Sciences as a whole," said Gene Robinson, interim dean of the College of LAS and Swanlund Chair in Entomology. "Their energy and dedication have been critical to everything from day-to-day operations to fulfilling the long-term goals of the college. We are pleased and fortunate to have them in our midst."
Summaries of the winners follow:
Rayme Dorsey Ackerman is an office administrator in the Office of the Dean, where she supports the dean, associate dean, and associate director for academic programs. She is known as the backbone of the Office of the Dean, with one of her colleagues commenting, "She has taught me the meaning of organization and how important that is in doing my job efficiently. Instead of being reactive, instead of stomping fires, she makes sure the fire doesn't take place in the first place."
Carol Banks is an office administrator in the Department of Economics. She manages critical functions of the PhD program and provides high-level administrative support to the director of graduate studies and graduate students. Banks manages the institutional structure of the department's graduate program and steps out of her role to help in other capacities in the department as needed.
Summer Curry is a human resource associate in the Department of Psychology. She manages all aspects of human resources in the department, which includes some 60 faculty, two to three dozen staff, 130 graduate students, and many undergraduate employees, post-docs, and lab managers. Her roles include managing everything from title changes to payroll, benefits, and Office of Access and Equity compliance.
Serenity Desmond is a teaching laboratory coordinator in the Department of Chemistry. She supervises personnel and is responsible for coordinating the efficient and safe operation of the laboratories. "She functions as the local safety officer, waste disposal officer, maintenance head, assessor of experiment success, and, during COVID-19, something of an informal counselor," one colleague said. "She keeps our teaching laboratories up and running."
Alison Reddy is director of mathematics placement and coordinator of quantitative reasoning courses in the Department of Mathematics. She leads a team of math instructors who are selected to work with incoming first-generation students and carefully designs courses to provide a rigorous yet welcoming and dynamic environment for students. Wrote one colleague, "Alison is clearly influencing the way math instruction and teaching should be delivered at Illinois."
Alejandra Seufferheld is outreach coordinator at the Center for Latin American & Caribbean Studies, where she has developed an impressive list of community engagement activities in the Champaign-Urbana area. They include Latin American Storytime at local libraries, professional development workshops for educators, Latin American movie nights, and many others.
Melanie Waters is director of the introductory Spanish language program in the Department of Spanish & Portuguese. During her time with the department, she has developed several new courses and was instrumental in developing new curricula for hybrid and online language classes. With more than 1,500 students in the program, a colleague wrote, "no one has been more central to our department's ability to run this operation over the years than Melanie Waters."