Professor receives AAAS award for public engagement with science
Esther Ngumbi honored for work in sustainability, diversity in science, and communication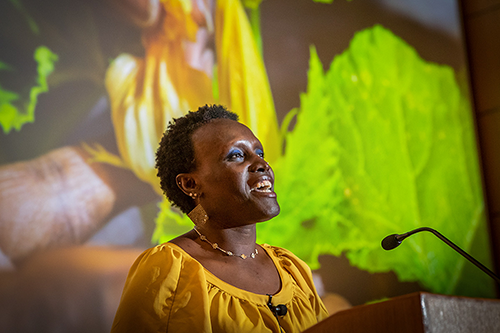 Entomology and African American studies professor Esther Ngumbi is the 2021 recipient of the Mani L. Bhaumik Award for Public Engagement with Science, an annual award from the American Association for the Advancement of Science presented to scientists and engineers in recognition of their contributions to public engagement with science.
Previous recipients of the public engagement award include astronomer Carl Sagan, astrophysicist Neil deGrasse Tyson and U of I entomology professor and department head May Berenbaum.
An AAAS-produced release and video about Ngumbi's selection describes her "ambitious priorities," which include "helping the world meet sustainability challenges, diversifying the global community of scientists, and practicing and teaching science communication."
Ngumbi is the founder of Oyeska Greens, a startup in Kenya that trains farmers in sustainable and profitable agricultural techniques. She regularly speaks to minority and other underrepresented communities to inspire young people to pursue careers in science. She is a founder of Spring Break Kenya, an initiative that brings university students to Kenya's rural areas to strengthen communal efforts to end hunger. With her parents, she founded the Dr. Ndumi Faulu Academy, a school that serves the children in her hometown in coastal Kenya.
Ngumbi has written more than 100 op-eds and feature articles for science publications and mainstream media outlets on topics related to agricultural sustainability, global food security, immigrant rights, and African and African American culture and representation in science and popular media. She is a proponent of the use of big data, predictive modeling, and other data-intelligence approaches to address pressing environmental problems in Africa and beyond.
Ngumbi also teaches science communication at the U of I.
The AAAS chose to honor Ngumbi "for her engagement on sustainable agriculture and ending hunger, her commitment to diversifying the global community of scientists and her work to change the culture of science."
News Source
Diana Yates, Illinois News Bureau