English professor named John A. and Grace W. Nicholson Professor
Christopher Freeburg recognized for literary achievements and dedication to the university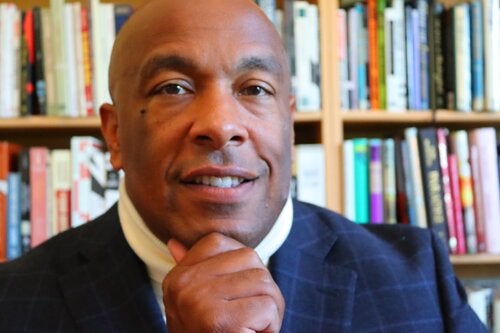 Christopher Freeburg has been named the John A. and Grace W. Nicholson Professor in recognition of his outstanding literary achievements and dedication to the Department of English and the University of Illinois as a whole.
Freeburg has published numerous articles in top academic journals and is the author of "Melville and the Idea of Blackness: Race and Imperialism in Nineteenth-Century America," published in 2012, "Black Aesthetics and the Interior Life," (2017), and "Counterlife: Slavery after Resistance and Social Death" (2021).
Freeburg's research interests include American and African American literature, the idea of Black culture, the American novel after 1850, slavery in the Atlantic world, and media aesthetics. 
The John A. and Grace W. Nicholson Professorship was established to help further the study of the humanities, with special preference given to the study of literature and the history of philosophy. It originated from the John A. Nicholson and Grace W. Nicholson Endowment Fund, established in 1999, which was a gift of Grace W. Nicholson (1906-1998) who pursued undergraduate studies in the College of LAS, and professor emeritus John A. Nicholson (1891-1986), who taught in the Department of Philosophy at U of I for 33 years.
Freeburg joined U of I as an assistant professor in 2006 after earning a PhD at the University of Chicago. He was appointed a University Scholar in the spring of 2020 and held a position at the Center for Advanced Study from 2019-2020.
During his time with the Center for Advanced Study, Freeburg made significant progress on his most recent book, which explores how descriptions of social space, power, and social identity became pivotal in shaping the early sociological and psychological approaches in the field of slavery studies.
Freeburg stated that he is appreciative of the new honor and of the university's continued support of his work.
"This professorship is a gamechanger," Freeburg says. "I consider it a special honor indeed, which will allow me to follow my research questions about African American social life wherever they take me."
Freeburg's contributions to the university include teaching and mentoring students involved in the Summer Research Opportunities Program (SROP). Freeburg was a scholar in the program himself in 1992, and has since dedicated much of his time to helping other students of color in the program achieve success.
"(Freeburg's) work in [the SROP] program speaks volumes about his generosity in going above and beyond what we might expect of a scholar who is a star in his field," said Robert Markley, head of the Department of English, in his nomination letter. "His service to the department has been exemplary throughout his years at Illinois."
As Nicholson Professor, one of Freeburg's main goals will be to advance research related to issues of race within the university.
"This support will help me to enhance Illinois' reputation as a place to discuss, teach, and write about the ongoing significance of race in American culture," Freeburg said.