"I have the capability of being grateful in all circumstances"
Students reflect on lessons learned on campus during the pandemic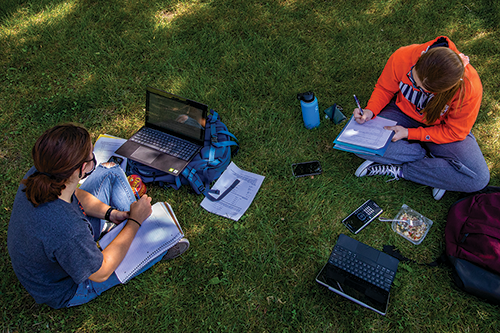 The fall semester was unlike any other for students at the University of Illinois. Many students returned to campus for a mix of online and in-person courses, some took classes entirely online from home, and others, such as international students, were unable to go home even for breaks. Here, in their own words or as interviewed by others, LAS students share experiences and lessons learned during this challenging time.
Zackary Landers, freshman, history
"At first, I found asynchronous learning [course material is shared online instead of in-person lectures] to be difficult due to its impersonal nature and ability to be put off. In time—and by using my planner—I made asynchronous learning the center of my week. This helped with assignments, too. Some professors went the extra mile to adapt their lectures to the online world while having fun. History professor Mark Steinberg's Lenin lecture was the highlight of the term! Most striking was seeing the vast majority of my classmates consistently doing the right thing. Parties get the press, but the thousands of students who have vigilantly followed COVID-19 regulations down to the science speak volumes about our university."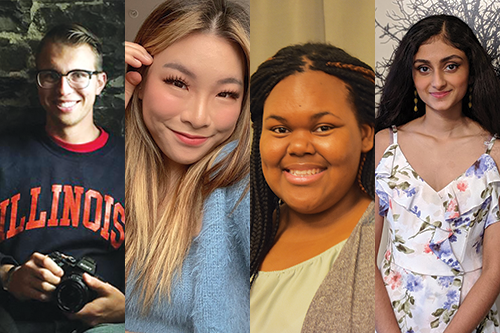 Irene Ryu, senior, communication (minor in political science) 
To cope with the new normal caused by the COVID-19 pandemic, senior international student Irene Ryu has become more conscious about the daily routines that keep her feeling well.
"I started working out at home by watching YouTube workout videos to make up for not being able to go to ARC," Ryu said. Ryu, who is from South Korea, also states that not being able to travel home for the holidays has been the most frustrating part of dealing with the pandemic. Still, she is finding ways to stay connected.
"To compensate for not being with my family in Korea, I spent Thanksgiving with my fellow international students, Korean Americans, and my kitty at home to be safe!"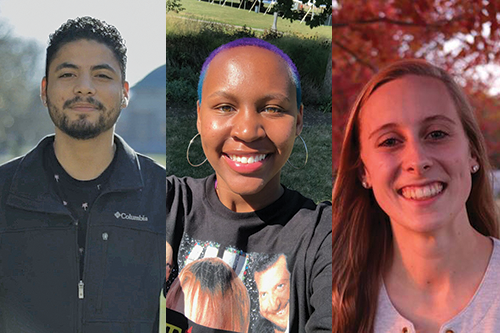 Jasmine Wiley, senior, sociology
Adjusting to online classes has been one of the biggest challenges for many students during the pandemic. Jasmine Wiley said her biggest takeaway from the experience has been prioritizing her mental health.
"I have learned to take baby steps, to not overwhelm myself and to celebrate the little accomplishments," Wiley said.
Wiley also said that concentrating on school during such a tumultuous time in history has been difficult, but focusing on what she can control has been a source of relief.
"If I can control something," she said, "even if it's something small like turning off my phone because it's loud or turning off the light because it's bright, it gives me some satisfaction."
Neha Arun, sophomore, molecular and cellular biology
"It's difficult to find ways to stay in touch with the people around you, even living on campus this semester. The combination of constant Zoom classes and meetings along with numerous COVID-19 restrictions have added stress to many peoples' lives. There was one notable time this semester, however, when my Stamps Scholarship group was able to truly connect in a way that gave us a bit of happiness in a pandemic-proof way. Our advisers planned a small fall get-together where we had a pumpkin carving contest, donuts, and cider, and just talked with each other—all the while being socially distant and with masks. We had a Zoom meeting for our off-campus friends to join in, and it was a fun (though messy) time when we carved our pumpkin masterpieces. I'm glad we had the opportunity to connect in a safe but activity-filled way, and I continue to appreciate the small moments of connection I was able to have with other people this semester."
Isaiah Lopez, sophomore, biochemistry
"This summer, we knew that this semester would look much different on campus, especially with many more online and hybrid classes compared to in-person. When I was redesigning my schedule, I wanted to try to get as many in-person sections as I could because I knew that I learned best, as many do, in person. I was able to get an in-person discussion for my organic chemistry class, but the activity that I looked forward to most was the research lab I started this fall semester thanks to the university's protocol with testing. It is a biochemistry lab that is studying the protein Azurin, among others, and how it can have electrochemical potential when combined with certain metals. I get to work in the lab on weekends and have been getting hands-on training in the lab while working with a postdoc and grad student. I am really thankful for this and am hoping this experience will help me land another research internship for the summer of 2021!"
Ciera Johnson, junior, communication
"A highlight of this semester was joining Black Students For Revolution RSO on campus. I had heard about them since my freshman year, and I finally made the choice to learn more about their organization and decided to join! It feels good to come together with people who look like you, share some of the same struggles as you, and have the same aspirations of Black liberation. I look forward to the meetings we have every week, and I'm grateful to be meeting new people even in trying times like these."
Grace Maloney, senior, chemistry and molecular and cellular biology (minor in Spanish)
One of the hardest aspects of the fall semester for Grace Maloney was being less active than usual. Then she learned how national parks could be visited in a safe manner, so she and her roommates took a trip to Mammoth Cave National Park, significantly boosting her morale and relieving stress. Another boost came when she was accepted to the Chicago School of Osteopathic Medicine.
"My hope is to become a family doctor and provide quality care and service to people and patients in locations in the U.S. and around the world where healthcare and doctors are scarce," she said.
Of her experience in the fall, she added: "I have the capability of being grateful in all circumstances, so regardless of what is going on around me, I can reframe my mindset and change it from everything that I don't have or have missed out on this semester to everything that I do have and have been blessed with. I have learned that my satisfaction is not dependent on circumstances."
Editor's note: This story originally appeared in the Spring 2021 issue of LAS News magazine.
News Source
Kimberly Belser and Kimberly Wilson