When danger becomes the norm
Ethnographer Ghassan Moussawi studies how marginalized communities adapt to lives of violence and uncertainty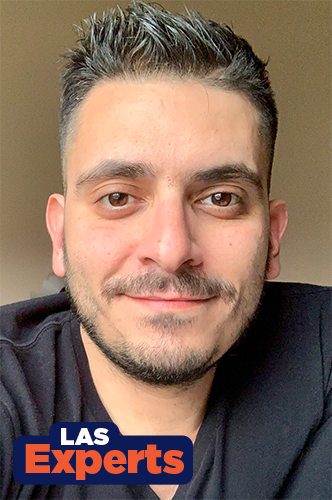 To many outsiders, Beirut has evolved to a modern and exceptional Middle Eastern city. In reality, its inhabitants are challenged by daily violence and disruptions, caused by state sanctioned neglect and violence on its people. To Ghassan Moussawi, an ethnographer, the city reveals valuable lessons in how people adapt in the face of continuous danger and scarcity.
After years of interviews and research, Moussawi, professor of sociology and gender and women's studies, has released a new book, "Disruptive Situations: Fractal Orientalism and Queer Strategies in Beirut" (Temple University Press, 2020), which examines the lives of LGBTQ residents in Beirut for whom crisis and disorder is common. What he's learned, he said, holds true in many communities where fear and uncertainty is a normal part of life.
What is your area of expertise?
My research is situated in the fields of transnational gender and sexuality studies, queer theory, queer of color critique, and postcolonial feminisms. I am interested in questions around the experiences of marginalization and inequalities among already marginalized groups. I interrogate categories of normativity and what counts as normative lives, everyday life precarity and violence and how people normalize such experiences.
What are you working on now?
My book examines what queer life reveals about everyday disruptions and violence in contexts where crises and disorder are the conditions of social and cultural life. I challenge how sexuality has been used by Euro-American popular media to provide a transnational narrative about contemporary Beirut as a unique gay-friendly destination in the Arab World. I counter these neoliberal narratives of Beiruti exceptionalism, highlighting the prominence of everyday "disruptive situations" in shaping city life. Based on years of ethnographic research, interviews with LGBTQ Beirutis, and discourse analysis, I draw attention to how disruptions and violence become familiar, and call into question what constitutes "ordinary" and "mundane" aspects of queer lives.
My analysis uncovers the various gendered and classed strategies that LGBTQ individuals employ as they move within and across Beirut, while also navigating ongoing uncertainties and violence. Sharing narratives from working class genderqueer persons, LGBT organizers and activists, and internal queer migrants to Beirut, I underscore how they negotiate their mobilities and access to space within the cityscape. In a place without post-civil war reconciliation, I underscore how LGBTQ subjectivities are also not about reconciliation. Rather, they are about classed and gendered fashionings of the self that are strategic in their response to both context and issues of safety amidst precarious situations. The case of Beirut can teach us about queer life in other contexts where state sanctioned violence and neglect and everyday violence shape people's lives.
I am now moving on to studying affect, particularly bad feelings and transnational (im)mobility. This project builds on migration studies and scholarship on affect by examining the experiences of LGBTQ asylum seekers from the Arab World to the U.S., both in the process of seeking asylum and resettlement, and their shifting understandings of home, region, temporality, and experiences with LGBTQ and Arab diasporic communities.
What impact will your work have on your field and the community?
I would hope that my work would have the following impacts: moving away from treating LGBTQ communities as homogenous, thinking of the U.S. as a transnational site, using queer theory beyond studies of gender and sexuality, and rethinking practices of knowledge production, through attention to bad feelings and their productive nature.
What do you enjoy most about teaching?
Teaching is one of the most valuable and rewarding aspects of my job. I am very passionate about the topics I teach and I consider teaching to be a form of public scholarship.  I value my direct interactions with students, especially as they allow me to work through making complex theoretical concepts accessible to wider audiences. What brings the most joy is seeing how students become so engaged and how they organically build a feminist and supportive community for collaborative learning. I also find inspiration in seeing how students start thinking of themselves as agents of social change, and how they apply what they learn in classrooms in their everyday lives.
Editor's note: This LAS Experts profile is part of a series to highlight the groundbreaking work by faculty in the College of LAS. Visit here for other profiles.