Building a sense of service
First year students and instructors in an orientation course help local organizations navigate the pandemic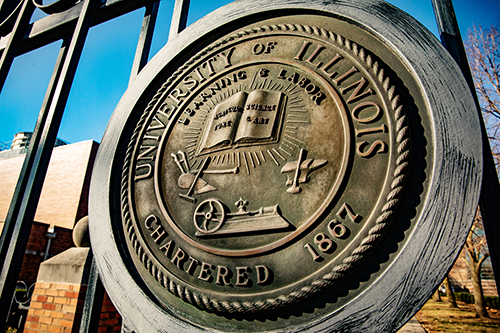 With the onset of the COVID-19 pandemic, community service organizations scrambled to maintain their support programs. One of the ways they compensated was by increasing their social media and online presence—which they accomplished with the help of the LAS Honors Program.
Last semester, some 236 students in LAS 122, a  freshman orientation course taught by upper-level James Scholars, worked with service organizations such as Wesley Food Pantry, the Chez Center for Veterans, Project READ, and the Immigrant Services of C-U. The course is designed for students who are interested in learning more about humanitarian topics through service learning.
With on-site community engagement not possible in the fall, LAS Honors director Kate Krueger connected with We CU, a service program at U of I's Interdisciplinary Health Sciences Institute, to develop a service learning curriculum for students to assist local organizations through virtual partnerships.
Katie Shumway, co-director of We CU, said that social media needs among local community organizations have increased since the beginning of the ongoing COVID-19 pandemic. More than almost any other project, she said, organizations have been requesting assistance with their social media interaction.
"LAS Honors students have a lot to offer to our community partners," Shumway said. "Their perspective, hard-work, and tech-savviness equip them with skills that are very beneficial to these social media projects."
Krueger said the course helped students broaden their perspective on the world and made them more comfortable with the community and their peers.
"Because these are group projects, they usually get to bond with one another and really work on those interpersonal dynamics and interpersonal growth, and also just become more confident in themselves and what they're capable of," she said.
She added: "You're working for someone to impact people's lives, and so the stakes are higher," she said. "I think students can get a little nervous about those stakes, but they also care more and become more invested. So I hope that students are more comfortable taking risks like that and being flexible and willing to try new things."
In one of the partnerships, students partnered with the Champaign Public Library to create science experiment videos for the library's teen program. The LAS 122 students did the demonstrations, which the library included in take-home experiment kits for the junior high students.
Brennen Thomas, a freshman studying chemical engineering, helped with the library project. Thomas hopes to someday use his degree to begin research and development of pharmaceutical drugs, a career path he said requires significant leadership skills, teamwork abilities, and grasp of chemical concepts—all of which the service-learning project strengthened.
"I believe that the service-learning project was instrumental in the education of the scientists of the future," Thomas said. "The videos opened many students' minds to the possibilities of science, thus preparing them to become the doctors, teachers, researchers, etc., of tomorrow."
Through her role as a project coordinator for LAS 122, Karla Sanbria Veaz was responsible for connecting students with community organizations with different societal focuses. She said that her goal is to help students see how to combat racism through service learning and working with community partners.
Likewise, Harpreet Auby, teaching assistant in chemistry and a LAS 122 intern, said his work with the service-learning course led him to realize his passion for chemical education and the need for professionals in STEM disciplines to become involved the field of education. Auby was responsible for connecting students with projects organized by the Champaign Public Library.
"I want my students to see [through] this class—not only in general with all the topics we teach but also the service learning projects—that they have a voice in their community," he said, "and that they can use it to work towards a common goal or an individual goal that they want to accomplish."