Making a musical more enjoyable for kids
Alumna writes a popular children's guide to "Hamilton"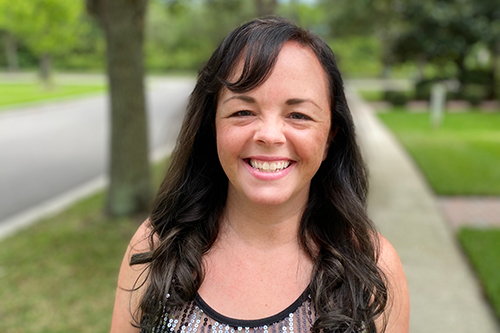 When Amanda Bjerkan Hennessy first saw "Hamilton: an American Musical" in 2019, she immediately loved the Broadway musical. She constantly listened to the soundtrack with her children, ages 8 and 6, who also began to enjoy the music.
"And with that came a lot of questions!" she said. "'Why does [Eliza Hamilton] say she's helpless?' 'Why does the king say that?' 'Why do they want to have a war?' 'What does satisfied mean?' And on and on. Sometimes I'd answer the same question several times in the course of a week," she said.
For this reason, Bjerkan Hennessy (BA, '99, English; MA, '01, communication) figured that there were probably other kids with similar questions that her children had about the musical, too. She was surprised to see that there were no guides available to help with this matter, which inspired her to self-publish "A Kids' Guide to Hamilton the Musical," a summary guide of each of the songs in "Hamilton."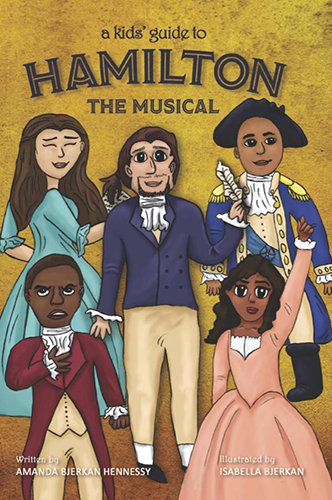 "I've always loved writing—sometimes I get to do a bit of it in my job, but it's not the primary work I do—so I got the idea to write a book about the show and songs for kids," she said.
Bjerkan Hennessy, a leadership development program manager at The Walt Disney Company and founder of the party planning support business Dreaming Up Parties, had never authored a book, but she used Amazon's Kindle Direct Publishing, a print on-demand service that enables users to self-publish their written works. She wrote and formatted the book, uploaded a PDF to the platform along with the front and back cover. Amazon prints and ships the book to customers when they order it.
In the first three weeks after being released on Amazon in 2020, the book was a No. 1 best seller in the children's rap and hip-hop books category, and No. 2 in children's dramas and plays (behind "Harry Potter and the Cursed Child"). It remains popular; as of late February, the book was No. 4 in children's drama and play and children's rap and hip-hop, and No. 8 in children's theater books. It has a five-star rating on Amazon. Bjerkan Hennessy called these accomplishments "very exciting."
"I have been truly overwhelmed by how well-received the book has been," she said.
The musical "Hamilton" first premiered on Jan. 20, 2015. The Broadway musical, which depicts the life of United States founding father Alexander Hamilton from America's independence from Great Britain to his death, has since won 11 Tony Awards, a Pulitzer Prize for drama, and a Grammy for best musical theater album.
Bjerkan Hennessy's initial plan was to create a 43-page handout (one page for each song), but the project evolved into a 192-page book, which, she said, was an intimidating but also exciting process.
"Writing a guide about an incredible piece of written art created by someone else gave me a great starting point, for sure," she said. "I didn't have to create characters, uncover their motivations, or determine the most compelling way to present the sequence of events. What I found most challenging was retelling the story at a level that would be relatable for elementary-aged children. So often, I'd have to find a simpler way to say something, which certainly tested my writing and communication skills."
The process of creating "A Kids' Guide to Hamilton the Musical," Bjerkan Hennessy said, included her daughter reviewing early drafts of the book and sharing what she liked, what made her laugh, what she did not understand, and what she thought was boring. Regarding some of the mature language in the songs, she erred on the conservative side, Bjerkan Hennessy said, to respect how other parents choose to talk to their children about adult situations. For songs she could not simply skip over, such as "Say No to This" (which details Hamilton's extramarital affair), Bjerkan Hennessy said she made it "as PG-rated as possible."
"I talk about it in terms of how kissing someone else when you are married is called having an affair, and how even though the character knows it is wrong, he makes a choice to do it anyway," she said.
As for the plot, Bjerkan Hennessy said, the musical is a very content-dense show, so her goal was to paint a broad picture of what's happening in each song. Each chapter describes one song in about 400-500 words, giving kids a basic understanding of what the song is about.
"That simplified explanation makes it a little easier for them to process the storyline and follow along," she said.
The book also contains fun facts, "musical notes" that describe the different styles of music, and sidebars to explain vocabulary words and other topics present throughout the musical, including, U.S. Congress, colonies, and taxes.
Another heavy topic I address is slavery," she said. "I don't go into the horrors of slavery, but I do explain that people were captured from their homes, forced to work for free, and punished very badly if they were caught trying to escape."
Regarding the overall reception of "A Kids' Guide to Hamilton the Musical," Bjerkan Hennessy said her "favorite thing" to hear is how kids are loving the book.
"A friend said her 9-year-old daughter couldn't put it down and read it over the weekend," she said. "She shared lots of things she'd learned with her family and was drawing the characters all week."
Another reviewer, she said, told her that her children used to sing along to the songs without really understanding them, and the book has helped them learn the actual history behind the songs.
"Stories like those fill my heart with happiness," Bjerkan Hennessy said. "To see the inspiration for and purpose of my work being fulfilled—helping kids understand, learn, and appreciate the show in a more relatable way—is so rewarding."