Illinois history professor awarded Guggenheim Fellowship
Kevin Mumford will use fellowship to study bias crime and the politics of diversity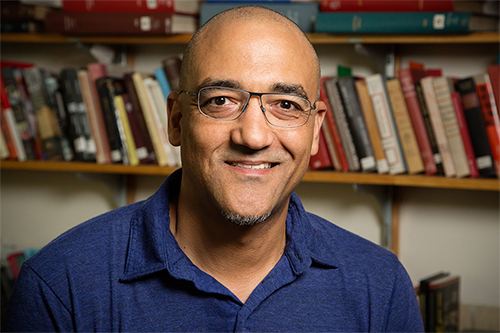 University of Illinois Urbana-Champaign history professor Kevin Mumford has been awarded a 2021 Guggenheim Foundation Fellowship.
Mumford is one of 184 artists, writers, scholars and scientists who were awarded fellowships. They were chosen through a rigorous peer-review process from almost 3,000 applicants, according to the John Simon Guggenheim Memorial Foundation's press release.
Mumford's research focuses on race, politics, and sexuality in America, and how struggles over social difference and belonging have unfolded in cities and institutions. He also is interested in the writing of biography and public history, particularly in how historians can address important social issues for audiences within and outside the university. He is the author of "Not Straight, Not White: Black Gay Men from the March on Washington to the AIDS Crisis" (University of North Carolina Press, 2016), about the unique challenges faced by Black gay men.
Mumford will use his fellowship to work on a book project, "The Strange Career of Hate: Bias Crime and the Politics of Diversity." The book traces the anti-hate movement back to the end of the civil rights campaign when Black and liberal legislators pushed for a new kind of policy – the Hate Crime Statistics Act of 1990. The book unearths a series of relatively high-profile bias crimes in the 1980s, including assaults, murders, threats, and vandalism aimed toward Blacks, Asian Americans, gays, Jews, and Arabs. It specifically locates the rise of hate in the Reagan era and the larger rightward turn in politics and values, Mumford said.
"Of course, this research also provides a historical angle on recent events – from the Black Lives Matter movement to the current surge in anti-Asian violence," he said.
Mumford is one of four fellows in the area of U.S. history. "They are among the most esteemed historians in the profession, and it is an honor to be among them," he said.
Mumford also recently received a 2021-22 fellowship from the Center for Advanced Study in the Behavioral Sciences at Stanford University.
News Source
Jodi Heckel, Illinois News Bureau