A project at U of I teaches Illinois residents to reconnect through journals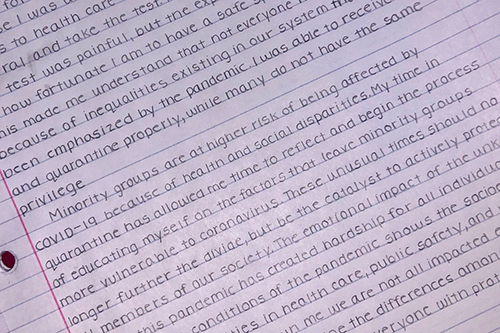 Among the many things lost during the pandemic has been a sense of togetherness. A project led by a pair of University of Illinois professors, however, asked people to write journal entries in an organized effort to bring communities closer together during dark times and find solutions to some of the state's most pressing social concerns.
Through words on paper, the Citizen Scientist Journaling Project has helped Illinois residents develop coping mechanisms for dealing with the ongoing pandemic. The citizen scientists (broadly defined) are Illinois community members deeply affected by the pandemic. They were trained to create a public digital archive of how people, some from marginalized communities, are managing the complex social effects of COVID-19.
Sixteen participants from across Illinois were recruited to produce multiple journal entries for the project that address how they are dealing with the pandemic emotionally, economically, and socially. They began submitting weekly journals in 2020 and journaled for six months.
Ruby Mendenhall, professor of sociology and African American studies and assistant dean at the Carle-Illinois College of Medicine, organized the program with Robin Fretwell Wilson, director of the Institute of Government and Public Affairs (IGPA) and Mildred Van Voorhis Jones Chair in Law. The project, housed on the webpage for the Family Law and Policy Program at the U of I's College of Law, reflects the efforts of a team of graduate students, alumni, and others helping residents convey compelling accounts of their struggles with the COVID-19 pandemic. It is part of IGPA's new working group on equity, justice, and human flourishing that Mendenhall and Wilson co-lead at IGPA.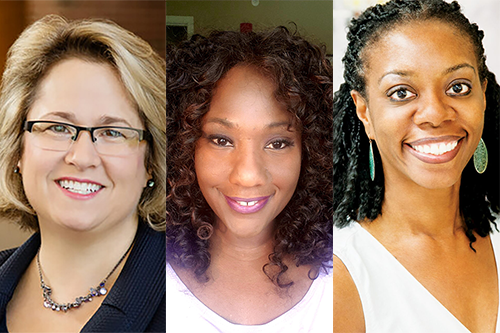 "[Participants] talked about how helpful it was to hear others' stories, and that it gave them hope and inspiration," said Mendenhall, who is also a professor of urban and regional planning and social work. "So, as I'm learning more and more, it really is important to hear what others are going through. It lets you know that you're not alone."
Karen Simms, founder of Trauma & Resilience Initiative, Inc., a not-for-profit organization which is part of the Champaign County Community Coalition, offered a series of workshops and wellness resiliency-building activities for the citizen scientists.
"Elevating the various voices was so powerful, and being able to provide support was in some ways really sacred," Simms said. "I enjoyed that, and I just am so grateful that I had a chance to participate."
Marie Joe Noon, an academic researcher at the College of Law and a Lebanese Fulbright Scholar at the University of Illinois, recruited and worked with citizen scientists with journal entries throughout the project, and said that the sharing of experiences brought people together.
"I especially want to mention one of our citizen scientists who (documented her brother's) entry into the nursing home up until the process where she sadly lost him. This creates an environment where you feel like you're in a family," Noon said. "We did meetups with the citizen scientists. And you see these citizen scientists telling each other, 'I read this journal entry from you for this week. How are you doing with that? How are you coping with that?' And this, I think, is really beautiful."
The entries were varied. For example, participant Julio Cesar Colon wrote in one entry "My mental health is not great but what helps me is that I know that what I do at work makes a big difference in someone else's life. Being able to help a friend, a family member, a stranger is what allows me to wake up and do it all over again because it makes me happy to be out in the world helping anyone that needs help. I wish I could do so much more. I wish I could be in a thousand places at one time doing everything I can to make a difference."
Another participant, Marquis Sewell, wrote, "I'm a strong believer in regression to the mean. Meaning everything won't always be good or always bad, there's a balance. And I believe the world will find that balance again."
Mendenhall said that along with giving people a platform to voice their experiences throughout the pandemic, the project also serves as an avenue to help develop and inform policy aimed at solving issues related to health, discrimination, and social safety nets. 
"We talked about policy by the people, for the people, and to look through the stories and to think about what are some of the policy implications," Mendenhall said. "What are our community members experiencing? What can we think about in terms of making it better?"
Specifically, experiences that the citizen scientists share will be used to inform policy such as timely replacement of portable sinks used by individuals without housing, and the need to improve health and wellness infrastructure through the use of community health workers. Mendenhall pitched the idea of establishing community health workers to the Illinois Legislative Black Caucus, which added it to the recently passed Illinois Health Care and Human Service Reform Act. The act creates a certification for community health workers to act as a liaison between communities and health care and social service programs.
Wilson, also a professor of biomedical and translational sciences at the Carle Illinois College of Medicine, said the project will highlight universal issues, and she believes that issues highlighted by the project, if addressed, have potential to help society as a whole even as the writing samples highlight the experiences of just a few people. 
"I think that just to recognize yourself in the other person's challenges is going to make it much more likely that people would like to change the status quo, and we have to leverage that," Wilson said.
Mendenhall added that dealing with the pandemic has, ironically, brought people together in a way—perhaps even more than it has separated us.
"We are more than ever aware of our connectedness," Mendenhall says. "And if you aren't doing well over there, that affects me over here."
For Mendenhall, who has devoted much of her career to finding and implementing solutions through effective policy, this project is a continuation of the work she has put into making society more equitable.
"I think in some ways that it's full circle," she said. "We're capturing their voices and also thinking about the policy implications of their experiences. We think about our areas of influence and try to make a difference for the citizen scientists and others."