11 Lincoln Scholars graduate from College of LAS
In the College of Liberal Arts & Sciences at Illinois, we believe the power of innovation can change the world.
In the LAS community, the leaders of tomorrow learn to analyze and solve problems, to work in diverse groups, and to view the world with a broad perspective. LAS students pursue knowledge in an incredible breadth of areas and use their education to propel society forward. For nearly a decade, the Lincoln Scholars Initiative has opened the doors to this college experience through a program that has provided significant renewable scholarships to more than 110 academically gifted Illinois students in need of financial support.
The Lincoln Scholar graduates from this academic year include: Bailee Bui, chemistry; Sarah Edrington, psychology; Simbiat Eli-Lasisi, psychology; Miranda Gonzalez, mathematics; Destiny Henning, molecular and cellular biology; Clarissa Munoz, English; Janina Rojas, psychology; Brianna Thomas, economics; Zachary Townsell, political science; Camden Wall, chemical engineering; and Jessica Yue, psychology.
Read on to learn about a few of the inspiring students from the Class of 2020-21 whose lives have been changed thanks to the Lincoln Scholars Initiative.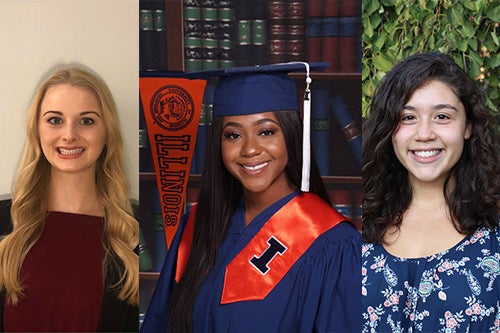 Sarah Edrington
Major: Psychology
Graduation date: May 2021
Sarah Edrington chose to study psychology at Illinois, because she knew she would receive a well-rounded education that could take her anywhere.
"I really enjoyed psychology in high school, and I knew that this major could take me in many different directions with my career," Edrington said. "Since then, I have genuinely enjoyed every psychology class that I have taken. Here at Illinois, I knew that I was guaranteed a great education in a wide variety of fields."
After graduation, she plans to attend graduate school and will one day become a physician assistant.
"The Lincoln Scholar Initiative has helped me to push myself to always be my best and serves as a reminder to be thankful for the opportunity to study here," Edrington said. "Without this, my financial situation would have been very different, which would have made it much more difficult to achieve my academic, extracurricular, and social goals during my time at Illinois."
Outside of her studies, Edrington, of Maryville, Ill., spends time serving her sorority, Phi Sigma Sigma, and a variety of different medical organizations.
"My favorite memory at Illinois was Mom's Weekend of 2018," she said. "I planned the whole weekend for my entire sorority so watching everything turn out well and being able to share my college experience with my mom was amazing."
Simbiat Eji-Lasisi 
Major: Psychology 
Graduation date: December 2020 
Simbiat Eji-Lasisi, of South Holland, Ill., will always remember the day she received her acceptance letter from her dream school — the University of Illinois Urbana-Champaign.
"I was so happy, but then the thought that I might not be able to attend due to my family's financial situation slowly came in," she said.
When Eji-Lasisi visited Illinois for the first time, she was drawn in by its size and diversity. 
"The first time I was at the university, the campus felt like a home away from home," she said. "This is why I chose Illinois."
In addition to her course work, Eji-Lasisi is the co-programming chair of the African Cultural Association and a recreational leader for the Homewood-Flossmoor Park District. 
"The Lincoln Scholars program helped me to go through college without having to worry about finances and gave me the ability to focus on my grades," she said. "I am forever grateful." 
Miranda Gonzalez
Major: Mathematics
Graduation date: May 2021
Teachers play a significant role in their students' lives, and Miranda Gonzalez believes this relationship is especially important within mathematics classrooms.
"I have seen how much a teacher can impact a student's experience with math to be more positive or negative," she said. "I want to help students learn that they are all capable of being a 'mathematician' or learning mathematics. I enjoyed my math classes and want to help others have a positive experience."
After graduation, Gonzalez, from Des Plaines, Ill., plans to teach at a school of need in Illinois.
"My goal is to give back to communities similar to the one I grew up in and help students have a positive learning experience, especially around mathematics," she explained. Eventually, she plans to teach abroad for two years before returning home to teach and continue her education.
"I would like to continue teaching mathematics somewhere in Latin America, but my main goal with this is to learn about the education system in other countries, their culture, and even their mathematical knowledge that I could share with my future classes," she explained.
Gonzalez chose Illinois after her high school teachers shared their positive experiences with the university. Outside of the classroom, she works for Campus Recreation as a lifeguard and swim instructor and is a member of Golden Apple Illini and Vis-a-Vis.
"Another reason I chose Illinois was that it was the most affordable option I had when looking for schools because of the financial aid that I was fortunate enough to receive," she said. "The Lincoln Scholar Initiative has impacted my experience at Illinois by helping me have an opportunity to do more beyond my classes and working. It significantly lessened the financial burden that attending a four-year university would have left on my family."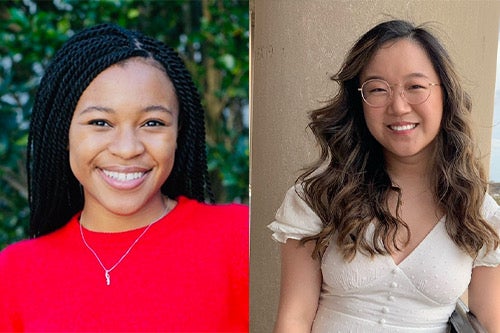 Destiny Henning
Major: Molecular and cellular biology 
Graduation date: May 2021
Destiny Henning knows that all of biology starts at the cellular level.
"You can't have complex organisms like plants, animals, or humans, without the cellular framework to back it up," she explained. "In my major, all my classes allow me to think small and get an in-depth look at how we all work."
With the experience and knowledge she obtained at Illinois, Henning, of Frankfort, Ill., plans to attend medical school this fall to ultimately become a clinical geneticist.
"Other schools that I was looking at just had one biology major that encompassed everything in biology," she said. "Here at Illinois, no matter the path I chose, I could get an in-depth look into my specific interests."
During her four years at Illinois, Henning has volunteered at Newman Food Pantry and has served as the American Medical Student Association's social chair. Being a Lincoln Scholar has allowed her time to focus on her education and to pursue extracurricular activities that she otherwise would not have had time to experience.
"I have been fortunate enough to be an integral member of several RSOs on campus and that would not be possible without the generosity of Lincoln Scholar donors," she said.
Jessica S. Yue
Major: Psychology
Graduation Date: May 2021
Jessica Yue worked in a Level 1 trauma center in the midst of the COVID-19 pandemic, which became an experience that allowed her to gain a unique perspective into the role of healthcare within society.
"I love that healthcare is never static and a field that I can continually grow in," she said. "As a future physician assistant, I hope to deliver quality patient care, serve as an advocate, and help bridge some of the healthcare disparities that plague our communities. My patient care experiences working as an EMT on campus, working on an ambulance, and now working in the ER (at Carle Foundation Hospital) has helped me figure out that becoming a physician assistant is the best career option for me to achieve my goals as a healthcare provider."
Yue, from Naperville, Ill., said when considering her education options, she was searching for a school close to home with a program that allowed her to combine the subjects she is most interested in — human behavior and neurobiology.
The Lincoln Scholar Initiative has given her the opportunity to focus on her studies as well as take part in experiences she would have missed out on otherwise, including her work as an EMT on campus and as an ED-Tech in the emergency room.
"I am incredibly grateful that I will be able to graduate with less monetary burdens and instead focus on my future career," Yue said.