Alumnus returns to campus to serve University YMCA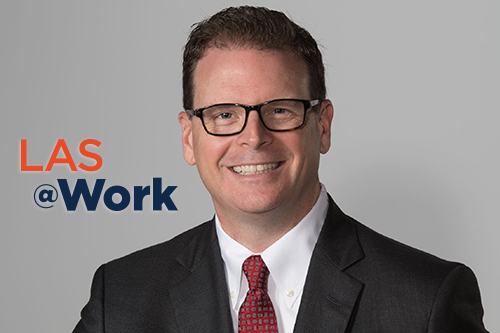 When alumnus Jim Hinterlong (BS, '92, psychology) arrived on campus, he was told there were more than 700 student organizations at the University of Illinois. He was in awe. After all, he had just packed his bags in his hometown where the population sign read 500. However, the opportunity to connect with people from different backgrounds in an academic setting placed Hinterlong on a career path that would send him around the world and back to Wright Street once again.
Current occupation: Executive director of the University YMCA.
Family: I grew up in a family with three children. All of us went to the U of I and had terrific experiences here. I'm married with two adult children. My wife, Valerie Holton, is a consultant in higher education. We just returned from Taiwan where she was a senior Fulbright Scholar and I was a professor.
Describe a typical workday at your current position.
One of the things that drew me to the University YMCA is that it serves as a connecting point for three important constituencies that I care about deeply. One is students, the second is the faculty and staff of the university who are interested in both supporting students and being engaged in work that benefits the community, and the third is the community itself.
Gratefully, my typical day involves being part of a diverse and talented staff dedicated to a progressive vision for our communities locally and globally. We work across the various areas of our mission: environmental sustainability, social justice, interfaith partnerships, and global connections. Some of what we do is manage our own programming that the Y has developed over time, like Art @ the Y and Friday Forum. We also support the efforts of other organizations and people from the university and community.
Part of our mission is actually our building itself. We have a number of tenant organizations as well as residents. We also serve as a home for nine registered student organizations at the university, and we offer support that enables them to do more within their individual missions.
My typical day runs the gamut of activities it takes to direct a non-profit organization, issues of budget, finance, planning, fundraising and board relations. I also spend a good deal of time with people who are leading programmatic work. For example we have a new project underway called the Healing Illinois Project that promotes racial healing, particularly in Champaign-Urbana and Champaign County. That initiative takes on a lot of different forms ranging from educational programs and training to action-orientated projects. We also have student leaders who want to do more with their organizations, so I spend time talking with them about their priorities and the kind of work they are trying to do.
The University Y grew up along with the university — we've been at this almost 150 years. So, part of my day is about the here and now, while the other is about the long-term work of sustaining and leveraging the capacity the oldest non-profit in Champaign County. At the end of the day, we aim to be a welcoming and inclusive place that complements what the university offers students and faculty.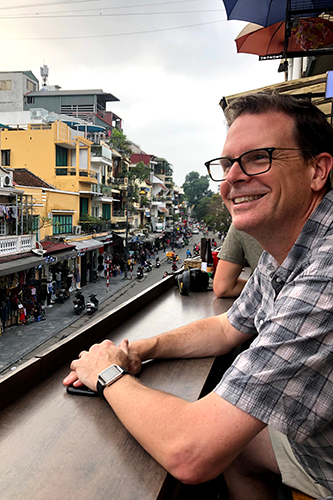 Please describe your career path from college graduation to your current job. 
When I came to the U of I, I split my time among academics, working to pay for school, and student leadership work, including roles within the University Y. Even at that stage I was thinking how I could extend what I was learning to what I was doing within the community through service to others. I had a marvelous four years here, with many opportunities to develop leadership skills, and used that experience to join the United States Peace Corps in Malawi where I worked as a high school teacher in math and science. This meant my first teaching experience was in radically different conditions than I had experienced as a student in the U.S. I saw just how transformative education is in people's lives, especially those coming from very diverse and often challenging backgrounds, and how important community is to people's lives.
When I returned to the U.S., I chose graduate school in social work, because it was a logical fit and natural extension from psychology and social science. My mentors encouraged me to pursue a PhD (at Washington University in St. Louis) focused on aging. At the time I was working with older immigrants, and noticing these were people with tremendous lived experience and expertise where they had come from, but after coming to the United States they found it difficult to make those visible to their communities in a way that people would value. I became really interested in shining a light on the capacity of older people to do important work in our communities. That led me to work on productive engagement in later life as a graduate student and as the focus of my dissertation.
The PhD led me into a career in higher education. I began as a faculty member and later moved into leadership and administrative roles. As I progressed through the academy, I became increasingly interested in the transformative role of higher education and the power of collaboration between universities and communities. I had seen that first hand at the University of Illinois, fostered this as a professor and administrator, and found that it drew me back to the University Y. The University Y places students at the center of this connection between the university and community. We create spaces and ways for students to develop as whole persons, understand themselves and others, and engage in good work driven by their passions and values.
In hindsight, what about college best prepared you for your life and career? 
Illinois afforded me the opportunity to develop a fuller understanding of myself in relation to and within an incredibly diverse community of students and faculty members. By interacting with people from very different backgrounds and different parts of the world you learn skills in listening and communication and certainly how to collaborate. You learn to find common purpose, which is critical given that engagement today frequently is driven more by difference. Perhaps most importantly, my time at Illinois helped me to gain a sense of humility and appreciation. People have so much to offer, and it's important for us to discern how, when we work together, we can value what each person brings to the work. It's not just our own vision and our own ideas and our own energy. It's envisioning and acting collectively that ultimately yields real change. I hope that we foster this approach in all that we do at the University Y.
How did your major prepare you for your career?
I received an outstanding liberal arts education in a research intensive university, I learned the importance of looking at issues, situations, the world, and even myself through different lenses. I had a chance through my academic course work to benefit from those different perspectives. This was especially true within the psychology department. The faculty and my peers offered insights that even today allow me to approach asking and resolving critical questions in more effective ways.