LAS alumna working to 'un-invent waste'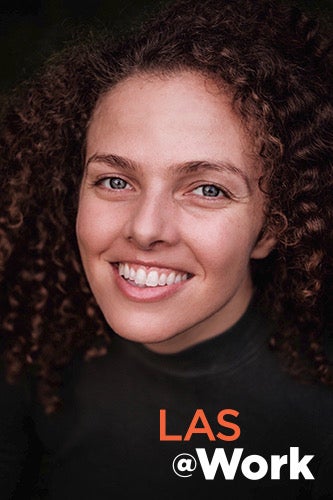 Alumna Lauren Turk (BA, '06, French commercial studies, communication; MA, '12, political science, European Union studies) used the months of social distancing during the COVID-19 pandemic to cultivate a business based on her passion to make change happen. She found time without distraction to create a start-up company that is on a mission to "un-invent waste" using technology and the power of storytelling.

Current occupation: Founder and CEO of Fera Zero; director of partnerships at Dashboard.Earth
Briefly describe a typical workday at your current position.
I'm running an early-stage compost tech and infrastructure start up as well as leading on partnership development for a client (also a climate tech start up), so each day is far from typical and brings new adventures, opportunity, and on the job learning. Time management is critical! To balance the unpredictability of start-up life, I am very dedicated to wellness routines (a rotation of running, yoga, meditation, time in nature, journaling, eating well, and making space for joy daily). I try to schedule work in buckets on various days to avoid unnecessary context switching (while keeping room for immediacy). I work long hours, but it's for things I'm really passionate about and am creating with my choices each day. It's a life of high responsibility, risk, reward, and constant learning, which is both awesome and intense. The most interesting part of my job is being amongst inspired people and working with experts across many different sectors every day. It really keeps you on your toes.
What was your first job out of college?
I took a summer gig as a producer for the European Forum Alpbach. I was the only American aside from the Nobel Laureates, Harvard professors, and U.S. Ambassadors of various stripes, it was unforgettable and I learned so much. When I moved back stateside I got a job as a junior researcher at an innovation firm. I was their first hire and helped grow it into a successful company while learning the ropes of design thinking.
How did you land that first job?
My classmate at Sciences-Po Paris, a dual masters program, recommended me for the European Forum. The innovation gig happened as the result of a conversation with a stranger at a party in LA!
Describe your career path since college graduation.
I moved to LA to combine my love of music with my love of systems change, and for eight years I split my time between making and performing music, co-founding and executive directing a music and tech education non-profit, and consulting on impact projects with various agencies and companies. In 2019, I felt the need to focus all of my efforts on climate solutions, so I began finding a successor for our non-profit, stopped booking shows and started saying no to new consulting contracts. (This was quite the leap of faith!) I then traveled back to Europe to check in on sustainability initiatives amongst my Sciences-Po classmates, which I began calling my "research, reflection, and reconnection" tour. This was precious time spent assessing where I could be most effective in creating the change I wish to see in the world, relative to my skillsets, network, and passions. Ultimately, I came up with the idea for my new company, Fera Zero, on a mission to un-invent waste with the awareness, software, and infrastructure to implement zero waste systems. The pandemic gave me time to work crazy hours without distraction, and within a few months I had a proof of concept, collaborators, and our first client. This early success attracted the attention of my current client, who I'm consulting for part time because their mission is so aligned and inspiring.
In hindsight, what about college best prepared you for your life and career?
Aside from learning things in classes, I realized the power of showing up and advocating for something in college. I created some firsts at UIUC by showing up and giving a good pitch. These things never would have happened over email and without developing a relationship. College is a great environment for honing this skill. UIUC wants you to succeed! Campus is your petri-dish. Pitch a good idea to solve a problem and see what happens. Similarly, UIUC is a very international campus, and I always leaned into that, as well as our great exchange programs. This has been really valuable in my personal and professional life.
How did your major prepare you for your career?
Communications is relevant for literally everything in your life. Your personal and professional relationships and everything in between. The more you understand how people understand and receive messages, the more you have a grip on reality and how to be effective. Communication, story, narrative...these are the foundations of culture that shape belief structures, assignment of meaning and value sets. The French commercial studies degree brought me to Paris, and that changed my life forever. Political science helped me be aware of how, why, and what systems rule the world. In particular, it helped me identify where change is long and obviously overdue, and I've dedicated my career to these spaces.
What do you like to do when you're not working? 
I love to immerse myself in music, nature, books, and inspired people. I also really love to sleep. Spending time with animals is always a joy, too.
Please describe your proudest achievement. 
My company has increased composting at our pilot Los Angeles location by 48 percent in just six months!