Four from the College of LAS offered Fulbright grants
Recipients include two graduate students and two recent alumnae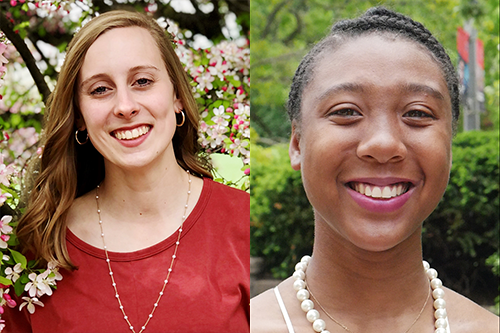 Two students from the College of LAS and two recent graduates were offered Fulbright grants to pursue international education, research, and teaching experiences around the globe this coming year. Another three Illinois students were named Fulbright alternates.
The Fulbright U.S. Student Program builds international relationships to help solve global challenges. This flagship international educational exchange program of the U.S. government awards grants to students based on their academic and professional achievement, as well as their demonstrated leadership potential. The Fulbright Student Program will fund approximately 2,200 U.S. citizens to travel abroad for the 2021-22 academic year. Many of the 2021-22 recipients were awarded Fulbright grants in 2020 but were unable to travel due to the global pandemic.
"This year's Fulbright awardees faced the double whammy of competing in a year with a record number of applicants and facing significantly reduced placement opportunities, as grantees from the previous cohort were given priority to move their Fulbright experiences to the coming year," said David Schug, the director of the National and International Scholarships Program at Illinois. "Our recipients this year should be especially proud of their accomplishments."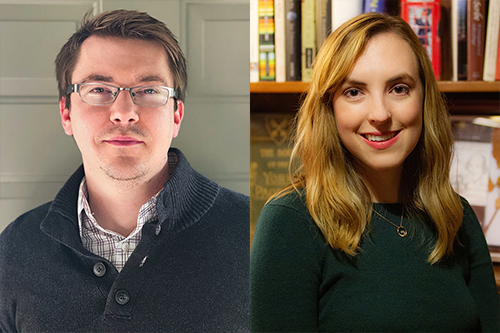 "Following this past year's travel restrictions, opportunities for international research and teaching are finally opening up again, and Fulbright awardees will be leading the way," said Ken Vickery, the director of fellowships in the Graduate College. "Their observations and experiences will surely lend insights to our understanding of the pandemic's impact around the world, so this will be an exceptionally important group of Fulbright ambassadors." 
The two LAS graduate students and two alumnae who have accepted Fulbright grants include:
Christopher Goodwin, of Waynesville, Missouri, was awarded a Fulbright grant to conduct dissertation research in Germany. Goodwin earned a bachelor's degree in history and economics from the University of Missouri, Columbia and served in the U.S. Air Force while earning a master's in military history from Norwich University. At Illinois, he is pursuing a doctoral degree in history. Goodwin's research explores an aspect of Nazi-era ideology regarding soldiers with disabilities acquired during military service. During his Fulbright year, he will conduct archival research in Leipzig, Berlin, and Freiburg. While in Germany, Goodwin also plans to volunteer as a German and English language instructor for recent immigrants and refugees.
Rhiannon Hein, of Honolulu, was awarded a Fulbright grant to conduct dissertation research in Germany. Hein earned a bachelor's in history and English from the University of Alabama before joining the PhD program in history at Illinois. Hein's research will investigate how the university towns of Göttingen and Jena became 19th-century hubs of global exchange in goods, people and ideas. She said she hopes this work will contribute to both historical and contemporary understandings of how regional, national, and global sensibilities inform one another. While in Germany, Hein plans to pursue her hobbies of cooking and yoga as avenues of cultural exchange.
Grace Maloney, of St. Charles, Illinois, and a graduate of St. Charles East High School, will embark to the city of Vigo in Galicia, Spain, as a Fulbright English Teaching Assistant. Maloney graduated in May with a triple major in molecular and cellular biology, chemistry, and Spanish. She was a member of the Campus Honors Program and a James Scholar, and experienced a summer studying abroad in Chile. Maloney has spent several years as a camp counselor and a bilingual elementary school tutor, as well as teaching college students in leadership and chemistry courses. She also served for two years as a reporter for the Daily Illini student newspaper. As an aspiring physician, Maloney said she hopes to investigate how minority languages are treated within Spain's highly ranked health care system.
Jade Roberts, of Woodridge, Illinois, and a graduate of Downers Grove North High School, was awarded the inaugural Fulbright-Aalto University Graduate Award to complete a master's degree at Aalto University in Finland. Roberts earned a bachelor's degree in May from the College of Liberal Arts & Sciences with a major in individual plans of study and a minor in informatics. Roberts focused her self-designed major at the intersection of artificial intelligence and linguistics, conducting research on auditory and cognitive neuroscience. At Aalto, Roberts plans to explore the root of biased technology and artificial intelligence algorithms through a master's degree in acoustics and audio technology. At Illinois, Roberts worked in various roles for Illini Media, including as a sound engineer for the college radio station and copy editor, social media director and web manager for the campus newspaper. Roberts said she plans to work as a conversation designer, creating speech technologies that eliminate biases in speech.
The Fulbright program is jointly administered at Illinois by the National and International Scholarships Program, which works with undergraduates and recent alumni, and the Graduate College Office of External Fellowships, which supports graduate students. Additionally, Illinois faculty members, returned Fulbright awardees and staff with geographic and programmatic expertise review student application materials and conduct candidate interviews.
Applications are open for students interested in pursuing studies, fine arts, research or English teaching assistantships under the Fulbright for the 2022-23 academic year.