Professors win awards to study connections affecting brain health
Scialog Awards will help Mei Shen and Kai Zhang discover more about the gut-brain axis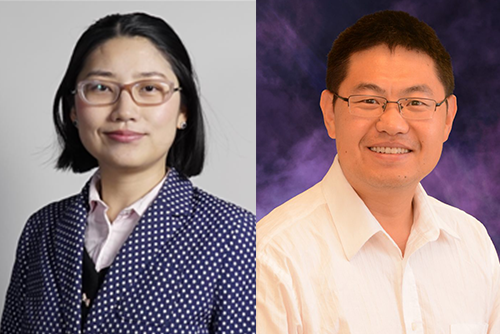 Two University of Illinois professors have been awarded funding in the first year of an initiative to better understand the connections between the gastrointestinal tract and the nervous system.
Professors Mei Shen, from the Department of Chemistry, and Kai Zhang, from the Department of Biochemistry, will each receive $55,000 from the inaugural Scialog: Microbiome, Neurobiology and Disease to assist their ongoing research on the gut-brain axis. Research Corporation for Science Advancement (RCSA), The Paul G. Allen Frontiers Group, and the Frederick Gardner Cottrell Foundation announced the awards to six multidisciplinary teams from the United States and Canada.
The initiative has brought together researchers whose work is contributing groundbreaking knowledge to the gut-brain axis at the chemical, microbial, and immunological level.
"Better understanding this complex system and the role our microbiome plays in brain health and disease has huge potential to transform our lives and our societies," said RCSA president and CEO Daniel Linzer, in a release. "Catalyzing projects that bring together creative, young researchers with diverse viewpoints and experience could pave the way for new discoveries."
Shen researches nanoelectrochemistry, bioanalytical chemistry, neurotransmission, neurological disorders, gut-brain axis, and toxicology. Her research lab focuses on interfaces between state of art ultra-high resolution nano-electroanalytical chemistry and neurobiology.
Shen's project will develop electrochemical sensors to probe the effects of mercury-metabolizing microbes on neurotransmission across the gut-brain axis, where temporal changes in neurotransmission dynamics will be interrogated using in vivo amperometry.
"Understanding the role of the gut microbiome in reducing monomethylmercury (MMHg) toxicity can lead to effective and non-invasive interventions that are needed to promote both adult and child health and decrease risk for neurocognitive and neurodevelopmental disease," Shen said in her team's research description.
Zhang, a professor of biochemistry, researches imaging, neurobiology, optogenetics, and signal transduction. His lab group studies how signal transduction regulates cell fate determination and how normal signaling processes are compromised in disease conditions.
For Zhang, funding from the award will go to engineering enteric neuron activity to enhance antimicrobial immunity in the gut. The project will determine the mechanism through which neurons in the gut help to protect the gut from infection caused by Salmonella bacteria.
"While our understanding of the role the enteric nervous system—or ENS—plays in intestinal immunity has grown over the last few years, the multitude of possible mechanisms that may facilitate neuron communication with epithelial cells as well as the influence on the microbiome has not been explored," said Zhang, in his team's research description. "Our proposal has the potential to identify the mechanisms and signals that orchestrate the communication between the different layers of defense in the intestine during infection and may further imply top-down control of intestinal immunity along the brain-gut axis."