Summer reads: What are LAS faculty reading this summer?
Faculty in LAS share the books they plan to read this summer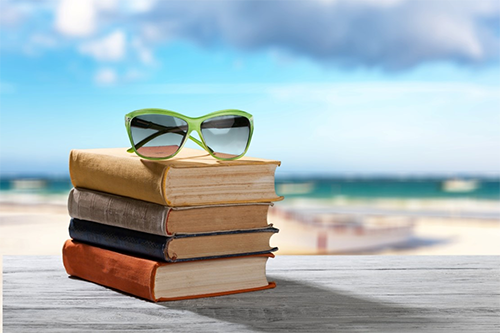 Many members of the LAS community find inspiration and pleasure in reading a good book. We asked a few of our own faculty to share the books that they're excited to dig in to this summer!
Leslie Looney (professor and chair of the Department of Astronomy)
As an astronomer, it may not come as a surprise but I like to read science fiction. I like the sense of scale and the ability to juxtapose human nature with the future setting of far away places. Although I know that interstellar travel may be impossible, I really hope that one day we will be able to travel out of our solar system. These books for me paint a picture of hope, but the two books I am looking forward to reading this summer are slight outliers in my usual genre. The first is "All Systems Red" by Martha Wells. It is a short, fun start to a series that is about a constructed cyborg with organic and inorganic components. She calls herself a murderbot, but she really just wants to watch entertainment videos. Nonetheless in the end, she sounds like the hero of the story. I like the idea of intelligent life expanding beyond humans (and how constructed life might really be the future space explorers). The next book is more alternative science fiction, but "The Calculating Stars" by Mary Robinette Kowal looks into the idea of an accelerated space program leading to colonization. The story focuses on a woman fighting sexism and anxiety to become one of the first women astronauts in this alternate timeline. Although they shoot for the stars, the civilization still has all the biases and injustices that needs to be corrected. Science fiction opens our eyes to ourselves as we open our eyes to the skies.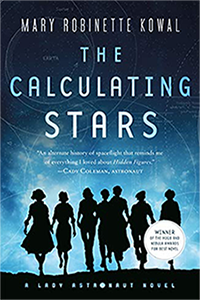 Melissa Monique Littlefield (professor of English)
Right now, I'm in the middle of "Islands of Abandonment: Nature Rebounding in the Post-Human Landscape," by Cal Flyn. For me, this book is a continuation of my interest in those places, technologies, and foodways that have been lost or forgotten. I picked it up after reading "Lost Feast: Culinary Extinction and the Future of Food" (which I would also highly recommend) and "Strange Harvests: The Hidden Histories of Seven Natural Objects." I find it fascinating to think about "forgotten" knowledges that are usually lost only to those who stopped caring enough to pay attention. Instead of food, Flyn's book takes on so-called abandoned spaces—which, it turns out aren't abandoned at all, but inhabited by animals, plants, and sometimes even people in unexpected ways. From Chernobyl to Detroit, the fields of Estonia to the slag heaps of Scotland, Flyn's journalistic exploration considers how war, environmental degradation, and industrial shifts are continually remapping the planet. I'm also reading some excellent short stories from "Make Shift: Dispatches from the Post-Pandemic Future" (the most recent Twelve Tomorrows edition from MIT Press). I teach Speculative Fiction and Science Fiction, among other things, so reading new stories is something I love to do in my free time—especially over the summer. Then, I can share some of my best finds with students when I'm back in the classroom.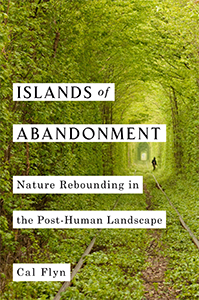 Renée Trilling (professor of English and medieval studies)
I always make time for pleasure reading, even during the semester, but summer break is a great time to really indulge. I'm looking forward to finishing up N. K. Jemisin's Broken Earth trilogy with the final volume, "The Stone Sky." The trilogy explores the social consequences of total environmental collapse in a fictional world called the Stillness—what happens to "civilization" when life becomes little more than a constant struggle for survival and traditional hierarchies of race and caste break down completely. But it's also about powerful emotional bonds that don't necessarily map onto conventional relationships, and characters who are by no means likeable, but are totally and completely REAL. The surprising use of second-person narration, which continually addresses a "you," really draws the reader into the story. The first two books are "The Fifth Season" and "The Obelisk Gate," and all three volumes won the prestigious Hugo Award in three successive years.
I'm also excited about reading Louise Erdrich's Pulitzer Prize-winning new novel, "The Night Watchman." It tells the story of how the Chippewa Council of the Turtle Mountain Reservation fought back against a 1953 bill that sought to dissolve the American Indian Nations and terminate the land ownership rights of all tribal members. But it tells that story through a multilayered narrative that follows the lives of many different people on the reservation through a series of interwoven vignettes. Moving among these various perspectives, the novel paints a detailed, vibrant picture of the distance—cultural, emotional, and economic—between White America and Native America. Although fictionalized, the story is based on Erdrich's grandfather, who led the Turtle Mountain Band of Chippewa's opposition to the 1953 termination bill, and it gives voice to the ongoing dispossession of Native American tribes that continues to this day.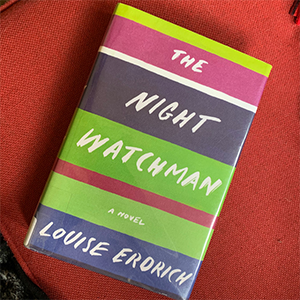 Rana Hogarth (professor of history)
I've been busy this summer on a few writing projects, so I haven't had the chance to read as much as I'd like. But there is one book, "The Science of Abolition: How Slaveholders Became the Enemies of Progress" by Eric Herschthal, that I plan to dig into as the calendar turns to August.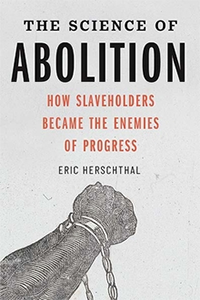 Ralph Nuzzo (G.L. Clark Professor of Analytical Chemistry)
Here is my current book pile. I pulled some off the shelf that I have been wanting to read and added a few new titles to mix it up. This is my current active pile here in Champaign that I hope to finish over the next few weeks. At another residence I have a different pile focused variously on gravity, cosmology, and the history of the sea. The piles tend to reflect what I find in local book stores that seem interesting. Interesting tends to run in waves for me but always returns to history/nonfiction in short order. It's been a long spell since I was in a novel-centered groove. 
So here they are: 
"Operation Barbarossa" by Jon Dimbleby
"The Quiet Americans" by Scott Anderson 
"East West Street; Origins of Genocide" by Philippe Sands
"Evil Geniuses" by Kurt Andersen
"The Age of Eisenhower" by William Hitchcock
"World in Disarray" by Richard Haass
"The Tragedy of Great Power Politics" by John Mearsheimer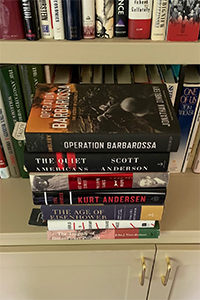 Shaowen Wang (professor of and head of the Department of Geography and Geographic Information Science)
Summer is usually my best time for reading books that are not related to my scholarly work. But during the ongoing COVID-19 pandemic, I have been somewhat struggling to completely separate my leisure reading from work. So a couple of books I have picked for this summer are actually in the broad context of my research interests on environmental sustainability and digital transformation. "Under a White Sky: The Nature of the Future," by Elizabeth Kolbert, is a great book related to environmental sustainability. This book examines human impacts on Earth and how human-environmental relationships might be balanced toward sustainability while provoking deep thinking about how human and nature might become more harmonized. With regard to digital transformation, "Race After Technology: Abolitionist Tools for the New Jim Code," by Ruha Benjamin, offers an important and timely perspective by presenting a critical and nuanced lens to navigate a rigorous discussion about digital technology (e.g. artificial intelligence) and race. This book creatively reveals how racial bias could be deeply and widely embedded in seemingly neutral digital tools including for example Internet search engines and robots.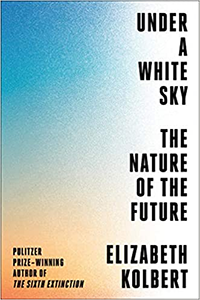 Isabel Molina-­Guzmán (associate dean for diversity and inclusion, professor of Latina/Latino studies)
Reading has always been one of my greatest passions, and it is also one of my favorite parts of being a professor. So, I always have a stack of books waiting to be read for pleasure and work. This summer I have three books at the top of my list.  
As part of a Sloan University Center for Exemplary Mentoring retreat in June, I was introduced to the concept of systems change theory for transforming institutions to be more inclusive and socially just. One of the books on the recommended list was "Emergent Strategy" by Adrienne Maree Brown. Inspired by the work of Octavia Butler (one of my favorite authors), Brown envisions strategies for imagining and creating socially just organizations. I hope to apply the lessons from the book to my own work.
Also related to my administrative work is the second book, W.E.B. Du Bois's "Data Portraits, Visualizing Black America: The Color Line at the Turn of the Twentieth Century," edited by Whitney Battle-Baptiste and Brit Russert. Mike Wellens, LAS' new assistant dean for finance and resource planning, turned me on to this book. We are both amazed by the cutting edge and powerful nature of Du Bois's hand-drawn graphics on U.S. racial demographics, literacy, employment, and income, among other topics. I can't wait to work with Mike to try out some of Du Bois's ideas for representing data. 
The final book is all for pleasure. I am a total nerdtina (East Coast Latina nerd), and a few years ago became an avid reader of afrofuturism writers. So, I'm currently diving into "Binti" by Nnedi Okorafor. Space travel and attending an elite university—what is not to be excited about that!