College of LAS names Conrad Humanities Scholars
Award will assist research and scholarship for mid-career faculty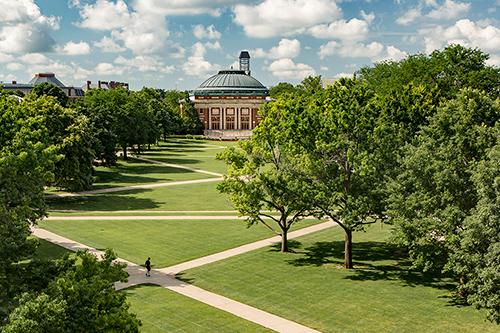 Four professors from the College of Liberal Arts & Sciences have been named 2021 Conrad Humanities Scholars. They will use the award, funded by a gift from the late Arlys Conrad (AB, '44, education), for research ranging from classical Judaism to the U.S. expansion in the Pacific Ocean.
The Conrad Humanities Scholars Award recognizes promising mid-career scholars and provides financial support for continued achievement, research, and scholarship in humanities. The designation is for five years. Descriptions of the recipients and their projects are as follows:
Ikuko Asaka, Department of History
Ikuko Asaka joined the University of Illinois eight years ago and is currently researching the origins of U.S. expansion into Pacific islands, focusing on their racial, sexual, labor aspects, and interconnections with other types of expansion, including slavery. She is also investigating the impact of U.S. expansion into East Asia on the domestic formation of Blackness and gender and on the development of Japanese racial identity. 
She has published a book, "Tropical Freedom: Climate, Settler Colonialism, and Black Exclusion in the Age of Emancipation,"and has also published articles on fugitive slave narratives, women's antislavery activism, self-emancipated people in Canada, and on the intersectional articulations of race, gender, and class in the context of U.S. expansion into Japan. 
With the appointment, Asaka said she will use the time to continue archival research and start writing a manuscript.
Sandra Ruiz, Department of Latina/Latino Studies
Sandra Ruiz joined the University of Illinois in 2013 as a professor of Latina/Latino Studies and English. Her research interests include performance studies, Puerto Rican studies, Latinx studies, and Latin American and Caribbean studies.
Ruiz said that she is grateful for the award as it will help her to prioritize her work. She also believes the award highlights the importance of the field, and added that "it is the acknowledgement that intellectual work in the humanities is being honored, respected, and made visible as an active commitment to the production of knowledge writ large."
Ruiz plans to use the award to continue her work on several book projects, including a book of poetry entitled "The Edge of Death," and two theoretically focused books called "Grief-time: The Aesthetic Life" and "Minoritarian Pedagogy: Psychoanalytic Affections in the Space of Aesthetics."
Lindsay Rose Russell, Department of English
As a professor and director of writing studies, Lindsay Rose Russell's research interests include English language lexicography and description, rhetorical theory and practice, rhetorical genre studies, feminist historiography, queer theory, and histories of the English language.
Russell said that she plans on using the Conrad award on a variety of upcoming projects, including her second book project, tentatively titled "Sex & Lex."
"Where my first book explores gender as a system of sociality that supported lexicography, the second examines sex as a semantic field that has persistently threatened the objectivity, ethos, and profitability of lexicography," Russell said. She also plans to use the award to help fund a stop motion animated series inspired by her first book, "Women and Dictionary Making."
Dov Weiss, Department of Religion
Dov Weiss joined the University of Illinois in 2011 and specializes in the history of Jewish biblical interpretation and rabbinic theology. His first book, "Pious Irreverence: Confronting God in Rabbinic Judaism" won the 2017 National Jewish Book Award in the category of scholarship.
He is currently working on his second book, "Rabbinic Inferno: Hell in Classical Judaism." Weiss said that as a Conrad Scholar he will be able to attend scholarly conferences and academic institutions to present his work and engage with other scholars.
"Moreover, besides granting a semester's teaching leave, the Conrad award gives me the ability to purchase critical books related to my research topic, as well as helping me access academic software that will bolster my work," he said.
News Source
Samantha Boyle and Kimberly Wilson