Chancellor's Distinguished Staff Award honorees named for 2021, 2020
Recipients include three civil service employees in the College of LAS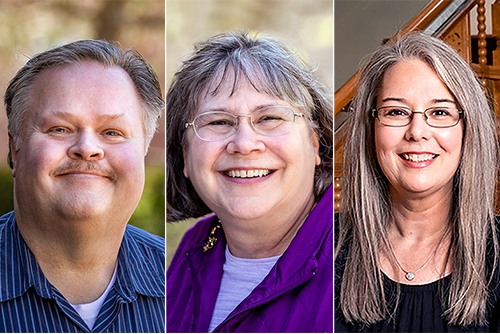 Three civil service employees in the College of LAS were recognized for exceptional performance by University of Illinois Urbana-Champaign. For the second consecutive year, concerns related to the COVID-19 pandemic precluded a banquet for employees honored with the Chancellor's Distinguished Staff Award.
Thomas Bedwell, Terri Gitler, and Lana Holben were among 16 employees across campus to receive the award. Each recipient receives $1,000 and a plaque. Recipients' names also are engraved on a plaque displayed in the Illinois Human Resources Office. The names of past winners are online.
Permanent staff members with at least two years of service and retired employees in status appointments during the calendar year may be nominated for the award. A committee recommends finalists, who are then approved by Chancellor Robert Jones.
Experiences in managing pandemic-related issues came to the forefront in many of the nomination forms for 2021 recipients. The recipients from LAS include:
Thomas Bedwell, a business manager in the Department of History, who prepares budgets, documents unit expenditures and serves as manager of academic and nonacademic human resources.
"Tom possesses an ability to juggle a huge variety of demands on his time, energy, patience with grace and good humor," wrote nominator Dana Rabin, a professor and chair of history. "On any given day, he is processing dozens of reimbursement receipts, overseeing TA salaries, negotiating with vendors about contracts, hiring, and overseeing staff – often simultaneously. I have seen him handle a query on the phone while working out an impromptu question for someone standing at the threshold of his office. His talent for multitasking is admirable and critical to his – and our – success.
"It's hard to pick one anecdote, because in every dealing Tom goes beyond the call of duty; he is proactive, he understands our purpose, and he is constantly looking for ways to make it possible, even in the most dire budgetary situations. Tom looks for solutions rather than stopping at an obstacle. He really makes the impossible happen, time and time again."
Terri Gitler, an office support specialist in the Center for African Studies and the Center for South Asian and Middle Eastern Studies, who divides her time equally between the two centers, handling reception duties, phones, newsletters, flyer design, note taking and minutes keeping, emails, and travel arrangements for staff and for frequent national and international visitors.
"In all her work, she represents UIUC's international mission with professionalism, determination and an unfailing (and gentle) sense of humor," wrote nominator Maimouna Barro, the associate director of the Center for African Studies.
"Terri's approach to her two jobs is to go above and beyond in every way to make sure things are running smoothly. For example, she relentlessly follows up the endless logistical details for events," Barro wrote. "Visitors think that she must be the director of the centers, as they receive all their emails from her. She keeps track of details and reminds us when something seems to be in danger of slipping through the cracks. She never hesitates to pitch in when needed, at after-hours events. She really is the heart and soul of our operations and greatly deserves this recognition."
Lana Holben, who is currently an administrative aide in the Department of Geology and in the School of Earth, Society, & Environment, provides administrative support to both areas. A group of geology graduate students joined in her nomination.
"Lana Holben is the first line of support in our small department, always willing and able to help with any problem," the students wrote. "Lana is the core of our department, the person who knows how everything works and the person who turns us from colleagues into family. One of the many amazing things about Lana is that she is important to so many people."
The geology graduate students cite "the degree of forethought and organization that Lana exhibits in the workplace. The flexibility and devoted way with which she approaches work and any problems that might arise is apparent to all who work with her.
"The overwhelming degree of care and concern Lana shows for those around her makes the grind of graduate school tolerable and UIUC like a home-away-from-home. Lana has provided a shoulder during times of grief and encouragement in all matters to anyone who steps into her office."
Other recipients across campus include Elizabeth Bowden, the duplicating services manager for Illini Union Document Services and Campus Mail Distribution; Tabitha Elder, a program coordinator for University of Illinois Extension; Joe Glass Jr., the superintendent of building services for University Housing; Joseph Hall-Ingram, a library specialist at Grainger Engineering Library; Michelle Osborne, office manager of the Health Care Engineering Systems Center, a unit of the Coordinated Science Laboratory; Andrea Paceley, the office manager of the speech and hearing science department; Craig Stockman, a food service sanitation laborer in University Housing; Bradley Ward, a mill worker in Facilities and Services; Steven Bainbridge, an electrician foreman at Facilities and Services; James Carter a patrol sergeant in the Division of Public Safety at the time of his nomination (he since has been assigned to supervise the division's Community Outreach and Support Team); Christina Harms, an office manager in academic affairs at the Graduate College; and Lesli Lundquist, the facility operations coordinator of University Library.
News Source
Steve Witmer, Illinois News Bureau, and the College of LAS