In pursuit of humanity in science
David Sepkoski named Thomas M. Siebel Chair in the History of Science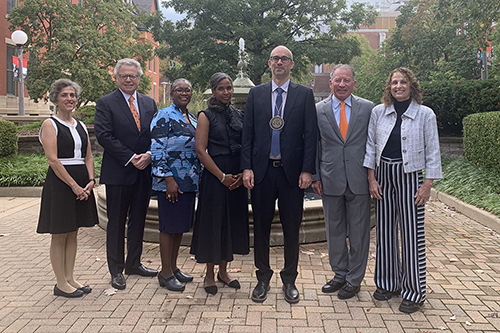 The parallels between Illinois' David Sepkoski and alumnus Thomas M. Siebel are undeniable.
Hailing from Chicago, both Sepkoski and Siebel (BA, '75, history; MBA, '83; MS, '85, computer science) find that society's most difficult challenges will be best answered using multidisciplinary perspectives in the humanities and sciences.  
For this reason, Sepkoski, professor in the Department of History, was named the Thomas M. Siebel Chair in the History of Science during a recent investiture ceremony on campus. In 2006, Siebel — founder, chairman, and CEO of C3.ai, an artificial intelligence software platform and applications company — created the named positions to support faculty in the departments at Illinois from which he has earned degrees.  
"(Sepkoski) is making important contributions to the body of knowledge at the university," Siebel said during the investiture ceremony. "I've read his most recent book, and I'm here to tell you he is an extraordinary writer. He's cataloging important dialogue about the impact, both positive and negative, at the intersection of science and society."
Sepkoski said that holding this position is particularly special to him both personally and professionally.
"Like Tom Siebel, I grew up in Chicago, and I've maintained close ties to the city and state throughout my entire life, and to hold an endowed chair at the premier public university in my home state is a special honor," Sepkoski said. "Moreover, Mr. Siebel's well-known philanthropy at UIUC captures the essence of the institutional values of this university, values that are in perfect alignment with my own.
"I intend to use this invaluable platform to recruit partners who share Mr. Siebel's and my commitment to making UIUC an international center of excellence in the study and understanding of science, technology, and society."
Rather than drawing a sharp distinction between research and teaching in the humanities and the sciences, Sepkoski and Siebel take inclusive views that incorporate the natural sciences, engineering design, and humanities.
"UIUC is a world leader in the STEM fields, but it also boasts first class faculty and resources in the humanities, arts, and social sciences," Sepkoski said. "Mr. Siebel's generous support encourages us to challenge and cross traditional boundaries that often separate academic disciplines, reminding us not to forget the human as we pursue the sciences, to be ethical as we research transformative technologies, and to be visionary in seeking innovative solutions to complex global problems."
Sepkoski joined the Illinois history department in August 2018, according to Dana Rabin, chair of history. His research has focused on long-term changes in the biological, earth and environmental, and mathematical and information sciences.  
"The pandemic delayed this investiture, but that delay has provided me with more to talk about in terms of David's contributions to our department," Rabin explained. "David's energy is matched by a capacious curiosity. He has taken a leading role in programming that brings people together from all over the campus, the country, and the world. He has organized exciting lectures and symposia that stress interdisciplinary research in the history of science."
The extremely popular course he developed titled, "The History of Everything: The Big Bang to Big Data" allows undergraduate students to consider humanity's place within cosmic and geological timescales.
"This creates a continuous dialogue for current students, whether they intend to become engineers or poets, to consider how history and historical processes have shaped events as diverse as the formation of stars and the daily experiences of individual people," Sepkoski said. "Above all, it encourages students to use this perspective to be responsible stewards of our planet and our environment and to approach science, technology, and society as informed citizens."
The course fills each time it is taught.
"In the spring of 2020, David was teaching our first year seminar when everything shutdown," Rabin said. "With his encouragement and support, every student completed their first year paper, even during that very stressful time with very limited access to archives and libraries."
"Looking at (Sepkoski's) record of accomplishments, we find a very savvy, innovative thinker, willing to push back against dominant narratives in the history of science," added Rana Hogarth, history professor. "He is adept at the art of taking highly technical concepts and making them accessible to the non-specialist. Having David here in Illinois is a boon to our academic community. He has the credibility, experience, and vocabulary necessary to work with big data innovators and acolytes, computer scientists, biologists, geneticists, anthropologists, physicists, geologists, sociologists, and historians."
Andreas Cangellaris, provost and vice chancellor for academic affairs, said the university is lucky to have Sepkoski as a member of its faculty and as a steward for the ethical pursuit of knowledge.
"I know you would be welcomed at many other top universities around the world, and I'm grateful that you have chosen Illinois to be the place where you pursue your research," Cangellaris said. "Today's recognition coincides with an unprecedented time in the history of humankind — a time when groundbreaking advances in our understanding of life, together with rapidly evolving technological breakthroughs in computing, sensing, and augmented human intelligence, hold the promise for a healthier volition."
Sepkoski's recognition was the first investiture celebration for the College of Liberal Arts & Sciences since early 2020, prior to the pandemic, said Venetria Patton, the Harry E. Preble Dean of the College of LAS.
"Investitures and endowed positions reflect all that is great about the College of Liberal Arts & Sciences — stellar faculty, talented students, supportive family and colleagues, and visionary alumni," Patton said. "Investitures provide an opportunity for us to step back from our hectic schedules to acknowledge, celebrate, and thank outstanding members of our community."
Faculty like Sepkoski are essential to the success of the college, and an investment in faculty is an investment in new knowledge and future generations, Patton added.
"Empowering great faculty ultimately benefits our students through the teaching and research they conduct, the opportunities they create, and the guidance and inspiration they provide," she said.
Today, the College of LAS has more than 60 endowed chairs and professorships, in addition to many scholar positions. Public universities succeed because of a convergence of many factors, each of them important in their own way, Patton added.
"One factor that is sometimes overlooked is donor support of our faculty, and Tom Siebel has supported faculty on our campus for many years," Patton said. "In order to recognize and support faculty like David with endowed positions, it takes great vision and generosity. It also takes an understanding of the impact a faculty member can have on countless students and colleagues."
Aside from the recognition it bestows on the holder, the named position offers resources for graduate and undergraduate training, supports institutional and public programming, and supports the holder's research projects.
"The Siebel chair not only supports my own research into histories of biology, environment, computing, and other topics but supports broad teaching outreach initiatives that benefit the entire UIUC community," Sepkoski said.
When he joined the history department three years ago, Sepkoski made it his central mission to build bridges between the sciences and humanities at all levels of the university.
"Although we came from very different backgrounds, my colleagues and I share a commitment to interdisciplinary training that emphasizes both humanistic and scientific approaches to knowledge," Sepkoski said.