Illinois Global Institute launches speaker series on transitional justice
Speakers from around world will address wide-ranging themes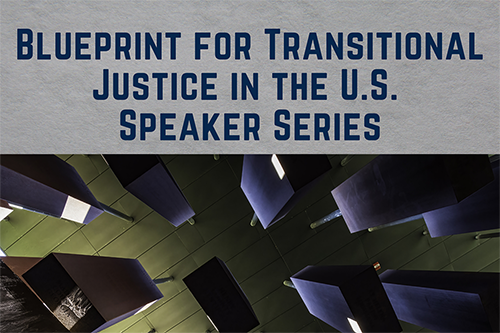 The Illinois Global Institute (IGI) has launched a new speaker series on transitional justice in the United States. Monthly through April, the institute will host speakers from around the world to speak on themes ranging from policing to reparations, gender justice, economic inequality/justice, educational reform, and the role of youth.
The speaker series is part of an effort by IGI to further establish their role as a leader in transitional justice, which is the process of addressing systemic wrongdoing to transform the relationships among citizens and between citizens and the state. It's based on the idea that facing wrongdoing, such as systemic racism, is necessary for communities to achieve social justice.
Organizers hope to create a Midwest transitional justice network housed within IGI.
Global and regional experiences with transitional justice over the past 40 years offer invaluable insights for understanding the impacts of transitional justice projects, the kinds of conditions needed to achieve those impacts, as well as cautionary lessons for creating successful transitional justice," said Colleen Murphy, acting executive director of IGI. "We are extremely excited to facilitate programming that can communicate those insights and to create a community of academics and community actors based in the Midwest and engaged in efforts redress racism and social injustice both locally and nationally."
This speaker series is presented by IGI in partnership with Center for African Studies, Center for East Asian & Pacific Studies, Center for Global Studies, Center for Latin American & Caribbean Studies, Center for South Asian & Middle Eastern Studies, European Union Center, Lemann Center for Brazilian Studies, and Women & Gender in Global Perspectives Program.
This series is made possible by the Chancellor's 2021-2022 Call to Action to Address Racism & Social Injustice Research Program and is co-sponsored by the Humanities Research Institute and the Office of the Vice Chancellor for Diversity, Equity & Inclusion. The series consists of eight events which began in September 2021 and will continue through April 2022.
The series began on Sept. 30 with a presentation by Fionnuala Ní Aoláin, Regents Professor and Robina Professor of law, public policy and society at the University of Minnesota Law School, and professor of law at the Queens University, Belfast, Northern Ireland. She spoke on the challenges and relevance of transitional justice 20 years after the events of 9/11 and in the context of the return of the Taliban to territorial control of Afghanistan.
Upcoming speakers include the following. Some registration links and presentation titles are not yet available.
 Ezequiel González-Ocantos: "Transitional Justice in Latin America: Lessons for the United States?" González-Ocantos is professor in the Department of Political Science and International Relations at the University of Oxford, and Professorial Fellow of Nuffield College. He is the author of "Shifting Legal Visions: Judicial Change and Human Rights Trials in Latin America," and "The Politics of Transitional Justice in Latin America: Power, Norms and Capacity Building." (Noon on Thursday, October 21. Register here)
Shari Eppel: "Bones in the forest: Exhumation and reburial as tools to 'healing the dead' in Matabeleland, Zimbabwe." Eppel is executive director of Ukuthula Trust, Zimbabwe and Solidarity Peace Trust, Zimbabwe and South Africa. Organized by the Center for African Studies. Co-sponsored by the Humanities Research Institute and the Office of the Vice Chancellor for Diversity, Equity & Inclusion. Additional support is provided by the U.S. Department of Education Title VI Program. (Noon on Thursday, Nov. 4. Register here)
Chungmoo Choi: "How might transitional justice lead to community restoration?" Choi is professor of Korean Studies in the Department of East Asian Studies at the University of California, Irvine. She is the author of "Healing Historical Trauma in South Korean Film and Literature" and co-editor/translator of the forthcoming "Voices of the Korean Comfort Women: History Rewritten from Memories." (3-4:30 p.m. on Friday, Dec. 3.)
Hakim Williams is a professor of Africana Studies, faculty affiliate in education, and advisory committee member in international and global studies, public policy, and Civil War era studies at Gettysburg College. He currently serves as director of Peace and Justice Studies at the college. (Noon on Tuesday, Jan. 25, 2022)
Katy Haward is a professor of Political Sociology at Queen's University Belfast and a senior fellow of the UK in a Changing Europe think-tank, where she leads a major project addressing the topic of the future and status of Northern Ireland after Brexit. (1-2 p.m. on Wednesday, Feb 9, 2022)
Thula Pires is a professor of law at Pontifical Catholic University of Rio de Janeiro. She coordinated the committee on racism and racial injustice for the Rio de Janeiro section of Brazil's National Truth Commission. (2-3:30 p.m. on Tuesday, March 8, 2022)
Noura Erakat is a human rights attorney and professor in the Department of Africana Studies and the Program in Criminal Justice at Rutgers University, New Brunswick. Her research interests include human rights law, humanitarian law, national security law, refugee law, social justice, and critical race theory. She is the author of "Justice for Some: Law and the Question of Palestine," winner of the 2019 Palestine Book Awards and Bronze Medal winner of the Independent Publishers Book Award. (4-5:30 p.m. on Thursday, April 14, 2022)