New faculty launch careers in LAS
College announces 18 new professor positions this fall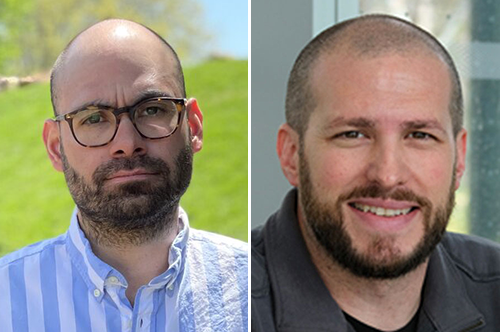 Nearly 20 new faculty have joined the College of LAS this fall, with their research and teaching interests ranging from African American religious diversity to the human brain and the role of law during periods of crisis.
In all, more than 600 faculty work within the College of LAS. Read below for profiles of a few of the newcomers.
Alexia Williams, Department of Religion
After living on the east coast for the last seven years, Alexia Williams is excited to be closer to home. Originally from Louisville, Kentucky, she also has ties in St. Louis where she completed her postdoctoral research.
Her research focuses on African American Catholics and African American religious diversity, but it didn't start there. At one point she was more interested in music.
"I initially was interested in 20th century jazz musicians and their relationships with artists in South America," Williams said, "But I started to come across the fact that so many jazz musicians were actually Roman Catholics, and their conversion to Catholicism often marked a change in the way that they were represented in the jazz community."
This semester Williams is teaching a class on African American religious history in addition to writing her first book, "Black Revolutionary Saints." The book delves into the lives of six African American candidates for sainthood, one of whom, Augustus Tolton, is from Illinois.
"When Pierre Toussaint passed away in New York, people said, 'That man was a saint,' and it's written in some of his obituaries," Williams said, of the former slave whose charitable work in New York City in the 1800's led him to be declared Venerable by Pope John Paul II in 1996. "So, the fact that people recognize him as a saint, but didn't see that as a category fit for African Americans at the time, is part of what I'm studying and researching."
So far Williams has only been in the area for a few months, but she has already experienced some classic Midwest traditions such as apple and pumpkin picking.
"It seems that U of I has done something really special with the community here. It's not often that I hear of new faculty being welcomed the way that I've been welcomed," Williams said, "And on top of doing innovative research, the fact that people really work hard to be supportive of each other and to instill camaraderie is something that was really inspiring to me."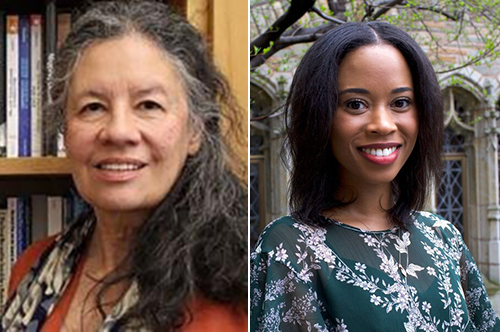 Jose Atiles, Department of Sociology
Jose Atiles studied in Puerto Rico, Spain, and Portugal before coming to the University of Illinois. In Puerto Rico, where he was born and raised, he ran track while getting his bachelor's in philosophy and political science. When he left Puerto Rico, he didn't stop running.
"I was a power walker, a fast walker," Atiles said, "I wasn't that great—I was okay. I continued running throughout my entire grad school, and after I finished my PhD."
For the first time in his life, however, Atiles has gone more than a month without running—and he has a couple of good excuses. Atiles is splitting time between his three-month-old son, Mateo, and research and teaching at UIUC. Atiles' research and publications focus primarily on issues in the fields of critical criminology, law and society, and Latin America and the Caribbean. He is interested in studying the sociolegal and criminological implications of colonial and neocolonial practices in Puerto Rico, and to elucidate how the uses of law and emergency powers exacerbates the unequal and undemocratic condition of colonized countries.
"I have moved from that analysis only of legal mobilizations and criminalization of anti-colonial movements, to a broader analysis of the role of law in periods of crisis," Atiles said.
Atiles is currently co-editing a special issue for the Law and Policy Journal where authors are asked a simple question: What is the role of law in establishing the conditions that might produce or prevent future pandemics? He has also co-edited special issues on topics such as corruption in Puerto Rico, law and economic crisis, and cryptocurrency and corruption in Latin America.
Atiles also enjoys teaching and interacting with students in his classes.
"I think the students are great. When I look around, when I'm in my classroom, I see a lot of people like me," Atiles said, "I see a very diverse student population, a lot of first generation students. This is a place where not only I can see people like me, but also where other people can see someone like them."
Jacki Rand, Program in American Indian Studies
In late August the university announced the creation of a new position within its leadership, the associate vice chancellor for Native affairs and senior adviser to the chancellor on Native affairs issues. Jacki Thompson Rand was chosen to fill the position and shape it, and she also joined the faculty of the Program in American Indian Studies.
"The Native presence here is very small, and the presence of Native people in the administration is still somewhat small," Rand said, "I'm very interested in growing faculty lines here and across campus. That's part of the chancellor's vision."
A member of the Choctaw Nation of Oklahoma, she once worked at the Smithsonian Institution in Washington, D.C., where she organized consultations between Native community members throughout the United States and senior staff members of the National Museum of the American Indian. With extensive knowledge of Native American culture and policy, she most recently served for more than 20 years as a faculty member in the Department of History at the University of Iowa. 
Being the first person to hold a position of leadership comes with pressure and responsibilities, but fortunately, Rand said, much of the pressure has been taken off of her shoulders.
"Things have already been in place ever since Chancellor Jones came here. He's put things in place, and people have already done a lot of work. I'm just stepping into something that's already been in the process of being built," Rand said, She added: "To make this a destination for Native students who want to come in and study--that's at the center of my work."
When she's not hanging with her Jack Russell terrier Betty, named after Betty Rubble from the Flintstones, Rand has found ways to get involved with students on campus. One way has been through the improved commons area in between the Asian American and American Indian cultural houses.
"Before it was just a sidewalk and some grass, but now there's a bunch of tables in there, they're beautiful, they're really lovely," Rand said, "They're going to be there to encourage students to, to be present at their cultural houses, and to meet one another from different cultural places."
Daniel Miller, Department of Evolution, Ecology and Behavior
Originally trained in anthropology and primatology, Daniel Miller is one of the newest hires in the Department of Evolution, Ecology, and Behavior. Miller grew up in a religious family on a tree farm in Missouri. This setting sparked his interest in several intellectual fields.
"I have 51 first cousins on my mom's side," Miller said, "We all worked on this tree farm growing up. Pretty bizarre, but it gave me a lot of exposure to the gospel as well as, biology and medicine and science"
Despite being raised around several military engineers and physicians, Miller's first focus of study was philosophy. Philosophy allowed him to look into the human mind and better understand the human experience. Eventually it led him to study anthropology.
"I basically did anthropology, I think, as a way to understand how religion and medicine were related to each other," Miller said. "It led from basically a curiosity about the human experience, to curiosity about primate biology, to then curiosity about human brain biology, and now a sort of formal research paradigm into what makes the human brain unique."
His research today focuses on developing methods to better describe various areas of the brain and differentiate brain regions. This work was inspired by what Miller said he recognized in graduate school, that we don't really have a great map of the brain.
Miller and his wife, Zoe (a new professor at the iSchool), have two dogs, Luthien and Lohlorien, named after characters created by J.R.R. Tolkien, one of Miller's favorite writers. You may see them out for a walk, when Miller isn't conducting research
"One of the things I always love about the arts and humanities is that it is often a critique of social power systems of human power systems," Miller said, "So one of the things that we talk about is making sure that we don't overemphasize normality, to recognize the value of diversity in biology period. Evolution values diversity in itself, because diversity is the mechanism by which evolution can occur."
Other new faculty this fall include:
Kirk Barrow, astronomy (will begin in 2022)

Renata Ryan Burchfield, Program in American Indian Studies

Steven Burgess, plant biology (will begin in January 2022)
Lucinda Cole, English
Elizabeth Velásquez Estrada, Latina/Latino studies
Naoko Gunji, East Asian languages and cultures
Anna Hunt, Germanic languages and literatures
Xiaochen Jing, mathematics
Janett Barragán Miranda, Latina/Latino studies
Rebecca Oh, English
Erin Riggs, anthropology
Patrick Sweeney, molecular and integrative physiology
Kevin Van Bortle,cell and developmental biology
Peter Wright, Slavic languages and literatures