Cyanide, tragic love triangles, and the end of an American era
Catherine Prendergast explores the counterculture at the end of the Gilded Age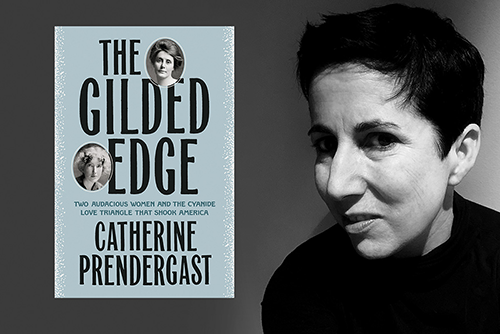 In her new nonfiction book, Catherine Prendergast, an English professor at the University of Illinois Urbana-Champaign, wrote about a love triangle among members of a writers' colony and their deaths by cyanide, set in the bohemian counterculture at the end of the Gilded Age.
"The Gilded Edge" tells the story of a young poet, a real estate developer, and his wife through the lens of the two women involved in the love triangle, and it shows the challenges Prendergast faced while researching the details of their lives in a society dominated by men.
Prendergast was using her 2014 Guggenheim Foundation grant to research an academic project about the writers' colonies that proliferated at the beginning of the 20th century when she ran across a letter from poet Nora May French to her married boyfriend.
"She's describing her abortion as she's having it and the pain that she's in, and the handwriting shows it. It's scrawly and the pencil is etching the paper and it's really kind of a mess. Then it ends in mid-sentence, and I realize there's at least a page missing," Prendergast said.
The writers' colony members often destroyed their letters to one another to protect their reputations, Prendergast said.
"The more I found these incomplete, mutilated correspondences and the more I read about them burning their letters, the more I wanted to know what they didn't want us to know," she said.
The writers' colony at Carmel-by-the-Sea, California, was part of a land-development scheme, with the writers working to attract buyers and bring in journalists to see the community, Prendergast said.
"These people were the influencers of their day," she said.
Sometime after her abortion, French was invited to live with real estate developer George Sterling, who was involved in the land-development scheme, and his wife, Carrie, who had pulled herself out of poverty through her marriage. Upon French's arrival in their household, she and George Sterling began an affair.
French died of cyanide poisoning in 1907 at age 26. Her death was reported nationally as a suicide in sensational newspaper accounts that speculated about the circumstances surrounding her death and featured images of the beautiful young poet. It set off a cyanide cult, with people across the country carrying around cyanide and some committing copycat suicides with French's poetry in their pockets.
"People were more interested in making her legacy about the cyanide cult than about her poems. It overshadows any accomplishment she had in life," Prendergast said.
French's death happened at a time when the real estate bubble was bursting, the country was at the brink of a financial collapse and the colony was struggling to sell itself, she said.
"They had to sell a pretty story around her death, and they did. This is the Gilded Age coming apart in all kinds of ways," she said.
The Sterlings both died of cyanide as well – Carrie in 1918 and George in 1926 – in what were clearly suicides, Prendergast said.
The circumstances of French's death were far more complex and less certain, and Prendergast hopes readers will puzzle over the material she presents in the book and come to their own conclusions about what happened.
"I want them to have the experience of discovery and uncertainty that I had," she said.
Prendergast searched through archives, in collections listed under the names of the well-known male writers of the day, to look for letters written by French and to piece together accounts of her time with the Sterlings.
"I had to go back and look in all the nooks and crannies," she said. "Part of the story is my hunt through the mutilated record to reconstruct this woman's life. I was committed to being really transparent about what we don't know."
One of her best sources was the Abraham Lincoln Presidential Library in Springfield, Illinois, which holds correspondence from Augustus C. French, Illinois' ninth governor and the grandfather of Nora May French. The correspondence includes letters from French and her family members.
French's story coincides with the flowering of the women's liberation movement, and it shows the struggles women endured. Men were more interested in French as a muse for their own poetry or as an ingenue needing editorial advice than as a nationally recognized poet whose writing had been published in the Saturday Evening Post, Prendergast said.
"Historically, there was this 'New Woman' who was not staying in the house and being domestic. She was going out into the world and working and riding a bicycle and projecting an image of confidence in magazines. The problem with this is there was never a New Man," Prendergast said. With the start of World War I, the New Woman was pushed back into a domestic role, she said.
In addition to researching and writing the book, Prendergast spent a great deal of time learning about the process of publishing a book for broad public appeal, rather than an academic audience.
"It's made me teach differently," she said. "I now teach a class called, unabashedly, 'Writing for Money.' I help undergraduate students launch writing or broadcast careers. It's more than just the craft of doing it."
News Source
Jodi Heckel, Illinois News Bureau