Unlimited Impact: Alumni launch wheelchair basketball podcast 
'Push Podcast' brings platform to adaptive athletics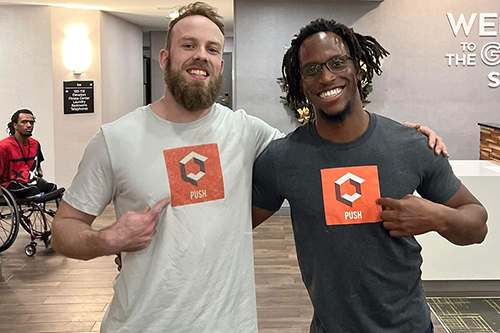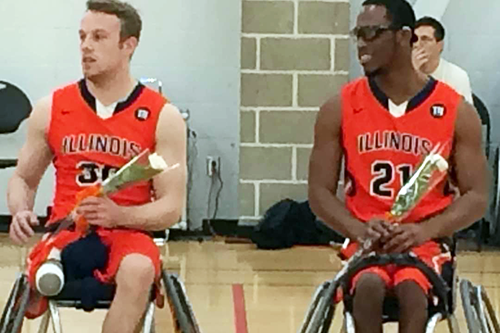 Nearly a year into production, "Push Podcast: Wheelchair Basketball in the United States" is pulling around 750 listeners per episode. With a goal to reach those who have never heard of adaptive sports, College of LAS alumni and former Illinois men's wheelchair basketball teammates Derek Hoot and Martinez Johnson are building a platform for the sport that provided them with countless opportunities. 
Hoot (BA, '18, political science) is a right leg amputee. His leg stopped growing at six years old due to an issue with his circulatory system. He's walked with a prosthetic for most of his life and didn't realize he was eligible to play wheelchair athletics until he entered eighth grade. Johnson (BA, '16, political science and communication) has cerebral palsy and was introduced to the sport at age 14. 
The duo met as teens in the summer of 2009 at a youth wheelchair basketball camp in Whitewater, Wisc. They remained in contact and eventually found themselves in the same rookie class playing for the Illinois men's wheelchair basketball team.  
"I love Illinois for what it stands for — it's a great academic school, and it has a lot of incredible wheelchair basketball history," Hoot said. 
The University of Illinois Urbana-Champaign and wheelchair basketball have been linked since its inception. Starting as an outlet for injured World War II veterans, by 1948 the National Wheelchair Basketball Association (NWBA) and the first official tournament were organized by the NWBA pioneer and hall-of-fame inductee Tim Nugent of UIUC, according to the league website. 
As pioneers in adaptive athletics, the Illinois men's and women's wheelchair basketball teams were founded in 1986, according to the team website. Since, the men's team has won 15 National Championship titles, and the women have won 14 and hold the record for the most consecutive national titles – five from 1990-1994.  
 Hoot, who minored in Arabic studies, continued school for a fifth year to take a scholarship to study in Jordan. There he found a wheelchair basketball team and played in an international tournament.  
"I didn't always know what was going on, you think you know Arabic until you're playing basketball," he joked. While in Jordan, a former teammate asked Hoot if he had interest in playing professionally in Europe. He played in Hamburg, Germany for a season before returning to the U.S. where he continued playing for the the Wisconsin Thunder, a Division II recreation team. He now plays in Virginia. 
Johnson moved back to his hometown in Georgia in 2017 and played for the Atlanta-based Shepherd Stealers. In 2018, he moved to New York City where he joined the legendary Rollin' Knicks, the number-one ranked team in the country at the time. COVID-19 cut short the 2020 season, and he made the move back to Georgia where he returned to the Shepherd Stealers, a Division II recreation team. 
As the pandemic lingered, Hoot created the podcast in February 2021. In the months before the launch, he received the book "Three Ring Circus" by Jeff Pearlman about NBA greats Kobe Bryant's, Shaquille O'Neal's, and Phil Jackson's years with the Los Angeles Lakers. He then started listening to sports journalism podcasts, including Pearlman's and "All the Smoke," an NBA podcast by Stephen Jackson and Matt Barnes. He was interested in the format of the interviews that presented as intimate conversations between former players. 
That's when the idea struck for a wheelchair basketball podcast. 
"I thought it would be a great way to reconnect during the pandemic with some of the people I met through wheelchair basketball," he said. 
Johnson caught the first episode while driving. He parked his car and before even leaving the garage, he called Hoot to congratulate him. Johnson joined the podcast by the fifth episode.  
"(Hoot) does a lot of the leg work, but I really like to talk with people to gain a different perspective," Johnson said. "I really try to use my network to leverage the podcast to push it forward to more people."  
Guests for the podcast include former Illinois teammates, alumni who have played for the national team in the Paralympics, and international advocates for the sport. For each episode, Hoot asks their guests to share their stories as well as their stats from the court. 
"I think it's important for people to hear where these athletes are coming from and what it means to be an athlete with a disability," Hoot said. "I also want to put a spotlight on the fact that they are competitive athletes. I want people to know their playing history; I want people to know their accomplishments; I want to put that in the broader context of the wheelchair basketball world so our listeners know these athletes are on top of the mountain." 
Their goal is to open up wheelchair athletics and adaptive sports to people who have never heard of these sports and athletes before. This is context they are able to provide using skills and resources they gained while attending Illinois, including communication, critical thinking, and research abilities.  
"Coming from a place like the University of Illinois, I learned how to communicate with people and learned how to have open dialogues that are constructive and allow our listeners to get inside what is happening in the world of wheelchair basketball," Johnson said. "We have to go in with the understanding that we are trying to make sure everyone knows what we are talking about. I think being in political science and learning how the world interacts really helps us step back and understand how we can explain things in an efficient way." 
Hoot said his Illinois experience provided him with research skills that he uses before each interview but also impacts who he invites to be interviewed. For example, one of Hoot's favorite installments is a two-part episode with Jess Markt, the disability and inclusion specialist for the International Committee of the Red Cross. 
"He presents wheelchair basketball camps and programs in places like South Sudan, Gaza, Cambodia, and Lebanon, mostly focusing on developing countries and conflict zones," Hoot explained. "That is something that I've been really interested in, and I've had the chance to work with him on providing virtual training for those countries and their teams." 
Johnson and Hoot lived a third of their lives without knowing adaptive athletics existed, let alone an option for them to pursue.  
"We had no idea what it was, but, if you look at it now, wheelchair basketball drastically changed our lives' trajectories," Johnson said. "Helping the sport get as much (popularity) as possible may allow those who are injured or born with a disability learn about this opportunity." 
"I think this has the potential to inform people who have never heard about wheelchair basketball or didn't know it was a competitive sport," Hoot said. "It has a significant impact on athletes, sending them to college or giving them confidence after an injury. If we could actually demonstrate that to a wider population of sports fans, I think the impact is unlimited."